Clare Calbraith
Published: 10th February 2021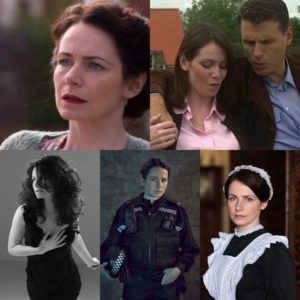 Ever since she appeared in Heartbeat, the lovely Clare Calbraith has proved herself to be one of the UK's most versatile actresses.
Since then she has gone on to star in soaps including a stint in Corrie. As well as making memorable appearances in some of TV's biggest dramas including Vera, Home Fires and a VERY memorable maid in Downton Abbey.
She'll soon be back on our screens but we'll let you tell you about that herself….
Tell us what you're up to at the moment…
I've just finished Unforgotten season 4 – on ITV this month. Also I built a shed. It'll get less viewers than Unforgotten but i'm really very proud of it.
Where is your favourite place in London to eat?
Tandoori Nights in East Dulwich. The food is glorious and Munir, the owner, is the nicest man on the planet.
Where in the UK would you recommend to another family?
Liverpool. It is such a great city. So much to do, the best people and close to the coast too. The British Music Experience in the Cunard building is a highlight!
Name THREE places in the UK you love to visit…
Do you have a favourite place to shop?
I'm not a big shopper but Nunhead Gardener is fabulous and the service is amazing. I could wander around for hours.
Bus, tube, walk or cycle?
Walking these days.. although there was a lost decade which seemed to involve a lot of journeys on the night bus.
Give us your #Londonlifehack

Get off the streets and head to the green spaces. I lived in East Dulwich for years before I even knew about Sydenham Woods. Buy a slack line and find some trees.
Once Big Ben is up and running, write to your MP and request a free tour. They'll book you in a slot – you'll end up looking over London from behind the clock face. It is genuinely brilliant.