KidRated Blog
KidRated's Christmas Life Hacks
Published: 9th December 2017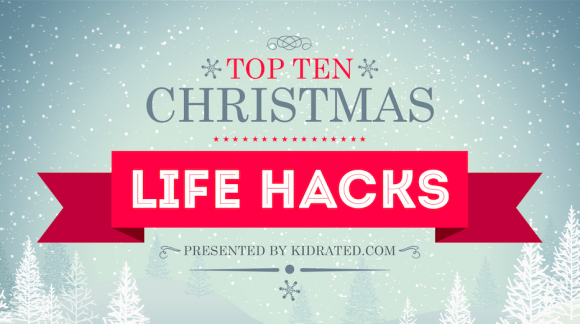 Here at KidRated we have plenty of suggestions of where to go with kids during the holidays. But there will always be those days around Christmas when the weather is awful, you have so much to do, or even you have eaten too much that even the idea of leaving the house would never cross your mind.
So, because at KidRated we really do like to help our brilliant readers and viewers, we have come up with our top ten Christmas life hacks to help you through the holidays. Kids will love doing them so much that you might as well put your feet up and enjoy the few minutes of peace and quiet. It won't last long.
Use Family Pictures For Gift Tags


Add a personal touch (and some festive cheer) to your gifts by using family snapshots instead of the more traditional name tags.
Print digital photos onto white card
Cut into decorative shapes
Attach to your presents
Send out presents to your loved ones
Make Your Own Advent Calendar


You can make your own advent calendar using a muffin tin with 24 cups.
Get an adhesive magnet sheet
Cut and number circles for each cup
Fill each one with a surprise, note, gift or chocolate
Hang from the wall with ribbon
Use Green Tinsel On Your Tree


Can't afford a bushy, full Christmas tree? Or just don't want the trouble of dragging in a large tree?
Simply buy green tinsel
Use it to pad out your plastic tree
In no time at all it will look fuller and more Christmassy, and it won't cost a fortune!
Make Hot Chocolate Hearts


Want a fun treat you can make (and then enjoy) with the kids?
Grab a baking sheet and cover it in whipped cream
Freeze the whipped cream over night
Cut the frozen cream into a heart shape
Add to a nice cup of hot chocolate
 Make Christmas Candy Sleighs


You can make great gifts for your kids' friends and teachers using candy canes and other treats.
Place two candy canes with the loops facing up
Layer the other treats on top
Tie together with a ribbon
Make Elf Donuts From Cheerios


You can use Cheerios to make adorable elf donuts that your kids will both love making and eating!
Grab some Cheerios
Decorate each one using chocolate, icing, sprinkles and any other treat you or the kids want to use
Use Candy Canes For Place Cards


Having family around for Christmas dinner? Want to keep the kids busy while you're preparing?
Grab a bag of candy canes
Use edible glue to stick three together at right angles to each other
Get place your festive place card holders!
Use Condiment Bottles For Icing


Apart from opening their presents, there's nothing children love more than Christmassy food.
Grab some old school condiment bottles (like the kind served in US diners)
Fill them with icing
Decorate some Christmas treats!
Make Festive Rice Krispie Treats


A festive twist on the classic Rice Krispie treat that your kids will love.
Make Rice Krispie treats using green food colouring to give it that festive colour
Stack in a Christmas tree shape
Decorate liberally with chocolate M&Ms
Enjoy!
Make Your Own Christmas Bin


Grab a cardboard box and wrap it in festive wrapping paper. A five-minute process that gives you your very own Christmas bin – not only the kids get involved in making it, but it will encourage them to tidy away their own used wrapping paper and will look much better in family photos than a bin bag.