KidRated Blog
#KidRatedMeets 3 Little Ladies and Me AKA Taryn Moore
Published: 14th November 2016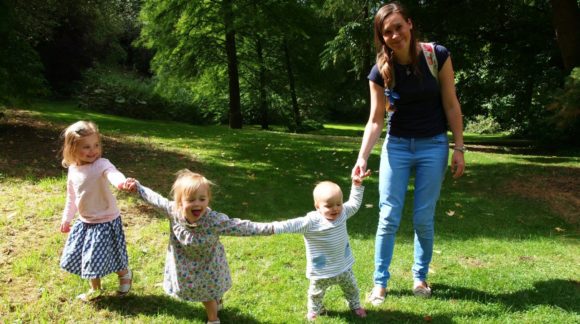 We created the blog series #KidRatedMeets to learn more about some of our favourite mummy bloggers on the internet. Today we meet, Taryn from 3 Little Ladies and Me. 
How did it all begin?
3 Little Ladies and Me began shortly after my third baby was born during one of the night feeds in November 2015. I was an avid reader of numerous family/parenting blogs and had always wanted to give it ago so thought why not? I rediscovered a real passion for writing and it certainly curbed my previous middle of the night online shopping habit!
Philosophy behind the blog:
3 Little Ladies and Me is a family and lifestyle blog about life with my 3 girls, currently all under 5. I write about our adventures together, the things we love along with my general musings on motherhood.
A day in the life:
Our days are always busy, sometimes it can feel like an absolute mission to get out of the house with three young children and all that comes with them, I'm never without a big rucksack that Mary Poppins would be proud of full of spare clothes, snacks and drinks and of course our double buggy.
The girls are early risers so we are up early and have usually had breakfast by 7. This means we can get up and out nice and early and enjoy an adventure together and be back home in time for an afternoon nap. I'm a big advocate of "if in doubt get out".My eldest started school this year so we our weekdays are structured around the school run. When we get home at half past 3 the little ladies love to have a snack, chill out and play together before tea, bath and bed at 7. Weekends are now even more focused around family fun and making memories.
Do you have any tips for aspiring bloggers?
Just go for it, start writing and see what you produce, you will surprise yourself. Read lots of other blogs and join in with the very friendly blogging community – I have been so pleasantly surprised with how helpful other bloggers are. Don't let the fact that there are a lot of blogs out there already put you off – find your voice and be true to it, there's room for everyone.
What topics do you feel most passionate about?
My most read posts are my 'musings on motherhood', my honest posts about my experiences of being a mum to 3 young children, sharing my highs and lows which I hope other parents can relate to.
I'm really passionate about presenting motherhood in it's true light – absolutely breathtakingly wonderful but also hard sometimes. I'm also passionate about letting kids be kids and getting them outside to explore the world and giving them to lots of opportunity to use their imagination and learn through play.
Any future plans or upcoming projects?
I have just launched a hashtag on Instagram called #letsgolittles – it's all about sharing the adventures you have out and about with your littles. I simply love the enthusiasm that children have to get out there and explore the world and the magic they see around them in even the simplest of things.
There are no real rules, it could be a photo of a trip to the park, feeding the ducks or exploring a new place, or for the exciting moments like first trips to the cinema, holidays, or for milestones like first steps. Life is one big adventure and i'm all for celebrating it, particularly anything that makes you want to shout 'lets go!' I'd love for you to join in.
Tell us your top five places around the UK your kids love:
1. Wimpole Hall – we love this National Trust property, there is so much to explore, plenty of space to run around in and a fantastic children's farm with lots of opportunity to learn and get involved.
2. Bewilderwood – the girls love this wonderful adventure playground in the woods where their imaginations can run as wild as they can. Read my review here.
3. Burghley House Gardens of Surprise – this is a firm favourite in the summer where the little ladies can run and splash in the fountains and jets of water to keep cool. There are deer in the grounds too which are amazing to see and a sculpture park with an exciting trail to follow.
4. Rockingham Castle – there's something so magical about visiting a castle, the girls love imagining the princesses that might have lived in it and running around the gardens there.
5. Belton House – one of the best adventure playgrounds we have ever been to. With a little train ride through the woods and cakes in the cafe afterwards, this is one of our favourite days out.
Where do you like to visit in London with your family?
We are about an hour from London on the train and have visited several times with the girls. Miss Boo (4) went to see the Lion King theatre show in the West End last year and still talks about it now. We have also been to London Zoo which was a great day out. The parks are also so beautiful.
If you were planning a trip to London what would the top 3 things on your to do list?
1. Visit the London landmarks on a big red bus, the little ladies would like to see 'The Queen's house" and have tea at the Disney Cafe in Harrods
2. Go to the Natural History Museum and for tea at the Rainforest Cafe
3. In the summer I'd love to visit the Princess Diana Memorial garden in Hyde Park with a picnic so the girls can have a splash and a play