WIN TICKETS TO A THORPE PARK FRIGHT NIGHT
Published: 22nd September 2016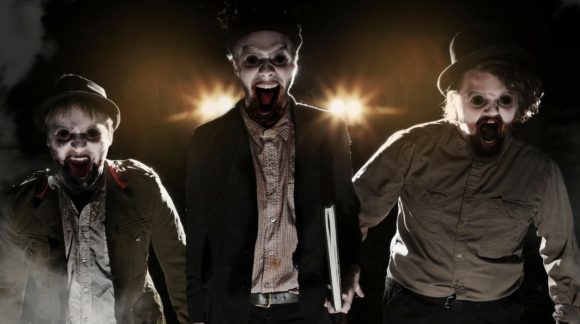 We are offering one lucky newsletter subscriber the chance to win a pair of tickets to Thorpe Park Resort's Fright Nights and an overnight stay at the Shark Hotel
Thorpe Park Resort's, Fright Nights, returns in all its gore-y for the nation's premiere Halloween event's 15th Birthday celebrations on selected dates from 7 – 9, 14-16 and 27 October with an all-new scare maze, Platform 15.
Platform 15 is set in the Park's woodlands; it is the largest scare maze to date covering 450 metres. Guests will depart on a one way ticket along an overgrown railway line which is the last known route of the Sleeper Express, a locomotive that disappeared into thin air with all passengers still on board.
Take your turn to walk the Island's backroads which have never before been accessible to the public. Guests will face a deserted railroad, explosions, séances, Ouija boards and pitch black forestry. They may also find themselves hunted and chased in the depths of the forest, so they must tread carefully and not disturb the grounds – zombie 'Sleepers' hidden amongst the trees may awaken.
The scare doesn't stop there, in partnership with Lionsgate the Blair Witch scare maze has received an overhaul to tie in with the new film's twisted tale.
Sorry this competition is now closed, why not enter our brand new Legoland competition instead?
If you dare…
NB: THORPE PARK Fright Nights may be too intense for young children and is not recommended for anyone under the age of 13.  Experiences are subject to availability
icon-warning

 Winners must be subscribed to the KidRated newsletter

icon-warning
Competition ends 29th September
Terms and Conditions
By entering the KIDRATED THORPE PARK Resort competition: The THORPE PARK RESORT competition with KIDRATED requires that you are deemed to have accepted these Terms and Conditions of use. The winner must be in accordance with the regulations of THORPE PARK Resort, a copy of which is displayed at the attraction or can be obtained online at www.thorpepark.com. Please ensure that you agree to be bound by the regulations before redeeming your prize. KIDRATED will pick the winner who will receive a pair of tickets and an overnight stay at the shark hotel. (There will be 1 pair of tickets). The winner's tickets will be arranged by KIDRATED who will send the winners their tickets to attend and KIDRATED will notify THORPE PARK Resort of the date the guest would like to attend.
The prize promotion is open to all UK residents aged 18 years or over except:
Any employees of the Merlin Entertainments Group or members of their immediate families;
Any employees or representatives of any agencies, suppliers or third parties associated with any attractions in the Merlin Entertainments Group; or
If you are not over 18 and win please ensure your parent or guardian get in touch with us to claim the prize.
The winner will receive 1 pair of THORPE PARK Resort tickets and an overnight stay to THORPE PARK Resort which can be used: 7-9

,

14-16, and 27 October 2016. Tickets allow entry into the resort on any normal operating day excluding special events. Standard additions ticket terms and conditions apply please visit www.thorpepark.co.uk.
The winner will be announced by KIDRATED on their date of choice.
Reasonable efforts by KIDRATED will be made to contact the winner.  If the winner cannot be contacted, or is unable to comply with these terms and conditions, KIDRATED reserves the right to offer the prize to the next eligible entrant drawn at random.
The prize is not transferable to another individual and no cash or other alternatives will be offered, unless specifically agreed by THORPE PARK Resort. The prize is not valid in conjunction with any other offer, concession or online/call centre booking. THORPE PARK Resort reserves the right to substitute the prize for one of the same or greater value at any time.
THORPE PARK Resort and KIDRATED will not use the winner's details for marketing purposes unless they have opted in to receive such information.
THORPE PARK Resort and KIDRATED may contact the competition winner post-visit for feedback purposes.
THORPE PARK Resort and KIDRATED cannot accept any responsibility for any damage, loss, injury or disappointment suffered by the winner or as a result of accepting the prize.
The winner is responsible for any expenses and arrangements not specifically included in the prize, including any necessary travel arrangements, costs, travel documentation or meals.
The winner agrees to the use of their name, photograph and disclosure of county of residence and they will co-operate with any other reasonable request by THORPE PARK Resort relating to any post-winning publicity including all social channels.
THORPE PARK Resort's decision is final. No correspondence will be entered into.
Merlin reserves the right to alter theses terms and conditions at any time and for any reason.