How To Partner With KidRated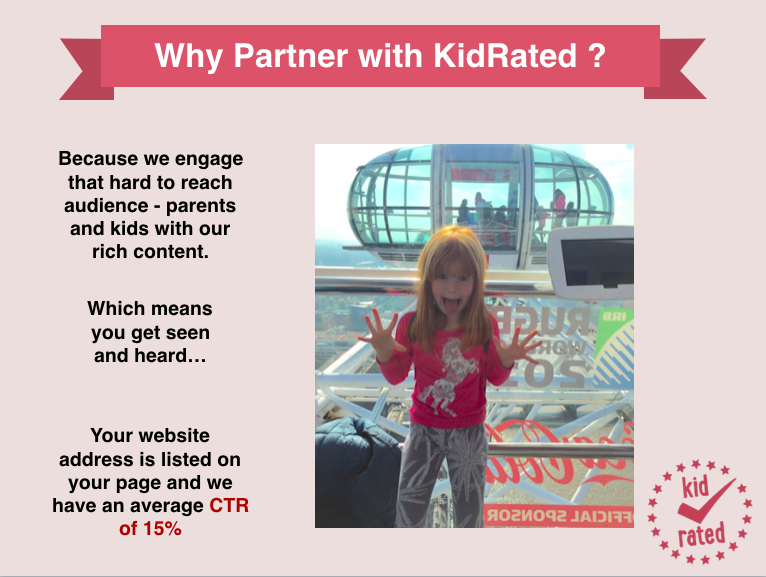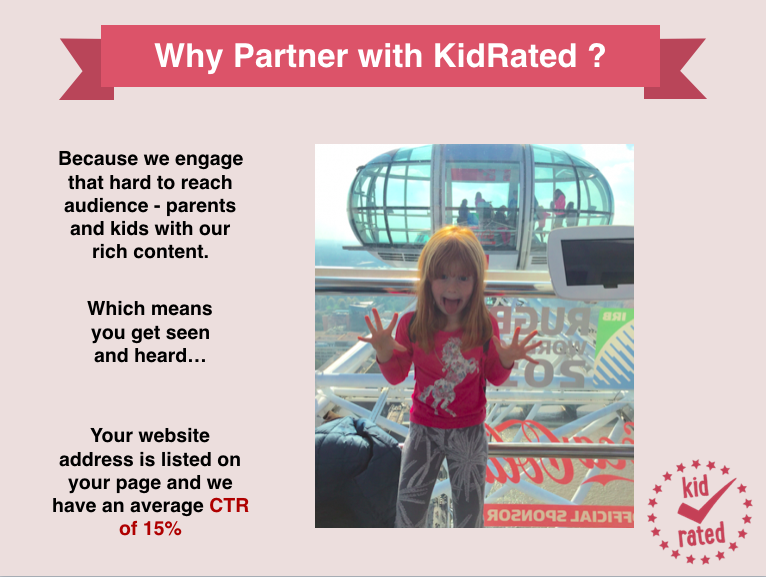 KidRated provides the best family days out in London and beyond, rated by kids and teens. Co-founded by former journalist and TV executive, Simon London, KidRated launched in June 2014, with over 200 reviews of London's major attractions and has been growing ever since.
OUR COMMUNITY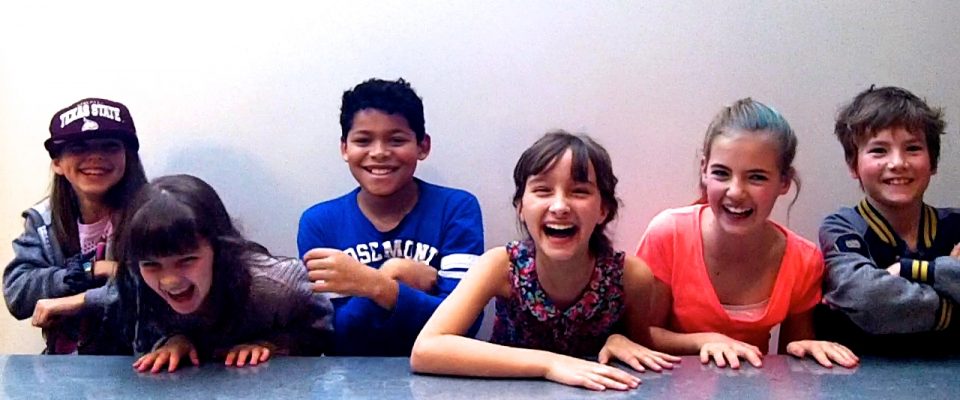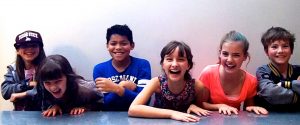 If parents and guardians are planning a day out for youngsters or teenagers, our team of K-Raters cover everything from theme parks to theatre shows, zoos to festivals, movies to museums. At KidRated, parents have access to all of London's essential tourist information and weekend itineraries at their fingertips. Plus, we partner with many independent businesses to offer a wide variety of family discounts in our weekly newsletter, which proudly has over 12,500 subscribers. Subscribers get exclusive deals straight to their inbox, along with news about winning K-Raters and forthcoming events.
KidRated is primarily a community website that encourages readers to get involved and become part of the conversation – whether by contributing a review, entering our monthly competitions or leaving a comment on one of our videos. We call our reviewers K-Raters and their 'K-Ratings' are uploaded as video clips, short films or photos. All experiences are scored out of 10, which are displayed on their hands as a "finger-score". The more fingers, the better the experience!
Our YouTube channel is bursting with over 250 videos, plus we have extra special content in the form of our Blog, News Feed and Mum Reports. If you google 'Things to do in London with Kids and Teens, there's a good chance you'll find we are Number 1 on google! We are also popular with UK celebrities, who have contributed to our Best Days Out series, in which they share where they visited in London as a kid, and where they go with their families now. Contributors include Louis Theroux, Gaby Roslin, Sophie Ellis Bextor, Julia Bradbury, Matthew Wright and Robert Muchamore.
PARTNER WITH US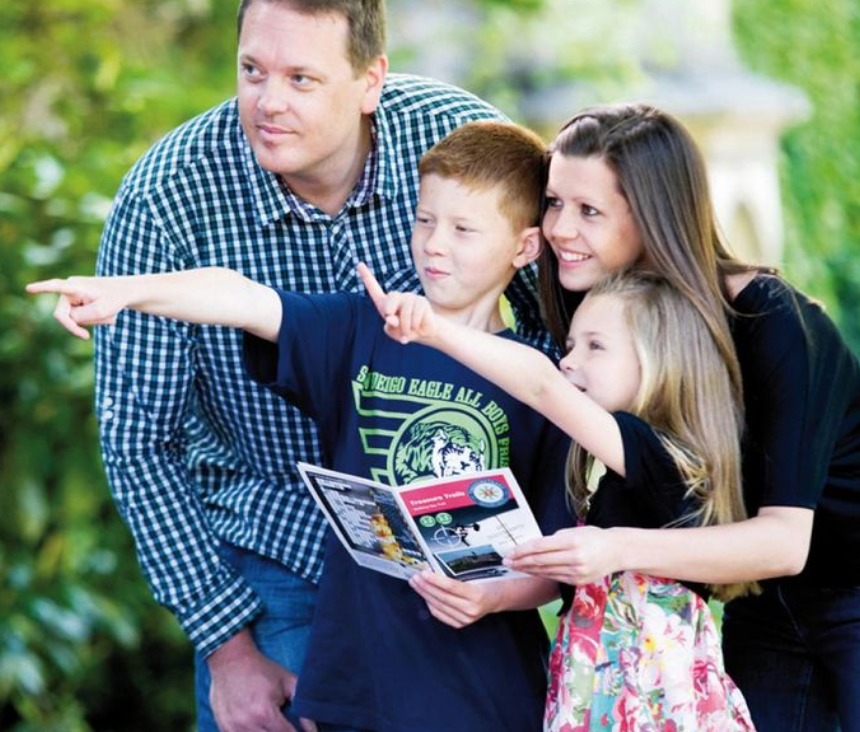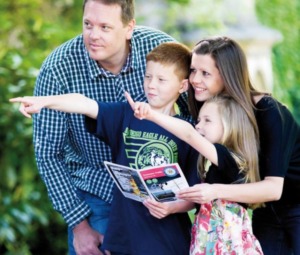 If you are a venue or attraction in London or the UK, you can pay a subscription fee to be listed on our site, where you can freely embed all your rich media and gain promotion in our social streams and outreach content. We pride ourselves on driving quality traffic to our partners that they quickly see convert into sales.
Previous partnerships include Merlin, Netflix and Where London. We have been featured in The Evening Standard, The Guardian, Channel 4 News and BBC Radio London. Our current partners include This is London Magazine and The Outdoor Guide plus several of London's major attractions. As an in-house, independently run business, we seek to create long standing and friendly partnerships, particularly in light of the recent pandemic, when many of our business associates had to close their doors to the public. Our aim is now to help support businesses in need of reviews, content, exposure and offer a helping hand to secure sales.
KidRated is a safe place for children to express their opinion. Each child's review is consented to by his or her parent or guardian. To protect their anonymity, the only personal information children share is their first names. All comments, videos & photos are individually checked and moderated for inappropriate or unsafe content, before being published on the site. KidRated.com is a ratings site, not a kids' social network.
Over the seven years of KidRated's existence, we've become experts in knowing what families are looking for when it comes to spending their money on great days out, specifically in London. Our bespoke itineraries have become hugely popular with both overseas tourists and the domestic market. Our analytics show that we effectively drive high valued traffic to other businesses featured on our site, which they can effectively convert into sales and therefore creating lucrative revenue stream. We would invite any business that has been adversely affected by Lockdown to speak to us as we can help prepare and rebuild your brand as attractions and venues reopen in May 2021.
HOW DO I GET RATED?
Our KidRaters are 100% independent so we NEVER sell ratings. However, we do help our partners by asking our community to rate things.
A video or photo rating on a landing page, is proven to increase sales and, once we are linked, we will drive high quality traffic to you. The average click-through rate (CTR) for a lead generation site is 7% – our CTR is 15%.
To partner with us you MUST have a landing page on the site. We can then promote your url in our social streams.
GETTING A PAGE
Get an Annual Subscription Listing Page – Perfect if you're an attraction or experience open all year round
Cost starting at £750 p.a.
CTAs sent to KidRated community
Embed all your rich media including photos and videos.
Update content at times of intent
Digital and physical badge sent
Promoted in our social streams and outreach content

Pay extra to promote on homepage or slider & social streams 
Contact us now to get started: info@kidrated.co.uk
TESTIMONIALS

CASE STUDY