London's Top 5 Pantomimes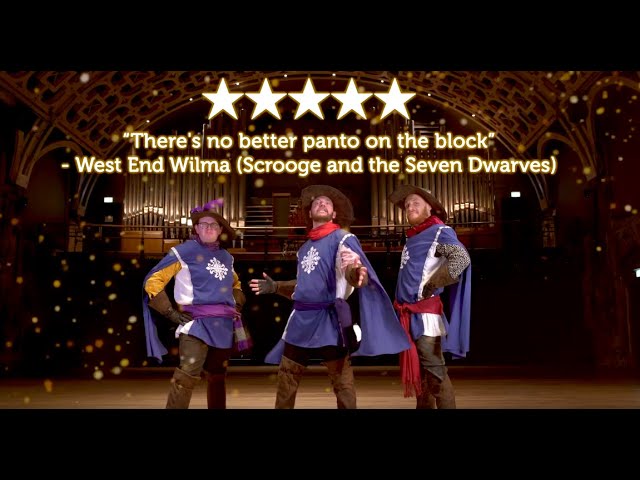 Who doesn't love a good old pantomime? It's the perfect activity for those days between Christmas and New Year, or really any time in the Christmas period. Oh not it isn't! Oh yes it is!
Even if you find the jokes a little tired, your kids will undoubtedly love the slapstick humour – and as we always say, if they're happy, we're happy.
You can also think of it as a final act of goodwill for the year as you're not only treating the kids but also giving our hard working British celebrities a bit of pocket money in return for being booed and hissed.
So without further ado, here's our panto guide Christmas 2019. Our top 5 pantomimes and where you can see them in London.
Have a watch of our #KidRatedLoves Pantos video too and see our guide for 15 things to do in London at Christmas. 
1. Goldilocks and the Three Bears
Dame Betty Barnum and her daughter Goldilocks' circus is under threat from an evil rival circus owner.
But, with the help of their madcap circus friends, they're battling to rescue their Big Top from ruin. Will they succeed?
All seems lost, until three brilliant Bears join the gang… Roll up, roll up to see panto join the circus, and be swept away by a London Palladium spectacular that's just right, at the home of pantomime!
The cast comprises Paul O'Grady as Baron Von Savage, Matt Baker as Joey the Clown, season regulars Julian Clary as The Ringmaster, Paul Zerdin as Silly Billy, Nigel Havers as Daddy Bear and Gary Wilmot as Dame Betty Barnum, Lauren Stroud as Baby Bear, Janine Duvitski as Mummy Bear and Sophie Isaacs in the title role

10th December – 12th January
Alternative Top Pick Goldilocks and the Three Musketeers
Our story begins as the mischievous Goldilocks flees from the Three Bears into the deep, dark wood.
As she stumbles down a rabbit hole to escape, she finds herself in Wonderland! And all is not well…
Teaming up with The Three Musketeers and a whole host of fairy tale favourites (with a little help from the audience), can Goldilocks rescue Wonderland and live happily ever after before it's too late?
Written and starring the multi-award winning comedy trio The Sleeping Trees, with original live music and songs from the genius that is Ben Hales. Plus plenty of chances to join in, Goldilocks and The Three Musketeers is a madcap festive adventure that will keep young audiences spellbound.
Click here for more details and booking information.
2. Peter Pan
Fly away on a magic adventure to Neverland with Peter, Wendy and the rest of the crew or alternatively….
If you want something a little different to your average panto, then Peter Pan Goes Wrong is for you. Expect a lot of slapstick humour from the original cast of The Play That Goes Wrong.
The characters will be battling technical hitches, flying mishaps and cast disputes as they attempt to present J.M Barrie's much-loved tale. But will they ever make it to Neverland?

3. Cinderella
The Lyric pantomime has a reputation for being one of the smartest seasonal shows in town. And this year they've done it again and you can add  "uplifting" and "heartwarming" to the list as well!
Cinderella (Timmika Ramsay) dreams of becoming a scientist. Her only reason for wanting to attend the ball is so she can gaze up at the stars she loves so much without her view being impeded by air pollution.
Her stepsisters, the selfie-obsessed Topsy and Popsy (Mairi Barclay and Lauren Samuels), are only ugly in the way they behave. Their moody mum, Shobna Gulati's Madam Meanie, is a a boo-worthy Cruella de Vil-type with a pet alligator.
Meanwhile Prince Bob (Gabriel Fleary) is a nice bloke who gets panicky at the thought of parties. He doesn't have his glasses on when he meets Cinders; so it's her mind that he's attracted to, that and the fact they have the same favourite constellation.
And so the fun begins peppered with a stream of jokes about balls – plus one very topical addition addition about a Pizza Express….in Woking !

4. Dick Whittington
It's 1948 in London, and if you swap the West Country for the West Indies, you have the two heroes of Dick Whittington and his Cat, now playing at the Hackney Empire.
Grand panto Dame Clive Rowe, in his 13th Hackney Empire show, plays Dick's mother Sarah the Cook – she is nothing short of fabulous.
Tarinn Callender plays Dick, fresh off the boat and ready to take on London. He gets a helping hand from his fairy godmother Fairy Bowbells,  who turns the ship's cat into Uncle Vincent (stand up and actor Kat B), a protective presence to fight off danger.
The production doesn't shy away from recent Windrush scandals, and even includes some topical jokes about how Dick needs to ensure he's in possession of his papers or he might find himself in trouble.
Writer and director McKenna said in a statement: "The story represents a journey full of hopes and dreams, it's a tribute to my own extended family as well as our local community."

23rd November – 5th January
5. Black Beauty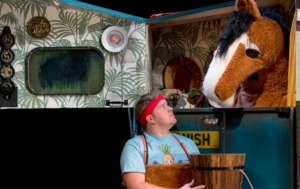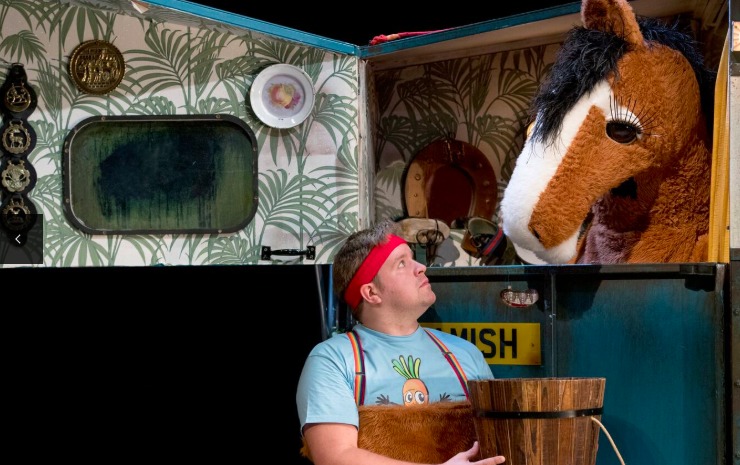 Combining storytelling, music and puppetry this new adaptation of Anna Sewell's classic story offers plenty of fun and adventure for fans of the book, lovers of the 70s TV show and those coming to the story for the very first time.
From the cosy horsebox they call home, Andy and Andy take the bit firmly between their teeth and re-tell the classic tale of Black Beauty.
Saddle up, jump on and gallop headlong into a story where loneliness gives way to hope, friends become heroes, and courage saves the day.
Blending storytelling, music and puppetry, this vibrant imagining offers fun and adventure for all ages and arrives at London's Southbank, after winning plaudits and rosettes during its premiere at Scotland's Traverse Theatre.