Teen Shopping Top 10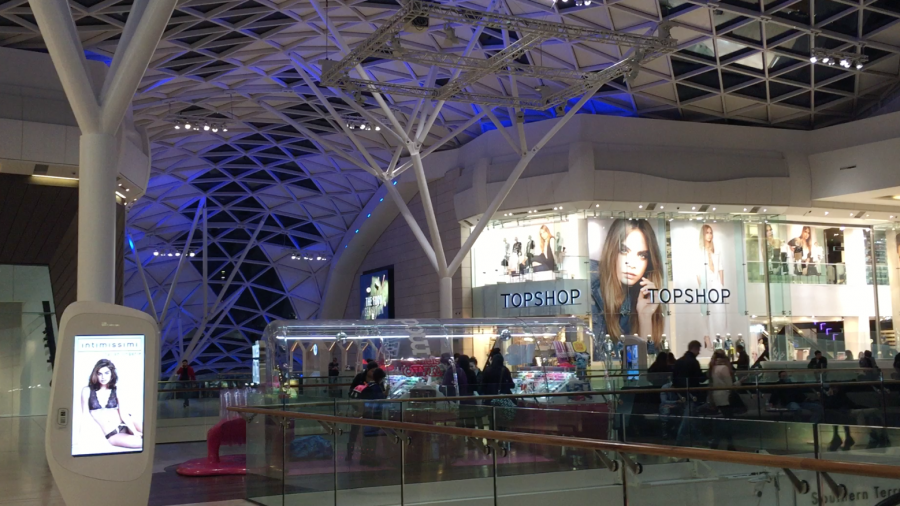 London is one of the shopping destinations of the world. A quick Google search of the words: shopping world capital, suggests it is the global centre of shopping. There are shops everywhere. However, as anyone who has walked the stretch of Oxford Street between Oxford Circus and Centre Point will agree, not all these shops are equal. So KidRated have made it easier for you by listing some of the best places for teen shopping in London, that will make even the grumpiest teen giddy with excitement.
We hold no responsibility for how much money your kids will make you spend…
Also see our award-winning 50 Great Things for Teenagers to do in London.
Topshop Oxford Circus
There are loads of Topshops throughout the world. However, none of them come even close to the flagship store. Topshop is located over three floors, two of them underground.
There is also a Topman upstairs. This three-floor teenage girl utopia has everything: a braid bar, a bubble tea stand, a froyo stand, two hair salons, a nail salon. And of course, more clothes than you could ever imagine! Fathers be prepared before you enter, the oestrogen levels in here are high.
I'm sure most young girls won't be coming here with their Dads so rest assured you can have a super fun time in Topshop with your friends and there's even a photo booth where you can capture those awkward teen years and look back and wonder why, why, why did I wear my hair that way? Have fun!
Niketown
Niketown is just about as far removed from Sports Direct as possible. Whether you like basketball, football, netball, running or swimming they have you covered.
Plus, if you're not too fussed by sports but just want to look good, you'll find all you need here in this very interactive store. Try out the very popular Nike ID area to personalise your own trainers.
This place is streetwear heaven. With all the ways you can buy 'garms' online nowadays, it's nice to actually go into a store as immersive as this and actually take a look at the goods you're getting. Stay tuned to their social media too as they have special pop-up events from time to time.
Carnaby Street
Close by to Oxford Circus is the pedestrianised Carnaby Street. In the swinging 60s, Carnaby Street was essentially the centre of things 'cool' in London and it still is quite a 'cool' street.
Now, Carnaby Street has a great mix of shops from Monki to Doc Martens to Liberty to Adidas, so there is something for most teenagers. And you don't need to worry about them being run over.
Teens might want to check out the Levi's store to snap up some classic 501′ jeans. Plus, students get a 20% discount there, which is always a bonus.
Rokit
Rokit is a go-to if teens are looking for vintage clothes. You can pick up anything and everything from Levis denim jackets to old school Hawaiian shirts. There are many vintage stores across London that you can check out but Rokit is a solid and reliable place where you know you'll find at least one vintage find.
The prices are a little higher than other vintage stores but that's because you don't have to dig around in this one to find hidden gems – all the pieces are pretty great. Unlike smaller vintage stores, Rokit has a good amount of changing rooms so you won't find yourself spending hours in there just because you had to wait for the one changing room to be free. We love that!
Selfridges
Selfridges has a great section of high street brands on the ground floor. It also has a fantastic food hall. As everyone knows, teenagers need a lot of food. And the best thing ever: you can get your name on a pot of Nutella – present and food thieves problems solved forever.
You might find a DJ spinning tunes in the fashion department, Jason Atherton doing a cooking demonstration in the food hall, or Tracy Emin exhibiting her favourite Selfridges products.
There is something here to suit a cross-section of visitor's tastes and budgets. Depending on what you are after you can buy some stilettos from Jilly Choo or from Topshop. You can have lunch at Hix champagne bar or at EAT sandwich shop. In the cosmetics department, alongside the Chanel and Clinique make-up, you will find more affordable and more youthful options like MAC and Benefit.
Westfield
The two Westfield shopping centres in London are packed full of shops for tweens and teens for that matter. You can go to all the high street shops such as H&M, Hollister and so many more. And then you can pick up some Snog frozen yoghurt or any other kind of snack or even watch a movie at the massive Vue cinema.
For the teens looking to do something (slightly) more active, both Westfields also have bowling alleys for them to let out all that teen angst onto the pins. Now, Westfield White City have the first high-tech indoor crazy golf experience. Each of the four courses gives a nod to nostalgia, inspired by old school arcade and fairground games. From a giant pinball machine themed hole to a duck shooting gallery, relive childhood fun throughout the courses.
Camden Market
One of the biggest markets in London, Camden has a bit of every from clothes and jewellery to street food. Along the high street, there is also a good range of high street shops. The clientele is also a vibrant bunch, think rastas, punks and everything in between.
Virtually every type of cuisine is offered, from French to Argentine, Japanese to the Caribbean. The food tastes great and it's affordable, especially in the Lock Market. You can eat at the big communal tables or even by the canal.
Watch Issy's review here.
Portobello Road Market
Immortalised in the films Notting Hill and Paddington Bear, Portobello Road is not only a really pretty road (and very instagramable!) but it is also home to a great market.
For teens who don't want to dress like all their friends in New Look and H&M, this West London market has great vintage clothes. Parents can even tag along to look at the antiques as long as you're prepared to pay as well!
Watch Elliot's review here.
Covent Garden
Once a famous fruit and veg market, you may remember it featured in My Fair Lady. The area is now home to some great shops for teens.
Buzzing with the excitement of the opera and Theatreland, the area boasts some of the best shopping destinations in London's West End. From Apple to Tom Ford, Mulberry to Paul Smith and Petersham Nurseries to Benjamin Pollock's Toy Shop, the area offers a unique blend of global and independent brands, curated to satisfy every shopping need.
Once you have covered the covered market, head up Neal Street to the Seven Dials. Where you will find plenty of good high street shops.
Urban Outfitters
Urban Outfitters can be found on numerous high streets and shopping centres across the capital. Clothes can be on the expensive side of things, but the sales are generally really good.
The best things about the stores is not the clothes, but all the other random items you can buy – books, vinyl and cool things to decorate your bedroom.
Like Topshop, they also tend to have a photobooth for teens to capture the 'great times'. Urban Outfitters is a staple for teens nowadays but since it's a little 'spenny', let's leave this one to be covered by their allowance, shall we?