Things to do in London at Easter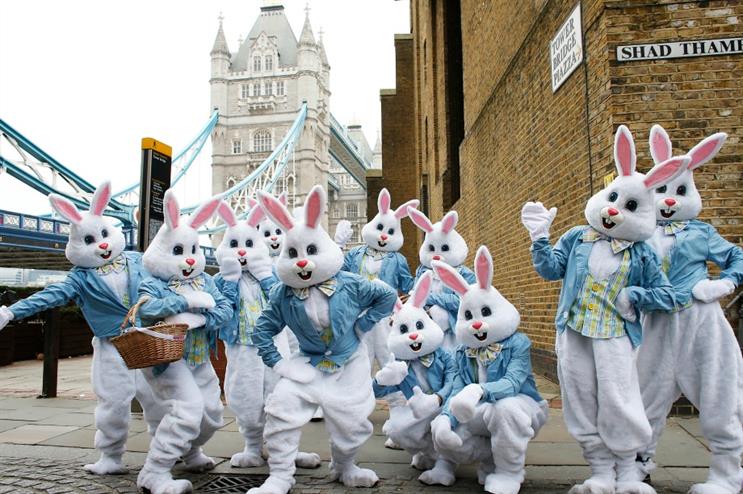 Welcome to KidRated's guide to the best things to do in London at Easter for kids and teens…
Like so many other holidays, celebrating Easter can be even more fun when you have kids, older kids and teenagers. Plus, its arrival  often feels like the formal transition to spring – bring on the sunshine, flowers, and baby animals!
To help celebrate, we've rounded up the best events, adventures and activities to keep the whole family entertained during the holiday period.
From searching for eggs in the grounds of iconic castles to trying to spot eggs in some of the most beautiful British countryside settings, the egg hunt is one of our most time-honoured Easter traditions. And with organised hunts and trails the length and breadth of the country, including ones by the National Trust and English Heritage, you won't need to travel far to find one.
So we hope you enjoy our guide to the best things to do in London at Easter for kids and teens – and if you have any ideas or suggestions please feel free to add them in our comment section.
Take a tour with Paddington
Arguably the biggest star of the Paddington films was the beautiful city of London. So why not take the Paddington Afternoon Tea and Bus Tour – a sightseeing tour with a difference. You and the family will ride on London's iconic Routemaster and see some of Paddington's favourite landmarks such as Big Ben, The Houses of Parliament, Westminster Abbey, Hyde Park, Nelson's Column, Downing Street, St. Paul's Cathedral, Borough Market, Green Park, Piccadilly Circus, and much more. Prices start from £35 and the age requirement is 5+.
If you want to save some pennies, remember we have a handy guide that takes you to some of the key locations used for filming should you want to retrace the steps of the famous little Peruvian bear for a fraction of the price.
Finally, you can buy tickets for a two-and-a-half hour Paddington walking tour here.
Speed or cruise down the River Thames
Whizz along the Thames on an exhilarating Thamesjet boat ride, admiring London's magnificent landmarks as you speed along the river. Or opt for a more relaxing trip with a City Cruises experience – you can simply enjoy the sightseeing or pair the trip with a delightful afternoon tea.
Prices: from £45
Age requirement: there's no age limit but must be a minimum of 1.35m (4ft. 5in.) tall.
Titanosaur: Life as the Biggest Dinosaur at The Natural History Museum
Step into the world of the colossal Titanosaur Patagotitan Mayorum, one of the largest known creatures to have ever walked our planet. See this extraordinary dinosaur up close at this fun, interactive exhibition for all the family. After discovering what life was like as the biggest dinosaur, get to know the giants we share our planet with today, learn about their lives, the challenges they face and how we can protect them. Age requirement: 5+
Cost: £9 – £16; free for members
31st March – 7th Jan 2024
The Great Easter Celebration at Gunnersbury Park and Museum
At this celebration of Easter, a Victorian kitchen maid will demonstrate how the Victorians enjoyed their chocolate. You'll also be able to indulge in some delicious hot chocolate and make flower decorations, as well as play games and participate in the egg hunt in the beautiful gardens.
Age requirement: 5+
Cost: £10 for kids; adults go free
4th – 5th April
The Passion of Jesus in Trafalgar Square
The Passion of Jesus provides a moving portrayal of the final days of Jesus, brought to you by one hundred Wintershall players.
This is a realistic interpretation of the crucifixion, so parental guidance is advised. Not only is it free, it's also extremely popular so it's a good idea to arrive around 40 minutes before the start. If you can't make it to Trafalgar Square, the performances will be livestreamed on Facebook.
The Passion of Jesus 2022 is also available on YouTube if you want to check it out.
7th April
Family Workshops at Shakespeare's Globe
Shakespeare Globe is running a series of family workshops and storytelling sessions over the Easter school holidays. Explore The Tempest, Macbeth and A Midsummer Night's Dream through fun and practical workshops for 5-8 year olds, 9-12 year olds and ages 12+, or join in on a storytelling session for the whole family.
Cost: Tickets from £10
1st – 15th April
Family Activities at Chelsea Physic Garden
Explore, create and have fun with a range of family activities at Chelsea Physic Garden including: learning how chocolate is grown and making your very own chocolate bars; soap making; learning about weeds and how to identify them; and, the opportunity to enjoy a relaxed sensory session where you'll take time to smell flowers, touch plants, and meditate under the trees. And of course, there'll be Easter trails around the beautiful 4-acre garden.
Age requirement: 5+
Cost: £5 – £20
Selected dates between 3rd – 16th April
Discovery Days at The Look Out, Hyde Park
Led by an expert team, Discovery Days will allow the kids to explore the park and learn all about the environments and wildlife of this royal park. You could be pond dipping, helping your children discover an underwater world, sweep netting in the meadow or bug hunting at the minibeast hotel. The activities are suitable for the whole family to enjoy, allowing you and your children to connect with nature together.
Age requirement: all ages welcome.
Cost: Free
Dates: 4th – 6th & 11th – 13th April
Catch A Show
Treat the kids to one of London's magical child-friendly shows such as The Three Billy Goats Gruff at The Unicorn Theatre for ages three to six (12 March  to 23 April); The Singing Mermaid at Polka Theatre, suitable for ages three to eight (31 March – 8 April); and The 'Not So' Grimm Twins at the Lyric Hammersmith Theatre for ages four and above (11 – 15 April)
Easter Pantos have been growing in popularity over the last few years, and now there are several professional productions touring the UK this Easter. Wizard of Oz the Panto will be at The Cockpit Theatre Marylebone 13 – 16 April and Goldilocks and the Three Bears at Greenwich Theatre on 7 April.
Plus there are all the regular favourites including  Harry Potter and the Cursed Child or Wicked, The Lion King, Frozen and long-running Matilda the Musical.
Or why not go back to pre-historic times at The Dinosaur Show, where you could get up-close with dinosaurs with fun, facts and incredible puppetry.
Science Fiction: Voyage to the Edge of Imagination
Based at the Science Museum, you'll embark on a once in a lifetime immersive adventure through the cosmos to explore visions of the future through the science of today. Guided by an artificial intelligence of alien origin, you'll be placed at the heart of an exciting science fiction adventure. Board and explore a unique spaceship, scout an unknown planet, and investigate how scientists and science fiction creators have imagined and built new worlds to better understand our own. All ages welcome.
Cost: £15; free for under 7s
Until 20th August
BBC Earth Experience
Narrated by Sir David Attenborough, this brand-new attraction in Earls Court allows you to experience the extraordinary diversity of our seven unique continents. BBC Earth Experience is a truly transformative experience that will make you feel like you've stepped into the natural world, taking a majestic 360-degree audio visual journey to explore iconic landscapes and connect with mesmerising animals.
From fireflies putting on a spectacular light show in North America, to snub-nosed monkeys huddling together to stay warm in Asia, and hungry hamsters fighting to keep their food in Europe, you'll get to experience our seven continents in all their glory, like never before. All ages welcome.
Cost: £22 – £28.50
Opens 30th March
ArcelorMittal Orbit, Queen Elizabeth, Olympic Park
Slide into the Easter Weekend by whizzing down the world's longest and tallest tunnel slide ArcelorMittal Orbit. What's more, when you get to the bottom you'll see the original prop car from the 2005 Chitty Chitty Bang Bang Broadway musical, which will remain on display until August.
Children must be at least 1.3m tall and aged between 8 and 16 years old to ride the slide.
Cost: from £19
Have a sleepover at London Zoo
The ultimate staycation, you and the whole family can enjoy exclusive after-hours tour at sunset and after dark, before spending the night in a private lodge at London Zoo. This is a great opportunity to discover what happens at the zoo after dark. There's also a morning tour and chance for a 'meet and greet' with one of the keepers.
Age requirements for Family Nights – 5+. For Adults only nights – 14+
Cost: from £134 per person
22nd March – 16th April
Discover Hidden London with LTM
The London Transport Museum is offering the chance to explore 'forgotten' parts of the Tube network and go behind the scenes at some of London's busiest stations with their exclusive Hidden London tours.
And if you can't make it in person, there are live virtual tours that take you through the 160-year history of the London Underground.
Check website for selected dates and prices. All ages are welcome at the London Transport Museum but some restrictions apply for the in-person Hidden London Tours.
Family Fun at the Cutty Sark
Step aboard and set sail on a fantastic family adventure at Cutty Sark! Taking place on the first weekend of every month, Cutty Sark Family Weekends feature workshops, songs, activities and experiences for all ages. Meet characters from Cutty Sark's past and sing along with our resident sea shanty singers – for the real sailor experience, why not dress up as a member of Cutty Sark's crew? All ages are welcome and activities are free with entry to the ship.
Date: 1 to 2 April
Price: £8 to £18; kids under four go free
Age requirement: all ages welcome
Cost: £8 – £18 – Kids under 4 go free
Opening weekends of every month
The Peter Rabbit Easter Adventure – Covent Garden
During this immersive Peter Rabbit experience, the whole family can get involved to help Beatrix Potter on a special rescue mission, during a magical mix of live performance and puppetry. You'll get to meet Peter Rabbit, Benjamin Bunny, Mrs. Tiggy-Winkle, and a few surprise encounters!
In addition, there are indoor and outdoor activities areas, as well as an adventure shop.
Age requirement: all ages welcome
Cost: £6 – £27
22nd March – 16th April
Superworm at Kew Gardens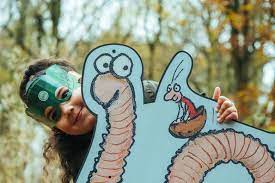 Join Superworm for a new adventure with all the heroes from the best-selling book by Julia Donaldson and Axel Scheffler. Set out on a journey through the plant and animal kingdoms to save Superworm form the Wizard Lizard – all set against the magical backdrop of Kew Gardens in spring. This is a great opportunity to learn how plants and animals work together as a team.
There's also Kew's Children's Garden, which is packed with fun things for your kids to explore.
Age requirement: all ages welcome
Cost: included with Kew entry ticket
1st – 16th April
Horniman Spring Fair
Head to the Spring Fair at the Horniman Museum and Gardens in Forest Hill. You and the kids can enjoy seasonal games with live music, workshops, tours, an Easter bonnet parade and much more.
You can also get up close and personal with Crawley critters and furry friends at Horniman's Habitat Heroes with Wild Fangs and learn lots of fun facts, including the important role they play in their natural habitats
Age requirement: all ages welcome
Cost: £0 -£5
Spring Fair: 8th April/Habitat Heroes: 3/4/8th April
The Best of outside London
Blenheim Palace Easter Extravaganza
Enjoy a whole host of egg-citing activities at Blenheim Palace, including circus skills, balloon modelling, bubble performances, bungee trampolines and a travelling vintage variety show, not to mention appearances from none other than the Easter Bunny throughout the weekend too. You could also take part in interactive chocolate making workshops.
Date: 7 to 10 April
 Price: from £11.50
Age requirement: all ages welcome
Easter Eggstravaganza, Bocketts Farm Park
With hundreds of gorgeous new-born lambs due and daily 'Meet the Shepherd' sessions, there'll be plenty of opportunity to learn about the lambs, and even watch one being born at Bocketts Farm Park! Children will also be able to get up close to baby chicks, ducklings and bunnies in the Small Animal Village, in addition to goat-milking, tractor rides, pony rides and pig racing. There's an Easter stamp trail to take home a chocolate treat, and fun live shows in the Easter garden. With plenty of play indoors and out, you can be sure of a great day out, whatever the weather!
Date: 1 – 16 April
Price: £0 to £5.50 (pre-booking is essential)
Age requirement: all ages welcome
Easter Fun at Godstone Farm
Let little ones be amazed by this magical, springtime walkthrough at Godstone Farm, with the opportunity to be transformed into little bunnies as they hop along to the Easter Bunny's bright and beautiful home. Watch your child's happy face light up as they explore the enchanted house and join in with their egg-citement as they meet the Easter Bunny! With Easter treats along the way it's an Easter event not to be missed! You could also get involved in guinea pig feeding, piglet racing, pig feeding, and a bug hunt.
Date: 1 to 18 April
Price: £14.50 to £27.45
Age requirement: all ages welcome
Edinburgh International Science Festival
The first and one of the most respected science festivals in the world, Edinburgh International Science Festival is your chance to get hands-on with science and embrace the concepts of experimentation, innovation, creativity, curiosity and invention that lie at the heart of its 2023 theme 'Let's Experiment'!
Date: 1 to 16 April
Price: from £5
Age requirement: 5+
Visit Warwick Castle for a host of historical fun.
Transport yourself to medieval England at Warwick Castle and take on the terrifying dungeons, enjoy birds of prey displays and learn how to handle a sword. You could even stay overnight in the unique Woodland Lodges during April 2023 and enjoy a full package of extras such as breakfast and themed evening entertainment.
Date: April
Price: day pass from £24
Age requirement: all ages welcome
Worcestershire's CountryTastic Festival
Worcestershire's CountryTastic Festival is a festival just for kids to help them discover the countryside. Returning to the Three Counties Showground in Worcestershire, you can expect an action-packed day of discovery with plenty of indoor and outdoor activities. Plus, everyone's favourite farmer from BBC Countryfile and the Cotswold Farm Park, Adam Henson, will be headlining this year's show.
Date: 6 April
Price: £6 to £10 (tickets must be purchased in advance)
Age requirement: all ages welcome
Easter at York Cocoa Works
York Cocoa Works will be hosting a range of chocolate events and experiences over the Easter period for you to enjoy. Whether you're looking for something quick and easy, or a hands-on exploration of chocolate crafting, all their workshops let you get creative and walk away with your very own delicious chocolate creation!
Date: Until 16 April
Price: from £22.50
Agre requirement: all ages welcome
Galactic Carnival, Glasow
An out of this world experience for any budding astronauts, Galactic Carnival offers everything from family friendly to thrill-seeking rides. There are also space-themed photo opportunities, delicious food and drink for the whole family to enjoy.
Date: 24 March to 6 April
Price: from £4
Age requirement: all ages welcome but there are height restrictions for the rides
More theme and adventure parks…
For the thrill-seekers among you, there's also: Lightwater Valley Family Adventure Park; Thorpe park; Chessington World of Adventures; Alton Towers; and, Longleat Safari Park.