Southbank Centre
KidRated's Southbank Centre Top Tips:
Worth a visit for some spontaneous fun

Check the website to see what is on

Head there for lunch – there is so much food on offer
---
Since being created in 1951 for the Festival of Britain, the Southbank Centre has committed itself to making art available for everyone. It hosts a variety of cultural events both within the centre's venues and along the streets of the Southbank. Art of all forms is displayed at these events, from music, dance and spoken word performances to visual arts and theatre shows. Events are often free, given the Southbank Centre's all-inclusive attitude. The centre attracts a more diverse audience than any other UK venue.
The Southbank Centre's venues include the Royal Festival Hall, Queen Elizabeth Hall, Purcell Room, Hayward Gallery and the Poetry Library. As well as its art venues, the Southbank is home to many different restaurants, cafes and shops both in and outside of the Southbank Centre itself. From the Southbank Centre's own shop to the secondhand books sold on the pavement under Waterloo Bridge, there are plenty of places to explore.
Located near world-famous attractions such as the London Eye, Borough Market and the Tate Modern, the Southbank Centre sits in a vibrant, diverse location which is considered by tourists and Londoners alike as one of the most vital parts of the city itself.
    Festival of Love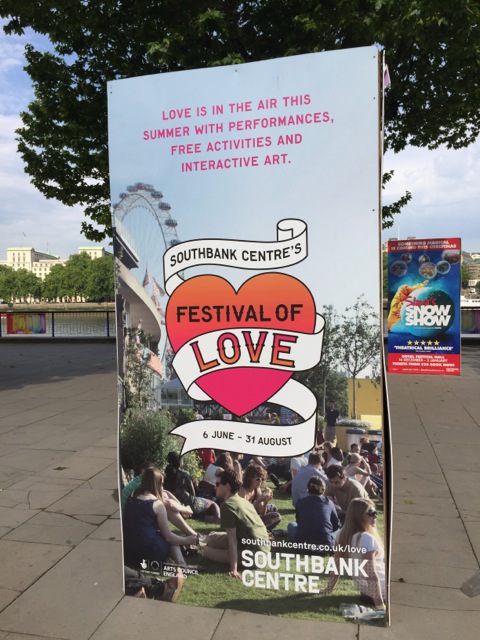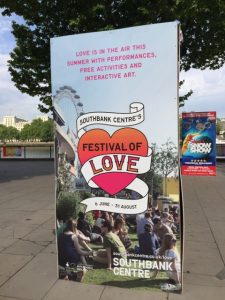 Returning to the Southbank Centre this year is the very successful Festival of Love. The Festival runs from the 9th of July to the 29th August and is host to an eclectic range of activities, workshops, art installations, exhibitions, performances and so much more, all celebrating the greatest human emotion.
Head down for the day and enjoy the sunshine while exploring all the feel-good love-themed activities. It's a great day out for the kids and there is so much to see in the Southbank so you'll never be stuck for something to do!
---
Booking Advice:
Loads of things at the Southbank Centre are free

But it is best to buy tickets in advance for performances

Membership entitles you to priority booking