KidRated Loves
#KidRatedLoves Musicals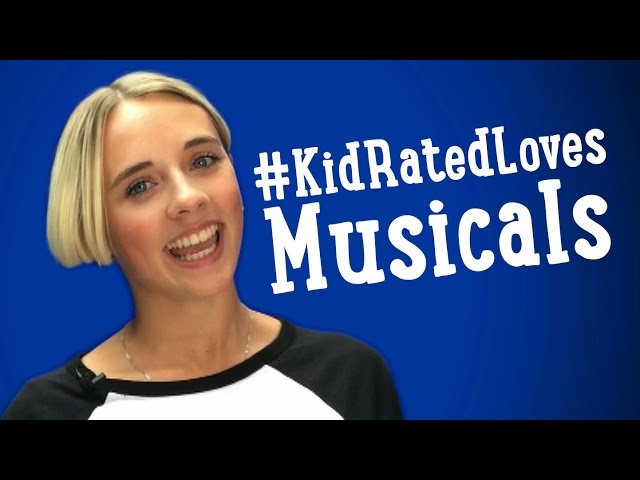 Hi guys, Emily here in the KidRated Hub with another episode of KidRated Loves. Today we're
looking at Musicals so I've got my 5 best and 5 worst things about them.
1.
They've got really catchy tunes.
[sketch]
"Let it go, let it go. I am one with the wind and sky."
Which you think you can sing.
[sketch]
"Let it go, let it go!"
"Shut up Em!"
Sorry!"
2.
The choice of shows is endless.
[sketch]
Unlike your money.
[sketch]
"Hello, can I get 2 tickets to Phantom of the Opera please?… No 2, not 10… Sorry, HOW MUCH?!"
3.
It's awesome when you land the lead role in the school production.
[sketch]
"Mum, mum, mum! I got the part of Sandy!"
But then you meet your co-star.
[sketch]
4.
In musicals everything can be solved with a song.
[sketch]
"How do you solve a problem like Maria?"
If only that were true in real life.
[sketch]KidRated Loves Musical
"How do I tell my mum I broke her i-Pad?"
5.
It's a life hack for learning the plot to that classic novel.
[sketch]
But you might be in for a shock when you read the book.
"Where're all the songs?!"
So that's it for this week and in true musical fashion, I'll leave you with a song. So long, farewell,
it's Emily saying goodbye. Please like and comment and don't forget to subscribe. Subscriiiiiiiiiibe!
If this has inspired you to go to the theatre then why not check out KidRated's top pick of shows
and musicals around the UK.
Emily Sharp is back in the KidRated Hub with her rundown of the 5 best and worst things about musicals.