KidRated News
Partner with Us
Published: 21st January 2020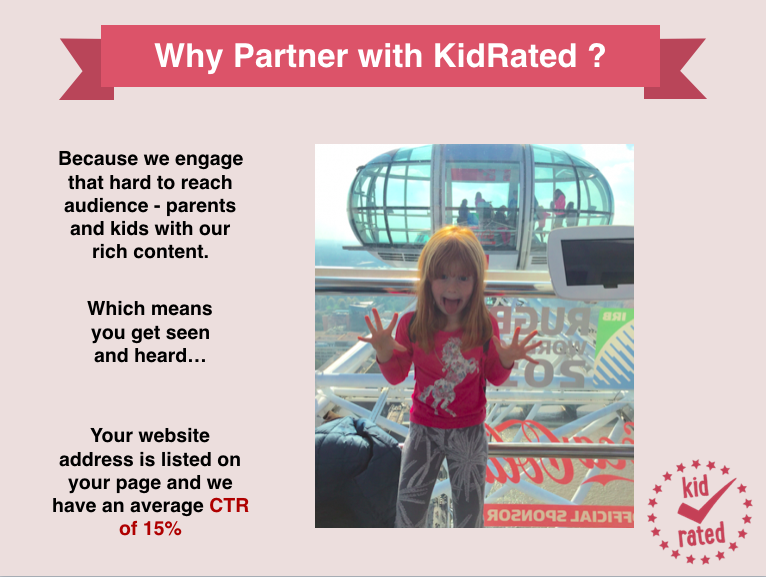 List your attraction or event with KidRated and get high quality traffic sent to your webpage…then watch as they convert into paying customers.
HOW DO I GET RATED?
Our KidRaters are 100% independent so we NEVER sell ratings. However, we do help our partners by asking our community to rate things.
A video or photo rating on a landing page, is proven to increase sales and, once we are linked, we will drive high quality traffic to you. The average click through rate (CTR) for a lead generation site is 4% – our CTR is 15%.
To partner with us you MUST have a landing page on the site. We can then promote your url in our social streams.
HOW IT WORKS
The first step to getting your business noticed is for us to create a bespoke page for
your attraction, including a link to your website and company information.
This will permanently sit on the KidRated site allowing us to facilitate your business.
Most importantly, we can then use it to house your review by our handpicked family of K-Raters.
Finally, you'll be awarded a digital KidRated badge linking our website to yours, generating reciprocal traffic.
In addition, your subscription entitles you to update your page on a monthly basis. Our content marketing manager will liaise with you to upload and embed all your content, photos, videos etc.
We will need 48 hours notice to ensure your added content is live, when you want it to be.
WE LINK DIRECTLY TO YOU
We will create a booking button that links directly to your box office instead of our ticket affiliate. From experience, we know bookings are made when it's easy for parents to click directly.
It also provides us with excellent data so we can record the direct visit we have sent to your website.
OTHER BENEFITS
We regularly feature our partners in our weekly newsletter, which goes out to over 10,000 subscribers and is packed with things to do in London and beyond.
You'll also be part of an organisation that has celebrity endorsement via our popular Best Days Out section, where celebrities tell us where they visited in London as a kid, and where they take their families today. Past contributors include Louis Theroux, Nick Knowles, Ben Willbond, Sophie Ellis-Bextor and Gaby Roslin.
Finally, you will be included in many of the itineraries we produce on the site, such as 50 Things To Do in London with Kids and Teens, Best Restaurants for Teens, Birthday Venues for Younger Kids and Baby
Toddler Friendly London, These are hugely popular with UK families and overseas tourists and can often be found on the front page of Google.
COSTS
We have an annual subscription fee which you can choose to pay that as a one-off instalment or as a monthly direct debit.
We have complete confidence in what we do for our partners, so in that regard we won't tie you into a contract! If after three months you choose to end your relationship with us, your page will remain on the site, but we will remove your website link, booking button and it will no longer be updated.
As a small, enthusiastic business, we understand how difficult and expensive it can be to stand out in a crowded marketplace. With KidRated, you get the use of our content marketing manager, effectively meaning you have another member of staff for a fraction of the cost. Plus your subscription allows us to advertise our site and send you quality family traffic who are intent on making a purchase, meaning you can reduce your Google AdWords budget.
We take a proactive approach with all our partners and provide a quarterly report to ensure your expectations are being met. We are available to collaborate on any ideas you may have, to help you get the most from your relationship with us.
Our reputation as a trusted advisor has been well established over the past seven years and as a partner, you will be gaining recognition by association.
So what are you waiting for? Get in touch at info@kidrated.co.uk and start converting leads into sales.
TESTIMONIALS

CASE STUDY