Exploring East London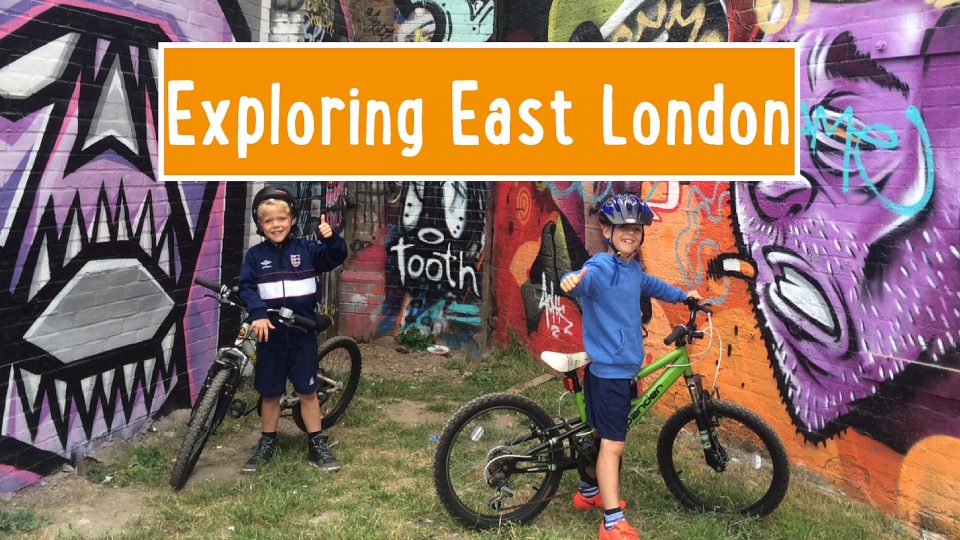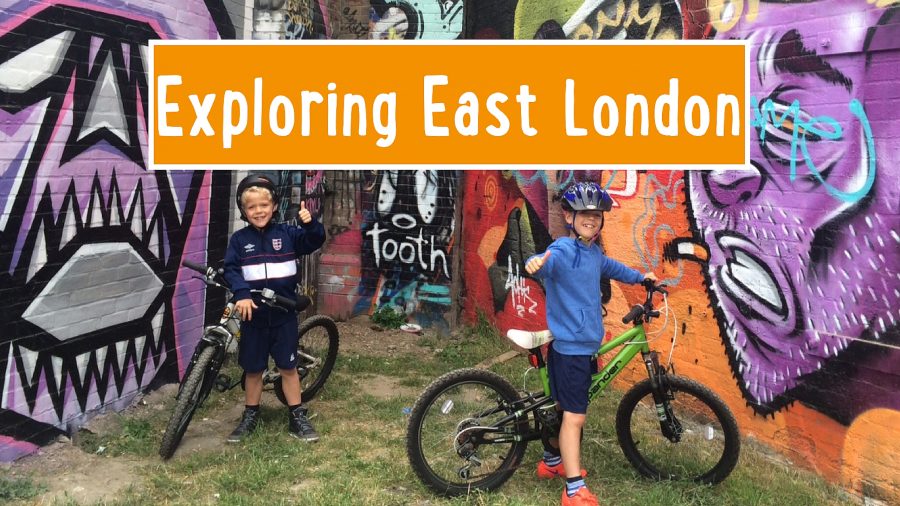 East London isn't typically the most kid-friendly area of the capital. It's more known for its hipsters and its Eastenders than its youngsters but that doesn't mean there isn't a load of great things to do with kids in the area.
1. The Olympic Park E20
Nowadays you simply can't mention East London without thinking about the 2012 Olympics. The games totally rejuvenated the area and the park, though at times still a bit of a building site is perfect for kids to explore and run about. Don't miss the Timber Lodge adventure playground and of course look out for sporting events at the Velodrome, Aquatics Centre and the stadium itself.
Waterworks fountain is another feature of the Olympic Park. With 195 individually controlled jets of water, this fountain is a firm favourite for visitors of all ages. Stand between the snaking pathway of the fountain and you will find yourself in a labyrinth of computer-controlled walls of water.  At night, when the shrieks of soaked visitors die down, the fountain lights up with a colourful neon glow.
2. Discover Children's Story Centre E15
In the shadow of Westfield and the Olympic Park is one of London's best-kept secrets, the Discover Children's Story Centre. There are indoor and outdoor play areas and an interactive exhibition space that allows kids to actually immerse themselves in the worlds of their favourite stories and authors. Look out for guest appearances by top children's writers too!
Day passes cost £6.50. There are two floors of immersive play spaces called Story Worlds and Story Gardens. Your day pass will give you access to these, as well as, the garden and cafe.
At the moment they have an amazing exhibition on every day until Jan 5: The Tiger Who Came to Tea. £1.50 in addition to your day pass. An immersive exhibition, for all ages, of the world of Judith Kerr's creations – The Tiger Who Came to Tea and Mog the Forgetful Cat.
3. Museum of Childhood E2
Great for parents who love nostalgia and want to relive their favourite childhood toys, kids will love the V&A's little sister museum for its interactive play areas, fascinating exhibitions and inventive holiday activities.
They offer drop-in activities, workshops and hands-on displays for all ages including storytelling, arts and crafts, tours and treasure hunts. Plus, temporary exhibitions and displays.
4. London Fields Lido E8
This outdoor heated pool is open all year but we'd suggest saving this one for summer months! Located in Hipster Heaven, London Fields, the pool is actually very child-friendly. Being a whopping 50m this welcoming pool has permanent lane swimming available as well as free swim areas, so you can relax knowing the kids' splashing about isn't getting in any serious swimmers' way!
There is also space for sunbathing if the sun ever does come out! Just beware of giant crowds during heatwaves. Visit on a Saturday and after your swim why not stock up on food from the nearby Broadway Market.
5. Victoria Park E3
Vicky Park, as its affectionately known, becomes a major festival venue during the summer. That's not to say it isn't also super child-friendly, there is a rowing lake and The People's Tavern on the eastside is described by one local as 'a creche with booze and dogs', though not as dangerous as it sounds!
The park features canals, ponds, a pavilion, tennis courts and a sports ground. Be sure to check out the open-air pop and rock concerts that are held in the park during the summer (and leave the kids with the babysitter if you like!).
6. The Regents Canal N1-E3
The stretch of the canal from Angel to Victoria Park, with a pitstop at Broadway Market is a great walk, the colourful barges and wildlife make it surprisingly picturesque for London's old industrial heartland, but did you know it's also a great place to do water sports? Look out for dogs and cats on barges.
It's a quiet and atmospheric waterway, that passes by parks, a zoo, Camden Market, Victorian warehouses and celebrity hangouts. It's a great walk to take as you seem to find that time flies and you're halfway across London before you know it!
7. Geffrye Museum E2
Walk through history, one living room at a time! The Geffrye Museum of the Home focuses on how people have lived over the past 300 years. The best time to go is during the summer holidays when there are activities for kids both in the museum and the gorgeous garden is hidden behind the house.
The Geffrye is located in the lively and creative Hoxton area – historically a centre for furniture-making and market gardening. Set in beautiful 18th-century almshouse buildings surrounded by gardens, it is often described as an oasis in the heart of the city.
Be sure to check it out at Christmas before it closes. The house will show you how people of the past celebrated Christmas and the origins of all our usual Christmas traditions. Read about it in our list of 15 Things To Do At Christmas In London.
*The Geffrye closes on 7 January 2018 for two years for a major development project*
8. Westfield Stratford
The behemoth shopping centre opened in 2012 to coincide with the Olympics and the general Stratford renaissance. It's great for family-friendly restaurants and all the shops you could ever want. It's the largest shopping mall in Europe and the new lifestyle destination for East London.
Visit the viewing platform on the top floor of John Lewis for great views of the Olympic Park and the city. Don't visit for last minute Christmas shopping it will end in tears!
9. Brick Lane E1
From curries to bagels, street art and street food, Brick Lane is always buzzy and perfect for when you're feeling hungry! Check out New York's latest export, the rainbow bagel or visit the Old Truman Brewery which regularly holds great exhibitions. Their Pancake Day race is not to be missed.
Teens will love rummaging through the many vintage shops. So many Levi's jeans! You can get lost hunting for a bargain within the bric-a-brac at this bustling East End market, bursting full of antiques, stunning fabrics and kitsch collectables.
10. Broadway & Columbia Road Markets E2
After all this exploring, you're bound to be hungry so make a beeline for Broadway Market – described as 'a working Victorian street market. On Saturdays, the whole road is lined with stalls selling all kinds of yummy delights. Grab some grub then eat it al fresco in nearby London Fields.
Columbia Road Market is open on Sundays and is the place in London to buy flowers – if you don't want to buy anything, you can just be basic like the rest of us and Instagram it.