A Teen's Guide to London's Best Shops
London is one of the top shopping destinations in the world. There are shops everywhere you go, everywhere you look. However, anyone who has walked the stretch of Oxford Street will know it's is hard to find a shop that is unique, affordable and best matches your fashion sense.
To help parents looking for birthday pressies or teens desperate to keep up with the latest trends, we asked 12-going-on-13 year old K-Rater Coco to share her favourite teen shops in London, both in store and online. This list will make even the grumpiest teen giddy with excitement!
*Disclaimer: we hold no responsibility for how much money your kids will make you spend…
See our popular 50 Things for Teenagers to do in London.
1. Pull & Bear
Pull&Bear is a Spanish clothing and accessories retailer. The company was founded in 1991 with a clear mission of dressing young, environmentally-engaged and dynamic fashion lovers. The brand has fast become globally recognised for its fun styling, fusing international and club influences with a playful attitude.
By sharing your PULL&BEAR looks and tagging @pullandbear using the hashtag #pullandbearcommunity, you can be entered into a monthly draw to win a Netflix subscription and a discount of up to 20%!
Coco says "Pull & Bear could do smaller sizes but it still remains one of my favourite shops. Very trendy!"
9 / 10
2. Urban Outfitters
Urban Outfitters can be found on numerous high streets and shopping centres across the capital. Clothes can be on the expensive side of things, but the sales are generally really good. The best things about the store is not the clothes, but all the other random items you can buy – books, vinyl and cool things to decorate your bedroom.
Coco says "I love the style of Urban Outfitters, they always catch up with the latest trends. They need small sizes similar to PULL&BEAR."
9 / 10
3. Bershka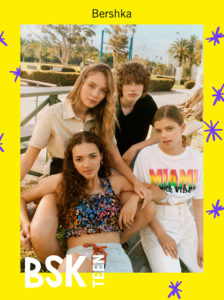 Bershka's public is characterized by adventurous young people, who are aware of the latest trends and are interested in music, social networks and new technologies. Bershka is brilliantly ahead of the game with their support of organic farming, using organic cotton in many of their garments (100% cotton, completely free of pesticides, chemicals and bleaches).
Coco says "Bershka is very nice and keeps up with the latest trends but also needs more sizes."
Psst… Teens might want to check out BSK Teen in the women's section online to stay up to date with Bershka's latest trends.
9 / 10
4. Nike
However you say is Nikeeey or Nike is streetwear heaven, dominating the sports brand market with a value of $29.6B. With all the ways you can buy 'garms' online nowadays, it's nice to actually go into a store and actually take a look at the goods you're getting. Stay tuned to their local social media @nikelondon as they have special pop-up events from time to time.
Coco says "I love their Nike Air Force 1s, they are my favourite shoes! I own a pair myself and they have cool color combos."
10 / 10
5. H & M
H&M (Hennes & Mauritz) is a Swedish multinational clothing-retail company known for its fast-fashion clothing for men, women, teenagers, and children. Popular with the younger generation, this clothing brand has grown into one of the most recognizable brands in the fashion industry. Hennes also offer £20% off everything on the website for students with a UNIdays account, so what are you waiting for?
Coco says "Nice clothing – some items are not my style but that's just my opinion! I did find some very cute things in their in-person store when I went in the other day…"
6 / 10
6. New Look
New Look is a British global fashion retailer with a chain of high street shops, founded in 1969. The chain sells womenswear, menswear, and clothing for teens. Right now you can get £20 off any £40 spend when you use the code SHOPSAVE20.
Coco says "I find that New Look's children and teen clothing sections are nowhere near as nice as their adult clothing."
5 / 10
7. Typo
A few of your teen's favourite things? Socks, Mugs, Lighting, Laptop & Phone Cases, Drink Bottles, Candles, Pens, Diaries . . . the list goes on! Typo saves parents from all the back-to-school hissy fits with all the stationery your child could dream of.
Coco says "Typo has amazing stationery, laptop case and water bottles but they could definitely widen their range of products."
8 / 10
8. Dr Martens
Dr. Martens, also commonly known as Doc Martens, Docs or DMs, is a British footwear and clothing brand. Originally a modest work-wear boot that was even sold as a gardening shoe at one stage, the brand has become one of the most notable and stylish shoes with celebrities and influencers in modern-day.
Coco says "The Dr. Marten black boots are iconic, I love the style so much. Their sizing could be more accurate though, they always seem to be a bit too big."
8 / 10
9. Boots
Boots is a British health and beauty retailer and pharmacy chain in the United Kingdom and other countries and territories including Ireland, Italy, Norway, the Netherlands, Thailand and Indonesia. For 170 years, Boots have also sought to improve the health and wellbeing of local communities.
Coco says "Boots is very good for all the beauty products you need. I get all my hairbrushes and shampoo and conditioner from there. Plus, the staff are always very helpful."
9 / 10
10. Starbucks
Starbucks Corporation is an American multinational chain of coffeehouses. As the world's largest coffeehouse chain, Starbucks is seen to be the major representation of the United States' second wave of coffee culture. In October 2012, however, Starbucks faced criticism after an investigation found that the company reportedly paid only £8.6 million in corporation tax in the UK over 14 years, despite generating over £3 billion in sales. Nevertheless, the company is still on going and many customers accept their public apology, all in the name of delicious coffee…
Coco says "I love Starbucks. I can barely go one weekend without a pink drink or a cold chocolate! Now winter is coming, I will probably go for a hot chocolate."
8 / 10
11. Footlocker
Foot Locker is an American sportswear and footwear retailer, with its headquarters in Midtown Manhattan, New York City, and operating in 28 countries. The company seemingly lead the celebration of sneaker and youth culture around the globe through a portfolio of brands including Kids Foot Locker, Champs Sports, Eastbay and Sidestep.
Coco says "Foot Locker is very good for most sports brands or shoes including Nike, Adidas, Puma and many more. It is often very busy and overcrowded – they could definitely employ more staff."
8 / 10
12. Koko Art
Koko Art is a brand that specialises in hand painted shoes. The company was founded in 2010 in Camden Town, being the first one of its kind in London. Koko Art has now built a group of qualified artists from different countries and backgrounds, each with their own style and passion, to create a selection of paintings and patterns for the customer to choose from.
Coco says "Koko's art designs are very cool shoe patterns – basically you bring in shoes and they will put a design of your choice on it. It is such a good concept but it is very expensive if you are buying a branded shoe, for example, Nike. The main shoes they are used to working with are Nike and Converse."
7 / 10
13. Pan n Ice
Pan-n-Ice was founded in 2015 when CEO Henry Milroy was travelling in Thailand. Instantly in awe of this amazing cultural way of making ice cream, he decided to bring it back home to the UK. Pan-n-Ice has now become a well-established ice roll brand with stores in prestigious locations such as Westfield, Selfridges nationwide, Harvey Nichols and Oxford Street.
Coco says "Pan-n-Ice have made some of the best ice cream I have ever had. You can get pretty much any flavour you want but it is very popular which means there are usually long queues."
7 / 10
14. Hollister
Hollister is a retail brand owned by Abercrombie & Fitch. Goods are available in-store and through the company's online store. In 2019, the store was ranked in the top five clothing brands among teenagers. The in-person store became hugely popular in the UK for its publicity stunt hiring physically fit young models to stand outside and offer a polaroid picture with customers (see our very own Kitty from KidRated as a teen above). Thank god this isn't still an option, but the brand remains hugely popular with the teen target market!
Coco says "Hollister do lots of co-labs with the Damileo sisters a.k.a Charli and Dixie Damileo. Their clothing is super nice! They may need a few more sizes too."
9 / 10
15.Sushi Dog
Sushi Dog in Westfield White City was founded by two friends, Greg and Nick in August 2017. Being sushi fanatics, they both became frustrated with the lack of freshness and imagination when it came to quick, grab & go sushi offerings in the UK. Fast forward a few years and SushiDog is now on a mission to revolutionise what sushi is, how it's made and how it's eaten across the UK and beyond.
Coco says "Sushi Dog is my nine-year-old sister Willa's favourite food shop. It is very delicious and also healthy to eat."
9 / 10
16. Lush
Lush invent their own products and fragrances. You become very aware you have entered a Lush store when you smell the array of sweet smells on arrival. The company make their products fresh by hand using little or no preservative or packing and they only use vegetarian ingredients that have not been tested on animals. This is revolutionary for a comestic company!
Coco says "Lush bath bombs and their bubble bath smell great but it is irritating to some people's sensitive skin."
7 / 10
17. Pangaia
PANGAIA is a materials science company on a mission to save our environment. The group are a global collective of scientists, technologists, designers who create essential products that contain as many sustainable & recyclable elements as possible. With every item of clothing bought, 1 tree is planted!
Coco says "Pangaia sells very nice recycled hoodies which are good for the environment too but very VERY expensive."
7 / 10
18. Zara
Zara is one of the largest and most popular international clothing companies. The Spanish retailer specialise in fast fashion and products include clothing, accessories, shoes, swimwear, beauty, and perfumes.
Coco says "Most of my jeans are from Zara but I used to literally ONLY wear Zara because they are always reliable with nice prints and patterns."
8 / 10
19. Apple
Apple Inc. is an American multinational technology company that specializes in consumer electronics, computer software, and online services. Apple is the world's largest technology company by revenue and, since January 2021, the world's most valuable company. Criticism of the brand includes allegations of stolen designs, destroying the market smaller businesses, unethical business practices, environmental destruction, insufficent data security and tax evasion (she says… typing from a mac…).
Coco says "I LOVE APPLE PRODUCTS and it is my favourite electronic store however it is definitley too expensive and overpriced for most people but it is kind of understandable as they make such high tech equiptment."
8.5 / 10
20. Brandy Melville
Brandy Melville is a European clothing and fashion accessories brand, who markets their products to young women. The style is basic but preppy, attracting most of its popularity in California.
Coco says "I love the Brandy Melville clothing store and their style but they should make a wider range of items."
7 / 10
And for your consideration…..
We also asked some of our other teenage K-Raters where they would go if they wanted to be in an area where it was was fun to hang out and lots of different shops for them to go and spend their parents' hard earn dollar in.
And these were their favourites….
Carnaby Street
Close by to Oxford Circus is the pedestrianised Carnaby Street. In the swinging 60s, Carnaby Street was essentially the centre of things 'cool' in London and it still is quite a 'cool' street.
Now, Carnaby Street has a great mix of shops from Monki to Doc Martens to Liberty to Adidas, so there is something for most teenagers. And you don't need to worry about them being run over.
Teens might want to check out the Levi's store to snap up some classic 501′ jeans. Plus, students get a 20% discount there, which is always a bonus.
Rokit
Rokit is a go-to if teens are looking for vintage clothes. You can pick up anything and everything from Levis denim jackets to old school Hawaiian shirts. There are many vintage stores across London that you can check out but Rokit is a solid and reliable place where you know you'll find at least one vintage find.
The prices are a little higher than other vintage stores but that's because you don't have to dig around in this one to find hidden gems – all the pieces are pretty great. Unlike smaller vintage stores, Rokit has a good amount of changing rooms so you won't find yourself spending hours in there just because you had to wait for the one changing room to be free. We love that!
Selfridges
Selfridges has a great section of high street brands on the ground floor. It also has a fantastic food hall. As everyone knows, teenagers need a lot of food. And the best thing ever: you can get your name on a pot of Nutella – present and food thieves problems solved forever.
You might find a DJ spinning tunes in the fashion department, Jason Atherton doing a cooking demonstration in the food hall, or Tracy Emin exhibiting her favourite Selfridges products.
There is something here to suit a cross-section of visitor's tastes and budgets. Depending on what you are after you can buy a denim jacket from Prada or from Fiesel. You can have lunch at Hix champagne bar or at EAT sandwich shop. In the cosmetics department, alongside the Chanel and Clinique make-up, you will find more affordable and more youthful options like MAC and Benefit.
Westfield
The two Westfield shopping centres in London are packed full of shops for tweens and teens for that matter. You can go to all the high street shops such as H&M, Hollister and so many more. And then you can pick up some Snog frozen yoghurt or any other kind of snack or even watch a movie at the massive Vue cinema.
For the teens looking to do something (slightly) more active, both Westfields also have bowling alleys for them to let out all that teen angst onto the pins. Now, Westfield White City have the first high-tech indoor crazy golf experience. Each of the four courses gives a nod to nostalgia, inspired by old school arcade and fairground games. From a giant pinball machine themed hole to a duck shooting gallery, relive childhood fun throughout the courses.
Camden Market
One of the biggest markets in London, Camden has a bit of every from clothes and jewellery to street food. Along the high street, there is also a good range of high street shops. The clientele is also a vibrant bunch, think rastas, punks and everything in between.
Virtually every type of cuisine is offered, from French to Argentine, Japanese to the Caribbean. The food tastes great and it's affordable, especially in the Lock Market. You can eat at the big communal tables or even by the canal.
Watch Issy's review here.
Portobello Road Market
Immortalised in the films Notting Hill and Paddington Bear, Portobello Road is not only a really pretty road (and very instagramable!) but it is also home to a great market.
For teens who don't want to dress like all their friends in New Look and H&M, this West London market has great vintage clothes. Parents can even tag along to look at the antiques as long as you're prepared to pay as well!
Watch Elliot's review here.
Covent Garden
Once a famous fruit and veg market, you may remember it features in My Fair Lady. The area is now home to some great shops for teens.
Buzzing with the excitement of the opera and Theatreland, the area boasts some of the best shopping destinations in London's West End. From Apple to Tom Ford, Mulberry to Paul Smith and Petersham Nurseries to Benjamin Pollock's Toy Shop, the area offers a unique blend of global and independent brands, curated to satisfy every shopping need.
Once you have covered the covered market, head up Neal Street to the Seven Dials. Where you will find plenty of good high street shops.