KidRated Blog
Great Films for Older Kids and Teenagers
Published: 18th May 2023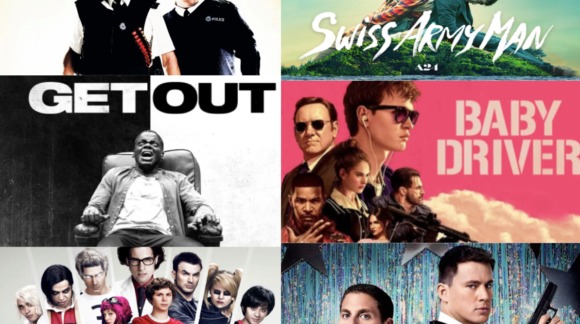 Welcome to KidRated's guide to Great Films for Older Kids and Teenagers. We got the idea for this list during Lockdown when we realised parents sitting up late with their older kids, wanted to watch films they could enjoy together..
So we asked Jack – a 17year old film buff  – to give us a list of his favourite movies that he thought older kids and teens would like and Mum and Dad could appreciate too.
Now we know every parent is different. Some treat the BBFC's age ratings as law and some treat them as guidelines. We're not advocating you let children watch films that are too mature for them because that would be silly. We're just saying older kids and teens are a tough crowd to entertain and this list might help.
Jack has since gone on to become a very busy young man, so we've updated his guide in his absence, and with 50 plus recommendations on it we're confident you'll find something you'll enjoy. Oh, and if you or your kids have any recommendations, tell us below and we'll add them!!
Here you go. Happy viewing!
Action and Adventure Films
The Avengers Film Series & The MCU (13)
The Avengers Series is a collection of films produced by Marvel Studios based on characters that appear in Marvel Comics and revolves around a group of superheroes who work together to save the world from various threats.
The genius of The Marvel Cinematic Universe is each of the superheroes were introduced to the audience by appearing in their own standalone films and then made cameos in each other's movies via post-credit sequences and sometimes with bigger subplot roles.
This means when Marvel came to tackle their four big Avenger movies the audience was primed and ready – and they didn't disappoint. What followed was The Avengers (2012), Avengers: Age of Ultron (2015), Avengers: Infinity War (2018), and Avengers: Endgame (2019).
These films are great for all the family but especially good for teens and older kids as they have a little bad language in them, can be scary and also contain a fair amount of cartoon violence.
Start with The Avengers and then work through the standalone movies and TV series. If you do one a week you'll probably be finished in a year!
Available to watch on Sky and Disney+.
Top Gun: Maverick (15)
36 years after the first Top Gun film, Tom Cruise is back as beloved fighter pilot Pete "Maverick" Mitchell in quite simply one of the best films EVER made.
Maverick has been called up to train a new team of fighter pilots for a near-impossible mission – to help destroy a foreign enemy's uranium plant and get out alive. Facing an uncertain future and confronting the ghosts of his past, Maverick is drawn into a confrontation with his own deepest fears, culminating in a mission that demands the ultimate sacrifice from those who will be chosen to fly it. This is an insanely entertaining and satisfying movie that kids of all ages are sure to enjoy.
Why not have a double header and start off by watching the original Top Gun.
Available on Prime Video.
No Time To Die (12)
This is Daniel Craig's fifth and final outing as the iconic James Bond. The film finds Bond and his love interest, Dr. Madeleine Swann (Léa Seydoux) kicking off blissfully simple new lives together, only for the arrival of the villainous Lyutsifer Safin (Rami Malek) to ruin everything. Swan and her daughter are kidnapped by the evil Safin and Bond puts it all on the line to rescue them.
This is an action-packed film full of car chases, explosions, elaborate scenery, romance, high drama and intrigue.
Spy movies are big with kids and when you have the iconic James Bond, they're sure to want to see it. As all the Craig film are linked with an over-arching narrative why not start with Casino Royale so the kids can see how the character evolves over the five films…
Available on Prime Video.
Mission Impossible; Fallout  (15)
If James Bond has a rival for the title of cinema's best spy it has to be Tom Cruise's Ethan Hunt.
Over the last 25 years the Mission Impossible franchise has become THE series to beat – with exotic locations, larger than life villains, spectacular plots and jaw-dropping stunts. Added to that it has a core team that includes Simon Pegg and Ving Rhames making each of the episode feel cosy and familiar.
Fallout brings together elements of three films that precede it when a crucial mission goes haywire meaning, Ethan (Tom Cruise) has to stop plutonium from falling into the hands of global terrorist group hell-bent on destruction. However, a CIA agent sceptical of Hunt's methods (Henry Cavill, Man of Steel) is tasked with monitoring him, and threatens to derail the mission.
Like No Time To Die this works as a standalone film but you might have more fun if you decide to watch all the films in the series first. What we can promise you is one hell of a ride that will leave all of you with your hearts in your mouths,
And good news people a new Double Mission Impossible movie arrives in the summer of 2023 and concludes at Christmas! Click here for the trailer and the picture below to see why Hunt is better than Bond..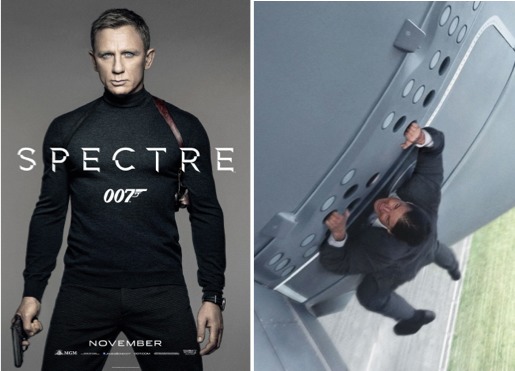 Kingsman: The Secret Service (15)
If you like funny, action-packed spy films, then you'll love this 2014 film starring Colin Firth and Taron Egerton. The main premise is that a secret organisation recruits an inexperienced but promising street kid named Eggsy.
They recruit him into its ultra-competitive training programme, just as a dire global threat emerges from a twisted tech genius.
There are a number of mildly violent fight scenes and some swearing. Plus a very, very, very rude joke at the end.
Available on Netflix.
Hot Fuzz (15)
Hot Fuzz is the 2nd in director Edgar Wright's 'Cornetto Trilogy'
and a 2007 rip-roaring police film starring Simon Pegg and Nick Frost.
Sergeant Nicholas Angel is a high-achieving police officer for the London Metropolitan Police Service. After he is transferred to a small village in Sanford, Gloucestershire, a series of deaths make him very suspicious of what the townsfolk may be hiding.
Available to buy on Amazon Prime Video.
Kick-Ass (15)
Kick-Ass is a 2010 superhero action film starring Nicholas Cage and Aaron Johnson.
It tells the story of Dave, an ordinary teenager, who sets out to become a real-life superhero, calling himself "Kick-Ass". He gets caught up in a bigger fight when he meets Big Daddy. He's a former cop who, in his quest to
 bring down the crime boss Frank D'Amico and his son Red Mist, has trained his eleven-year-old daughter to be the ruthless vigilante Hit-Girl.
Contains scenes of mild violence and strong use of swearing (yes that word!!) but other than that it is a very funny and brilliant comic-based superhero film.
Available on Amazon Prime Video.
Kong: Skull Island (12)
Kong: Skull Island is a 2017 sci-fi adventure film with a cast including Tom Hiddleston, John Goodman, Brie Larson and Samuel L. Jackson and of course, a giant CGI gorilla.
A group of U.S military and scientists set up to survey an uncharted remote island, unaware of the gigantic surprise that lies in wait for them.
The special effects are fantastic. This film features inclusion of guns and forms of mild violence and swearing.
Available on Netflix.
Baby Driver (15)
Baby Driver is a 2017 action film also written and directed by Edgar Wright. It stars Ansel Elgort as a young, musically driven getaway driver.
The sunglass-wearing wise-crack is seeking freedom from a life of crime with his girlfriend Debora (Lily James). If you enjoyed Hot Fuzz, you'd definitely love this because it's thrilling, intense and has very suspenseful chase scenes.
With a brilliant soundtrack and quick-to-the-point editing and humour, you can purchase this film on Prime Video.
Scott Pilgrim vs. The World (12)
Another film by Edgar Wright (last one we promise), Scott Pilgrim vs. The World is a 2010 film adaptation of the famous graphic novel series.
The film stars Michael Cera as Scott Pilgrim, a slacker musician who must win a competition to get a record deal. Oh, and battle the seven evil ex-boyfriends of his newest girlfriend Ramona Flowers (Mary Elizabeth Winstead).
With witty comedy and fast-paced 'video-game like' action sequences, Scott Pilgrim split critics on release but I think it's an underrated gem.
Available on Netflix.
Black Panther & Wakanda Forever (13)
Black Panther is a superhero movie based on Marvel Comics characters of the same name that came out in 2018. It tells a story of Wakanda, a nation hidden from the world situated in Africa.
We follow T'Challa as he gets ready to ascend the throne and take over the mantle of Black Panther after his father, king T'Chaka, is killed. The sequel, Black Panther: Wakanda Forever, follows his sister's story.
Marvel's masterful superhero drama is unlike any other, with amazing diversity, surprising depth, and strong, smart female characters.
Available on Amazon Prime.
The Dark Knight Trilogy
Batman was always a firm family favourite – from the camp 60s series starring Adam west through to the 90s reboots with Michael Keaton, Val Kilmer and George Clooney (though the less said about his film the better).
But when the genius director Christopher Nolan got his hands on The Caped Crusader, the result was The Dark Knight Trilogy – three Batman films that delivered action, emotion and plot in equal measures and are regarded by many as masterpieces. Christian Bale its brilliant as  Bruce Wayne/Batman. But it's the baddies in the shape of Liam Neeson, Tom Hardy and of course the late, great Heath Ledger's Joker who steal the films.
Dark, gritty and philosophical these aren't for youngsters, but if your older kids and teens can sit through the long running time of each film they'll be rewarded with a wonderful cinematic experience. Draw the curtains and play them loud. Or better still catch them on the big screen at retro cinema like The Prince Charles Cinema.
Sci-Fi/Psychological Thriller Films
Dune (13)
Once thought un-filmable, Frank Herbert's epic space opera was finally brought to the screen in 1984 by the cult director David Lynch.
Set in the year 10191, we follow Duke Leto and his House Atreides who have been handed control of the Spice mining operation on the planet Arrakis. But politics and intrigue mean the Duke will face opposition which will put his son Paul (Timothee Chalet) and wife Lady Jessica in grave danger forcing them to make an alliance with the planets indigenous inhabitants – The Fremen.
This remake by the visionary Denis Villeneuve was one of the biggest films of 2021 and like his other two masterpieces – Arrival and Blade Runner 2049 – it's a visual treat. A word of warning though Dune is a set up for what looks like being an epic franchise with Part 2 arriving later in 2023 – watch the trailer here – so the kids may feel a little frustrated at the end.
Available on Amazon Prime.
Sinister (15)
I'm not usually a sucker for horror films and I was expecting this to be another cliché horror flick but after watching, I was pleasantly surprised.
The plot revolves around true-crime writer Ellison Oswalt (Ethan Hawke) whose discovery of Super 8 home movies depicting grisly murders found in the attic of his new house puts his family in danger.
This isn't the usual horror film as it not completely filled to the brim with jump scares, but it is more psychological and is constantly making an audience member question 'why?'. Although there are some scares scattered throughout, they are used as a means to help develop the story rather than just as a cheap scare.
I wouldn't recommend watching this with younger siblings as I am 17 and even I was terrified for a while afterwards. This contains strong language and disturbing images.
You can find this film on Netflix.
A Quiet Place (15)
Summed up by the tagline, "If they hear you, they hunt you", A Quiet Place is a 2018 horror film in which a family live their lives in silence to evade alien creatures that hunt by sound.
Full of extremely suspenseful scenes peppered with heart-warming moments. If you're a fan of jump scares and visually chilling special effects, this is the film for you. The sequel A Quiet Place Part 2 was released in March 2020.
Available on Netflix or Amazon Prime.
Whiplash (15)
Whiplash is a 2014 drama film starring Miles Teller and J.K. Simmons featuring music by Justin Hurwitz (La La Land).
Andrew Neiman (Teller) is an ambitious young jazz drummer, in pursuit of rising to the top of his elite music conservatory. Terence Fletcher (Simmons), an instructor known for his terrifying teaching methods, discovers Andrew and transfers the aspiring drummer into the top jazz ensemble, forever changing the young man's life.
Simmons won best supporting actor for his performance in this film as he is an absolutely brutal instructor as good as Sergeant Hartman from Full Metal Jacket! Whiplash is a sharp and cleverly written film, and somewhat unconventional in its exploration of themes and ideas around romance, obsession, and the nature of abuse.
The movie is great fun, but it also poses some legitimately thought-provoking moral questions. It features strong language.
You can find this film on Amazon Prime.
Get Out (15)
Get Out is a 2017 psychological thriller directed by Jordan Peele. Chris Washington (Daniel Kaluuya) is a young African American man who uncovers a disturbing secret when he meets the family of his Caucasian girlfriend, Rose Armitage.
The film deals with modern issues such as race and class divide, coming to light in a terrifying way as Chris is accepted into his girlfriend's family home.
This is one of the more tense recommendations as it features some violence, adult references, and mild language. It's a great piece of storytelling for anyone who loves psychological thrillers.
Available on Amazon Prime or Prime Video.
Guardians of the Galaxy (12)
Guardians of the Galaxy is a hilarious 2014 sci-fi comedy in which a group of outcasts try to save worlds from the destructive ambitions of a galactic warlord.
A stellar cast includes Chris Pratt as Peter Quill,  Zoe Saldana as Gamora, Dave Bautista as Drax, Vin Diesel as Groot and Bradley Cooper as Rocket.
Although part of the Marvel Cinematic Universe (MCU), you don't need to have seen any of the films that came before this as it is an origin story. It's very memorable and suspenseful with mild violence and swearing.
Available on Amazon Prime Video.
Cloverfield Lane (12)
Starring Mary Elizabeth Winstead and John Goodman, 10 Cloverfield Lane is a sci-fi thriller about a young woman who is held in an underground bunker by a man who insists that a hostile event has left the surface of the Earth uninhabitable.
Featuring mildly threatening images and some strong language this is a rollercoaster of emotion with spine-chilling scenes filled with tension and suspense.
Set in the same universe as the 2008 film Cloverfield it is not a direct sequel so you don't need to have seen the earlier movie.
Comedy Films
Spree (15)
Spree is the 2020 satirical comedy starring Joe Keery (notably Steve in Stranger Things). Keery stars as Kurt Kunkle, a rideshare driver thirsty for followers, with a fresh new a deadly plan to go viral. As his disturbing livestream is absurdly embraced by the social media hellscape, a comedienne emerges as the only hope to stop his murderous rampage.
This film is brilliant as it captures the somewhat beauty of the cliché of a social media influencer willing to do anything for views to help them grow. Keery is extremely good at playing @Kurtsworld96 which you can actually find on Instagram!
This film is jam-packed with interesting uses of cinematography, subversion, and uncomfortably awkward comedic beats. Despite this, I would highly recommend this satirical dark comedy, although it features mildly strong language and moderate violence.
This film is available on Netflix.
Knives Out (15)
Knives Out is a 2019 comedy-mystery 'whodunnit' directed by Rian Johnson and starring Daniel Craig, Chris Evans and Jamie Lee Curtis.
When renowned crime novelist Harlan Thrombey is found dead at his estate just after his 85th birthday, the inquisitive Detective Benoit Blanc (Craig) is mysteriously enlisted to investigate. From Harlan's dysfunctional family to his devoted staff, Blanc sifts through a web of red herrings to uncover the truth behind Harlan's death.
This film is extremely intense in terms of mystery and really grabs you as an audience member with use of such creative personalities and motives for the characters which amaze me every time I watch it. There are several objects and motives which you see at the start and do not understand but then their relevance is apparent as the film concludes.
This film contains mildly strong language and some moderate violence. With amazing cinematography, humour, and direction throughout. It was a huge hit and a sequel is already in the works proving for Craig that there is well and truly life after James Bond.
Available on Amazon Prime.
Superbad (15)
Don't let its title deceive you because far from being super bad, this film is in fact super hilarious.
Three high school boys, Seth, Evan and Fogle, are on a quest to deliver alcohol to a party in order to win the approval of their crushes, but just as they're about to pay an awkward encounter with the cops derails their plans and sends the three of them on a very different journey.
Based on the teenage years of writers Seth Rogan and Evan Goldberg, Superbad is a brilliant comedy that truly reflects what it's like being a socially awkward teenager. Not one to watch with younger siblings, this film features frequent adult references and very strong language.
Available on Netflix.
21 Jump Street (15)
21 Jump Street is a 2012 American buddy cop action comedy film starring Jonah Hill and Channing Tatum and follows two police officers who are forced to re-live high school when they are assigned undercover as students to bust a drugs ring.
Like an American version of Hot Fuzz, 21 Jump Street contains strong language, adult references and lots of guns and comedy violence. As can be seen in the trailer below so you have been WARNED!!!
Available on Netflix.
The Naked Gun (15)
Ok, so this one you can wat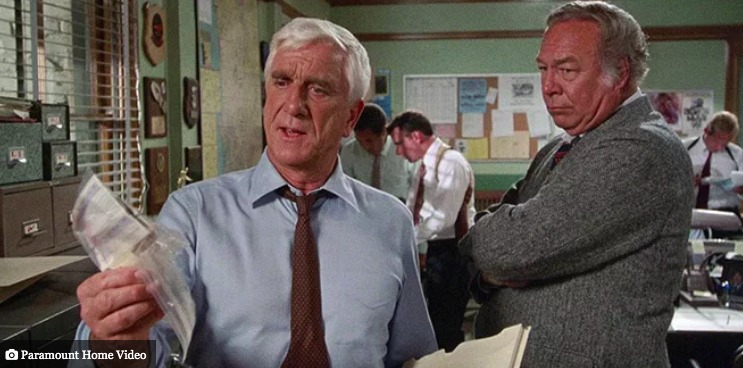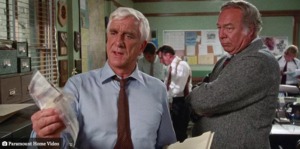 ch with your parents! Based on a classic 80s TV Series called Police Squad, The Naked Gun is a 1988 parody cop film in which Detective Frank Drebin (Leslie Nielson) tries to prevent The Queen's assassination, whilst on a state visit to the USA.
Frank's main suspect is Vincent Ludwig, a rich businessman, who uses a hypnotic device to turn other people into murderers.
This film is an out and out classic and gets better with every watch. If you love classic comedy, slapstick and puns that make you groan, this is the film for you.
Available on Amazon Prime.
The Fundamentals of Caring (15)
The Fundamentals of Caring is a 2016 American comedy-drama film starring Paul Rudd, Craig Roberts, and Selena Gomez about Ben, a writer suffering from writer's block.
Deciding he needs a new job, Ben embarks on a six-week course to become a carer and ends up looking after Trevor, an 18-year-old desperate to see the world's deepest pit.
It's a hilarious coming of age film about trauma, friendships and human connections with some strong language and adult references.
Available on Netflix.
Swiss Army Man (15)
This 2016 American comedy-drama adventure film stars Swiss Army Man, Paul Dano and Daniel "Harry Potter" Radcliffe and explores ideas about humanity and how people fit into society.
Dano is Hank Thompson, a man contemplating ending it all after being stranded on an island. However, his plans are put on hold when he discovers Radcliffe washes ashore. The two men quickly develop a special bond of friendship – the only catch being Radcliffe is dead! So, Dano has to manipulate his body like a Swiss Army knife!
Brilliantly bonkers with some great fart gags it contains adult themes and references to suicide but I love it and thinks it gets better with every watch.
Available on Prime Video.
Soul (PG)
Soul is a 2020 Pixar- animated film co-directed by Pete Doctor (Up, Inside Out) and Kemp Powers, and starring Jamie Foxx and Tina Fey.
Soul introduces Joe Gardener (Foxx), an easy-going music teacher who lands the gig of his life at the best jazz club in town with his idol Dorothea Williams. But one misstep lands Joe in the fantastical place of 'The Great Before' and he must team up with soul 22 (Fey) in order to find the answers to some of life's biggest questions.
Now I'm aware that this is a list for teenagers and older kids, but this will surprise you for an animated film as it prominently deals with adult themes such as death, mourning, and the key appreciation of others. Pixar never ceases to amaze me with its exquisite animation, but this film absolutely hits it out of the park with the photo-realistic look mixed with the cartoonish style.
With genius writing, hilarious comedy, and a rollercoaster of emotion, you can find this film on Disney+. Oh and also check out my list of must-see animated classics for kids and older teen here.
Coming of Age/ Drama Films
What If (15)
What If is a 2013 romantic comedy starring Daniel Radcliffe as Wallace, a medical school dropout who is seriously burned out from a string of failed relationships.
When he attends his roommate's (Adam Driver) house party, he meets a chirpy animator called Chantry (Zoe Kazan) and they immediately spark a wholesome friendship, although Wallace develops romantic feelings for Chantry, and he must figure out how to get over her.
I don't usually rate rom coms very highly, but this one is a marvel due to the interesting uses of sight gags, storytelling and cinematography which really helps it stand out from the crowd of other romantic comedies.
Although the story and narrative are somewhat predictable and extremely schmaltzy at times, it is still very pure and enjoyable. This film contains mildly strong language and references to sex.
You can find this film on Netflix.
The Social Network (15)
The Social Network is the 2011 biopic directed by David Fincher (Fight Club, Gone Girl) and starring Jesse Eisenberg and Andrew Garfield.
Eisenberg stars as Mark Zuckerberg, a Harvard student coding an innovative and now famous site known as Facebook. Fincher's biographical drama chronicles the rise of Zuckerberg from Harvard sophomore to internet superstar.
It does an extremely good job of telling the key stories of his development into the website and company of Facebook. With witty dialogue and complex twists and turns mixed with Fincher's classic style of direction and cinematography,
The Social Network is an absolute classic that I can easily return to on multiple occasions. It contains mildly strong language and some sexual scenes.
This film is available on Netflix.
Mid90s (15)
Directed by Jonah Hill, as the title says, this film takes place in the mid-90s and is a coming of age film about a young lonely boy named Stevie with a troubled home life in Los Angeles.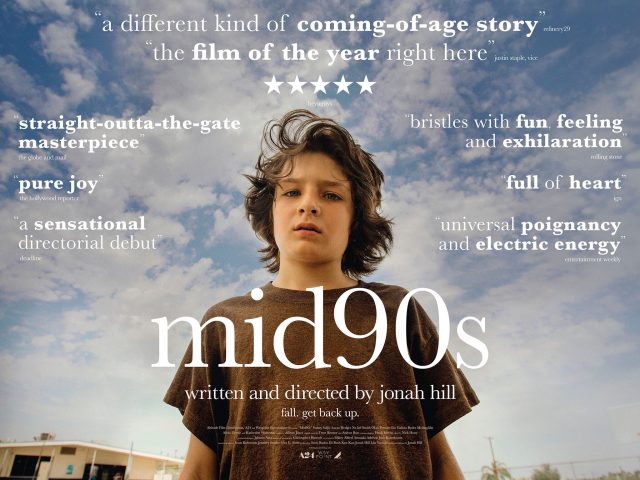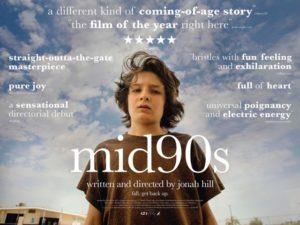 His life changes when he meets a crew of new friends in a skate shop. Praised by critics for its sense of nostalgia and the hip-hop and rap filled soundtrack, Mid90s is a hidden gem and a true to life tearjerker.
This film's certificate is a 15 as there are adult references and swearing, but other than that a very comedic and underrated film.
Find it on Netflix.
American Beauty (18)
My first 18 rated film on the list is a classic and if you like thought-provoking, meaningful, emotional films, you'll love American Beauty.
It stars Kevin Spacey as a man with a failing marriage going through a mid-life crisis who falls in love with a teenage girl. The plot may sound odd but if you're an older teen and your parents think you could watch this I highly recommend it as it's a great piece of storytelling and demonstrates key themes of human connection and emotion in a broken family.
Directed by Sam Mendes (Skyfall, 1917 and Spectre) and a haunting soundtrack by Thomas Newman (The Shawshank Redemption, The Green Mile and Finding Nemo), this film features very adult themes so it may not be suitable for all, but those who can handle it won't be disappointed.
Available on Netflix.
BlacKkKlansman (15)
From visionary filmmaker Spike Lee comes the incredible true story of an American hero,
Ron Stallworth, played by John David Washington. In the early 1970s, Stallworth becomes the first African American detective in the Colorado Springs police department and determined to make a difference, plans to infiltrate the Ku Klux Klan with partner Flip Zimmerman (Adam Driver).
This film offers a true-life examination of race relations in 1970s America that is just as relevant in today's contemporary society. Based on a completely true story, this film is eerily uncomfortable at times but is also one of the most important films of the 21st century as it deals with cases of extreme racism and white supremacy. It includes hate speech and violence.
You can find this film on Netflix.
It's Kind of a Funny Story (12)
It's Kind of a Funny Story is a 2010 comedy-drama in which 16-year-old Craig Gilner decides to go to the hospital to seek help aft
er contemplating suicide by jumping off the Brooklyn Bridge.
This film tackles serious issues such as depression, schizophrenia and suicide and is a real tearjerker.
But it is also an intelligent coming of age story and says a lot about how we and society deal with mental illness. The film contains adult themes and some strong language.
Available on Netflix.
The Perks of Being a Wallflower (12)
Written and directed by Stephen Chbosky, The Perks of Being a Wallflower tells the story of Charlie (Logan Lerman) and how he deals with his mental health after his best friend commits suicide.
There's something about this film that will make you feel that life's worth living whilst taking you on a genuine emotional journey.
It has an amazing soundtrack and excellent performances by the lead actors as well as a strong supporting cast. Perfect for anyone who wants to see something deep and artistic, but also quite funny as well.
I read the book and I think it's clear Stephen Chbosky was passionate about adapting it the story into a coming of age film that would be gripping as well as emotional. Contains moderate adult references and scenes of drug use
Available on Netflix.
Super Dark Times (15)
This film is incredible. It tells the story of two inseparable best friends, Zach and Josh, who do everything together until a violent incident puts a wedge in their friendship and drags them apart.
This is Kevin Phillips' directorial debut and his choice of editing and cinematography is similar to the work of Edgar Wright so if like me you love him then you'll love this
There are six key characters making up the main cast and the pacing of the film really drives the fantastic narrative. If you are looking for an indie film with chills, then this one's for you. Features adult themes.
Available on Netflix.
CODA (13)
CODA, which stands for the child of deaf adults, tells the story of a teenager named Ruby who aspires to be a singer. After growing up as the only hearing person in her deaf household, she's ready to pursue an academic career at Berklee School of Music. But she finds herself in the difficult position of balancing her goals and helping her family navigate the hearing world.
As much as Ruby loves music, she also loves her family and like many teens, she's torn between staying in the world she knows and leaving to build her own life.
Available on Apple TV.
King Richard (13)
This film is based on the true story of how Richard Williams, a man who did not play tennis, trained his two daughters Venus and Serena Williams, to become legendary tennis players who left a mark on the sport forever and heralded a new era for women's tennis.
This is a moving, entertaining, against-the-odds biopic that shows that shows family and perseverance can achieve the impossible.
Available on Prime Video and Apple TV.
1917 (15)
This World War I drama from director Sam Mendes, unfolds in real-time and tracks a pair of British soldiers as they cross the Western Front on a desperate rescue mission. Your kids will feel like they're experiencing what it was really like to be in the trenches on the front line. And it will truly resonate, given that some of the soldiers were probably not much older than your own kids are now.
This film could help stimulate interest and discussion about history and in particular, World War 1.
Available on Amazon Prime.
Django Unchained (18)
This Tarantino film is a very violent, blackly comic tale of slavery and retribution in the pre-American civil war south. Django (Jamie Foxx) is a slave who, after being freed by Christoph Waltz's German bounty hunter Schultz, joins him in his work. They then embark on a mission to free Django's wife, Broomhilda (Kerry Washington), who is owned by powerful Mississippi plantation owner and committed sadist Calvin Candie (Leonardo DiCaprio).
This film takes a matter-of-fact look at slavery and may stimulate discussions amongst older teens and families.
Available on Prime Video and Apple TV.
Mulan (12)
A live action version of the animated film, Mulan is about a brave girl who disguises herself as a man so she can serve in the Chinese Imperial Army. She's tested each step of the way but overcomes every challenge to become one of the greatest warriors China has ever known.
It's thrilling from start to finish, and tweens and teens will thoroughly enjoy the dazzling special effects and gravity-defying, wuxia-inspired aerial work, and elaborately choreographed martial arts battles and horse stunts.
Available on Disney+.
Romantic Films
The Perfect Date (12)
In this fun rom-com, see what happens when a high school student played by Noah Centineo creates an app to offer his services as a fake date to make money for college. Of course, nothing goes to plan. This is an upbeat, funny teen romantic comedy.
Available on Netflix.
Five Feet Apart (13)
Stella Grant lived almost all her life inside the hospital, doing the same things every day, because of her cystic fibrosis. But one day, she meets Will Newman, a guy who also suffers from the same condition. As days go by, their relationship becomes deeper and deeper, but they discover they can never be together. Contains mild swearing and some references to sex.
Available on Netflix and Prime Video.
To All the Boys I've Loved Before (12)
Things get complicated for high school student Lara Jean Covey when five of her secret love letters get mailed out to their recipients, including her friend Josh, who happens to be dating her older sister, Margot. She quickly enlists the help of Peter Kavinsky to fake a romance in order to convince Josh that her letter meant nothing.
This is a heart-warming and clear-eyed approach to first love and the challenges of growing up.
Available on Netflix.
Love, Simon (12)
This teen rom-com stars Evan Goldberg, a high school student who falls in love with an anonymous classmate via email. Another student finds the emails and Simon must face the truth about his identity. This film is touted as the first romantic comedy with a gay teen character to be backed by a major studio.
Available on Prime Video.
The Kissing Booth (12)
This film follows Elle, a quirky, late-blooming teenager whose budding romance with bad boy Noah puts her lifelong friendship with Noah's younger brother Lee in jeopardy. The film is adapted from an e-book written by 15-year-old author, Beth Reekle and is packed full of slapstick humour.
Available on Netflix.
Sierra Burgess is a Loser (12)
It follows Sierra as she becomes embroiled in some unplanned catfishing: a cute boy named Jamey texts her thinking she's someone else, and Sierra has to figure out how to tell him the truth without ruining everything. It's an original movie inspired by Edmond Rostand's play Cyrano de Bergerac.
This film explores the struggle many teenagers have in defining themselves as individuals, despite the expectations and peer pressure heaped on them.
Available on Netflix.
La La Land (13)
Sebastian and Mia are drawn together by their common desire to do what they love. But as success builds, the dreams they worked so hard to maintain threaten to rip them apart. The colours, the songs, and the relationship between Ryan Gosling and Emma Stone make this such a fun movie. It also conveys great messages about integrity, love, and following your dreams.
Available on Prime Video.
(500) Days of Summer (12)
Tom Hansen reflects on his relationship with the girlfriend who has just dumped him. He tries to figure out where things went wrong and how he can win her back. This is a smart romantic dramedy that's suitable for those aged 12+, but its thoughtful exploration of relationships may speak more to older teens.
Available on Prime Video.
10 Things I Hate About You (12)
Based on Shakespeare's The Taming of the Shrew, this one stars the late Heath Ledger. A pretty, popular teenager can't go out on a date until her ill-tempered older sister does. This makes her frustrated and she boils up plenty of hate for her older sister. A hilarious and timeless comedy drama.
Available on Prime Video, Disney+ and Apple TV.
KidRated Says: "A big thanks to Jack for this list. He has watched all the above with parental permission and suggest teenagers do the same."
More Great Ideas for Teens and Older Kids
Need great TV ideas for older kids and teens? Click here to check out the guide by Ed, our resident TV Critic.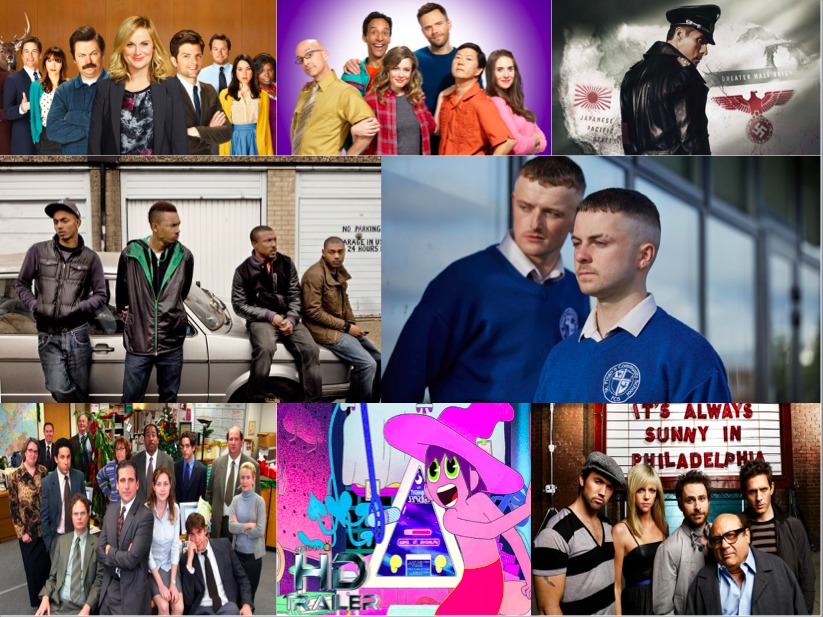 Need ideas for things to do in London for teens and older kids? We've got 50 of them. Click here.