London's Best Theatre Shows for Kids Under 10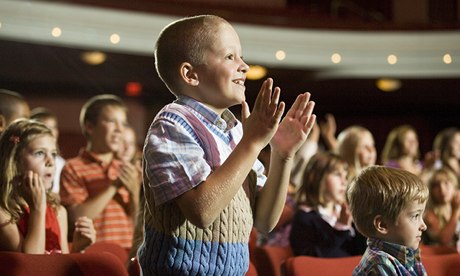 It's 2023 and here's our pick of London' Best Theatre Shows for Kids under the age of 10.
There's nothing quite like taking the family to the theatre. And, there are plenty of shows on now that younger kids will love, laugh at and sing-a-long to. So, whether you live here or just visiting, taking in a performance is sure to be an unforgettable experience for the whole family
In this guide to London's Best West End Shows for Kids, we've picked productions that are suitable for under 10s. If you're looking for something a little more mature then check out our guide to London's Best Theatre Shows for Teens and Older Kids below.
And don't forget – if you book through us here via our exclusive partnership with TodayTix ,you'll get some amazing deals on ticket prices. So what are you waiting for?
Matilda the Musical
Who could resist the classic tale of Matilda, the dark and delightful adaptation of Roald Dahl's tale of a child genius and her monstrous headmistress? The show was written by Dennis Kelly, with music and lyrics by the quirky, super-clever Australian comedian Tim Minchin.
The narrative focuses on Matilda, precocious at just five years old and a keen reader. It follows her as she overcomes the numerous obstacles put in her way by her family and school, where she ultimately helps the only teacher she likes, to reclaim her life.
Age: 6+
Date: until 15 Dec 2024
Venue: Cambridge Theatre
Frozen the Musical
This production of Anna and Elsa's well-known story includes all the incredible special effects you'd expect from a Disney production, jaw-dropping scenery, and all the songs you know and love.
It will be an unmissable experience that will stay with the kids long after the curtain falls. Even the biggest Frozen fans will be in for a few surprises, as the production features new music from Kristen Anderson-Lopez and Robert Lopez, the unforgettable Let It Go writers.
Age: 6+
Date: until 15th October 2023
Venue: Theatre Royal Drury Lane
Wicked
Wicked tells the story of the true friendship between two very different witches, the Wicked Witch of the East and the Good Witch of Oz
This is a story full of magic and spectacular costumes and dresses that will make the kids' imagination fly. It really is a fabulous musical to take the little ones to.
Age: 7+
Date: until 7th Jan 2024
Venue: Apollo Victoria Theatre
The Lion King
The Lion King Musical is undoubtedly a family favourite. Both adults and children know the fabulous story of how Simba, a lion cub, comes to the throne to become the Lion King.
It's a musical with no shortage of famous songs that's sure to excite the real Disney fans out there. The animals pass through the aisles in the stalls when the show starts, so you might want to choose seats next to the aisles if you want to see the animals up close.
Age: 6+
Date: until 15th October 2023
Venue: Lyceum Theatre
Back to the Future: The Musical
This stage adaptation of the iconic 80's film, Back to the Future, is sure to evoke some feelings of nostalgia for many of you parents.
The kids are sure to get excited when Marty McFly, your typical rock 'n' roll teenager, is accidentally transported back to 1955. In order to guarantee that he makes it back to the future, he needs to ensure that his parents meet and fall in love.
You and the kids will marvel at the gravity-defying, time-travelling DeLorean that supposedly reaches speeds of up to 88 miles per hour!
Age: 6+
Date: until 22nd October 2023
Venue: Adelphi Theatre
The Smeds and the Smoos
The Smeds and The Smoos is about a pair of feuding tribes of quirky aliens who must put their differences aside when two of their youngsters elope together. It's adapted by Tall Stories, whose theatrical take on 'The Gruffalo' has been a touring staple for aeons.
Age: 3+
Date: until 3rd September 2023
Venue: Lyric Theatre
Mrs Doubtfire: The Musical
Mrs. Doubtfire tells the story of everyone's favourite Scottish nanny. Out-of-work actor Daniel will do anything for his kids. After losing custody in a messy divorce, he creates the alter ego of Scottish nanny, Euphegenia Doubtfire, in a desperate attempt to stay in their lives.
As his new character takes on a life of its own, Mrs. Doubtfire teaches Daniel more than he bargained for about how to be a father.
There's a real buzz around this production. There are some big granny boots to fill because Robin Williams was such a legend in the film but word of mouth says this will be a hit.
Age: 10+
Date:Until 13th Jan 2024
Venue: Shaftesbury Theatre
Mog The Forgetful Cat
Mog is a very forgetful cat. She forgets that she has a cat flap, she forgets that she's already eaten her supper, and she forgets that cats don't have eggs for breakfast every day. Bother that cat! But Mog's forgetfulness can come in handy…
Join Mog and the Thomas family, on a journey through one year in the life of a really remarkable cat, as she catches a burglar, gate crashes a cat show, goes to the V.E.T. and gets to eat lots and lots of eggs.
Everyone's favourite cat might be forgetful, but she certainly has a lot of adventures, and she loves her family very much.
Based on the bestselling Mog picture book series by Judith Kerr, published by HarperCollins Children's Books.
Age: 3+
Date: 11th – 29th July 2023
Venue: The Old Vic
Newsies
Disney's Newsies, is a sensational family musical inspired by the real-life Newsboy Strike of 1899.
It tells the story of Jack Kelly in turn of the century New York City – a personable newsboy and the de facto leader of a rough and tumble gang of teenage 'newsies'.
When Joseph Pulitzer, publisher of the New York World,   puts the price of his newspaper bundles up, the young boys rise up against their exploitation, forcing him to back down.
It's a story of love, justice and solidarity that will leave you feeling thrilled and inspired. Older kids and teens will love the epic choreography and take on this cult-classic Disney film that starred a young pre-Batman Christian Bale.
Age: 5+
Date: Until July 2023
Venue: Troubadour Wembley Park Theatre
The Wizard of Oz
No matter how old you are, everyone loves the story of the Wizard of Oz! The story follows a young Dorothy Gale and her dog Toto, swept away by a tornado from their Kansas farm to the magical Land of Oz. Here they embark on a quest with three new friends to see the Wizard – the only person who can return Dorothy to her home and fulfil the others' wishes.
Adaptions of this children's fantasy novel have been delighting audiences for almost a hundred years, and this reimagined technicolour The Wizard of Oz does not disappoint. You'll recognise songs from the classic movie along with new tunes provided by the titanic team of Andrew Lloyd-Webber and Tim Rice.
The show appeals to older kids and teens, with the main messages for them being that we can have the courage to face our fears and understanding that what you seek is often already inside you.
Age: 6+
Date: 23rd June – 3rd September 2023
Venue: London Palladium
The King & I
Rodgers and Hammerstein's The King and I epitomises the golden age of musicals and is the winner of multiple awards. Your kids will be transported into a world of rich traditions, complex relationships, and political intrigue.
With its touching themes of love and understanding, The King and I teaches us that love can transcend the greatest of differences. Kids will love the upbeat songs about whistling to overcome fear of a new situation, and getting to know a new culture.
Age: 9+
Date: From 20th Jan – 2nd March 2004
Venue: Dominion Theatre
The Town Mouse and The Country Mouse
Step aboard the UK's only floating puppet theatre for a family show all about experiencing new things. A pair of mice are both taken out of their comfort zone as the Town Mouse navigates rural wilderness and the Country Mouse is bombarded by busy urban life. Brought to life with charming traditional puppets, the classic Aesop fables will win over little ones, as well the grown-ups.
Age: 3+
Date: Until 11th June 2023
Venue: Puppet Theatre Barge, Little Venice
The Wolves in the Walls
When Lucy hears noises from behind the walls, she tries to warn her family that there are wolves lurking inside their house, but her family doesn't believe her. Then one day, Lucy's fears come true when a pack of wolves comes bursting out of the walls, forcing Lucy and her family to live at the bottom of the garden. But the story is far from over – Lucy must gather her courage, as her battle against the wolves in the walls is only just beginning.
Age: 6+
Date: 12th May – 23rd July 2023
Venue: Little Angel Theatre
The SpongeBob Musical
 SpongeBob and his friends in Bikini Bottom face the total destruction of their undersea world. But just when all hope seems to be lost, a most unexpected hero rises up, proving that the power of optimism really can save the world.
Whether it's about you spending quality time with the kids, an outing with the grandparents or a visit to the theatre just because, this production delivers all the fun. Although SpongeBob is primarily for a younger audience, older kids and teens will enjoy the nostalgia.
Age: 6+
Date: 26th July to 26th August 2023
Venue: Queen Elizabeth Hall, Southbank Centre
Peter Pan Goes Wrong
Following their multi-award-winning success with 'The Play That Goes Wrong', Mischief Theatre who seem to get everything right by making sure everything goes wrong, are returning to the West End later this year with their side-splitting take on a timeless classic.
Peter Pan Goes Wrong brings families the most accident-prone retelling of everyone's favourite boy who never grew up. Watch the cast fight with technical glitches and actor's attitudes as they attempt to bring the beloved story of Peter Pan to life on the stage.
We all know the show must go on, but will the troupe avoid the trip hazards and make their way to Neverland unscathed? Probably not.
If you're planning ahead for a fun family night out, older kids and teens and their younger siblings will love this hilarious performance – and why not bring the grandparents too!
Age: 8+
Date: from 23rd November –  14t Jan 2024
Venue: Lyric Theatre
And for Older Kids and Teenagers….