KidRated Blog
London's Best Museums for Older Kids and Teens
Published: 25th April 2023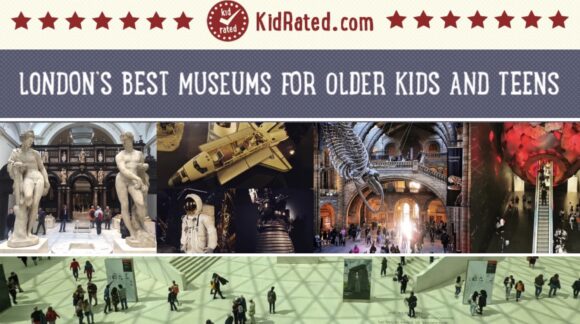 When it comes to choosing the best museums to visit with older kids and teenagers, the trick is understanding what makes them tick. Technology has also become an integral part of their lifestyle, resulting in many museums reacting by incorporating interactive and digital elements into their offerings.
And depending on the age of your kids, you might be able to leave them to explore the museum while you enjoy some well-deserved 'me-time'.  we recommend browsing the brilliant gift shops or having a well-earned rest in one of their great cafes.
Anyway, strap yourselves in and enjoy our pick of London's Best museums for older kids and teens…
Science Museum
The Science Museum is of the most fascinating and interactive museums in London. You can explore everything from aviation, space, art, the history of farming, the development of technology, and the future of the modern world in a number of different displays and exhibits.
Older kids will enjoy the use of technology in each area.  There are also some great experiences to visit including Atmosphere, The Future and the Who Am I? exhibits. Plus the flight simulators, the Pattern Pod and Launch Pad.
Entry: free
London Transport Museum
This museum brings the history of London's public transport network to life via its buses, trains, tubes and taxis, from the 19th century to the present day. As well as exhibits of historic vehicles, there's also an impressive array of posters and original artworks.
Although, popular with babies, toddlers and youngsters, its a great attraction for older kids.  Nearly  everything is interactive and there's loads of historical information, such as how tube stations were used as air raid shelters during World War 2.
There are also Hidden London Tours where you can book to explore 'forgotten' parts of the London Underground network and go behind the scenes at some of capital's busiest stations.
Entry: under 18s go free
Old Operating Theatre Museum
This is the oldest surviving surgical operating theatre in Europe. Located in the attic of the early eighteenth-century church of the old St Thomas' Hospital, the theatre has been restored and furnished with original furniture and equipment. Next to it is the herb garret, which was an early pharmacy.
Kids with strong stomachs can learn about the types of surgical procedures that would have taken place here almost 200 years ago – without anaesthesia!
Inquisitive minds will be kept entertained for the duration of the visit. And to quote a Trip Advisor review, "Entertaining, educational and harrowing all at once. Whether you are a child, a morbid teenager who likes gore, or a refined and sophisticated adult with an interest in social history, this museum is worth the climb up the high spiral staircase."
Clink Prison Museum
The Clink Prison Museum tells the sometimes-grisly tale of this notorious prison, through a series of historical tableaux and interpretive displays.
Travel to the Middle Ages in London and get a glimpse of what life was like for inmates. With its dark stories, torture tools and cells full of chilling memories, this is an adventure your teens are sure to love.Oh and fun fact for you – this historic prison is where the phrase 'being sent to the clink' originated.
Entry: from £6
The Postal Museum
The Postal Museum tells the surprising story of Britain's postal heritage, spanning over 500 years of history, with tens of thousands of objects and millions of stamps in its collection. Explore the collections and temporary exhibitions and discover everything from the rare Penny Black – the world's first adhesive postage stamp – to cryptic Victorian Valentine cards.
Older kids and teens will enjoy immersive activities such as fending off highwaymen in the mail coach game and sending secret messages across the room in pneumatic canisters. There's also the opportunity to ride on Mail Rail. Plus a theatrical experience in the original tunnels and station platforms underneath Royal Mail's Mount Pleasant sorting office. You can even explore the track on foot with a tunnel walk.
Entry: from £4.50
British Museum
The British Museum is home to a vast array of exhibits spanning across many different cultures and time periods over three floors. Kids will love exploring everything from Ancient Egypt and Medieval Europe to Feudal Japan and Africa.
Audio guides walk guests through 200 exhibits including The Rosetta Stone, the Elgin Marbles, Egyptian mummies, coffins, funerary masks and other burial and funerary items, an Easter Island statue, spectacular artefacts from the Sutton Hoo ship burial, and the oldest board game in the world dating back to before 2600 BC. The family audio guide also features an interactive game with a series of fun challenges, which the kids will enjoy.
Entry: free
Cartoon Museum
The Cartoon Museum has a huge collection of over 6,000 original cartoon and comic artworks, as well as a library of over 8,000 books and comics.
This treasure trove includes both historic and more contemporary cartoons and traces the history of comic art from around the mid-19th century to the present day.
The museum put on frequent temporary exhibitions and there's also a shop selling books, cards, cartoon accessories, manga, mugs, pens, and stickers. Perfect if the kids have an interest in cartoons. The Young Cartoonist of the Year competition may even inspire them!
Price: under 18s go free; adults from £2
Victoria & Albert Museum (V&A
If your teen thrives on being creative or regularly pores over fashion magazines, they'll absolutely love the Victoria and Albert Museum.
The world's largest museum of applied and decorative arts and design houses countless creations such as sculpture, ceramics (including porcelain and other pottery), furniture, metalwork, jewellery, and textiles from early medieval times to the present day.
Entry: free
Young V&A
Young V&A is a major new national museum and cultural destination designed specifically for young people aged 0–14 years old. It aims to inspire the next generation of young artists, performers and practitioners.
Youngsters can expect a combination of interactive spaces and playscapes alongside galleries and exhibitions.
The Young V&A will open on 1 July 2023, with the first exhibition scheduled to open on 14 October 2023.
Entry: free
Natural History Museum
The Natural History Museum is one of the most famous institutions on earth – with everything from enormous skeletons such blue whale and dinosaur to relics of long-buried civilisations. It's housed in an architectural landmark, built in a Gothic Revival and twelfth-century Romanesque style, and is a marvel to even look at.
You and the kids can delve into the history of planet earth with a vast array of earth and geography-themed exhibitions, and its famous earthquake simulator, which the kids will love.
You'll even be able to pore over chunks of the moon brought home by NASA's Apollo 17. Plus, there's the Annual Wildlife Photographer of the Year exhibition, which displays amazing images of nature.
Entry: free
Twist Museum
Step into mind-altering immersive rooms, get up close and personal with unexpected interactive illusions, and discover how your brain interprets reality. Can you see colours that aren't there? Do you always know which way is up? Can a corridor go on forever? Find out for yourself at Twist Museum, through interactive exhibits that will play with how your children (and you!) understand the world around them. It's reality, with a twist.
Developed in collaboration with artists, neuroscientists and philosophers, Twist Museum is an immersive experience that explores – and puts to the test – the power of your mind in experiencing the world around you. Explore the joy and wonder of illusion.
Entry: from £16.50
Imperial War Museum
The Imperial War Museum is the perfect place to take teens who have an interest in modern history. In front of the building, you'll find a piece of the Berlin Wall itself. Head inside for a life-sized display of military vehicles, and to learn about the history of war and conflict from the 1st World War to the present day. Guns, tanks and aircraft hang from the ceiling of the Central Hall.
And there's an incredibly moving exhibition on the holocaust, suitable for teens over 14.
Entry: free
National Army Museum
The National Army Museum is a leading authority on the British Army and its impact on society, past and present.  They examine the Army's role from the British Civil Wars to the modern day.
Through their collections they preserve and share stories of ordinary people with extraordinary responsibilities and explore the role of the Army and its relevance today. It's a fun, interactive space for all the family.
Entry: free
RAF Museum
If the kids are interested in aviation or the military, then you should head to North London and the Royal Air Force Museum. This excellent museum is home to 80 aircraft on display as well as a flight simulator, a multi-media account of the Battle of Britain and the chance to sit in the cockpit of a Spitfire! They also hold regular events during the school holidays.
Entry: free
National Maritime Museum
This is the world's largest maritime museum, where kids of all ages can enjoy inspirational stories of discovery and adventure at sea. The collections of the National Maritime Museum are diverse and extensive – from ship models and plans dating from the 17th century, and Dutch and British marine artworks, to navigational and astronomical instruments such as globes and chronometers.
The Royal Observatory Greenwich which marks the 0° longitude meridian, is also located in the park – but check details as it's being renovated and could be closed for some time. And last, but by no means least, the Cutty Sark is also located here.
Price: free (some exhibitions do require payment)