KidRated Blog
#KidRatedHowTo Take your Kids to the Football Part 2
Published: 9th October 2021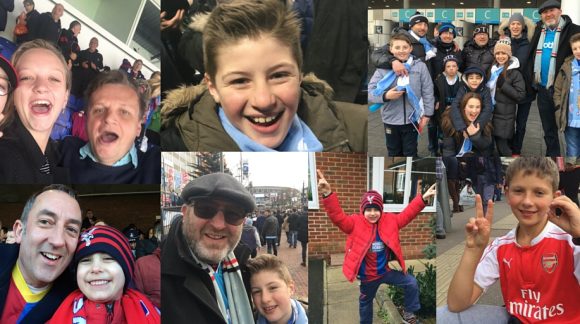 A few months ago Camilla and her dad wrote a blog about taking kids to football  and now everyone wants to impart their wisdom.
So here's Part 2. Enjoy!
As with many things in life, preparation is key, and taking your child to their first football match is no exception.
To this end, I've tried to suggest some pre-match activities, to help prepare you both for their big day.
The Food
It is essential that you ensure that they understand that, without exception, food and football are not a good mix. Any food purchased within a mile radius of most football grounds is likely to suffer from the association; only pre-packed sustenance is absolutely safe.
If, however, you think they will insist on consuming food in or near the ground, you can prepare them by heating a Jiffy bag, filled with gravy and cat food, for not less than 42 minutes in a high powered microwave.
The Mascots
In general kids are, at the very least, bemused by football mascots; more often it's outright fear. The best course of action here is to minimise, ideally eliminate, the possibility of your child being permanently psychologically damaged, by steering clear of club shops and the like.
Only take your seat shortly before kick-off (mascots have a habit of lurking on the pitch before the game starts).
Although prevention is, of course, always better than cure, if you do suffer the misfortune of a mascot-induced incident at the game, consider showing them this video afterwards.
Not a good example, clearly, but very funny. Plus, you get to see a bit of Have I Got News For You.
The Crowd
This is the one area which is least under your control. Unless you're lucky enough to have a season ticket (and are therefore familiar with the people who sit around you), the behaviour of your fellow supporters is something of a lottery.
Being serious for a moment, think carefully about the nature of the game you're going to attend; steer clear of bitter local derbies, and try to avoid games where a former player is returning for the first time (or in some cases, anytime).
You'll also want to prepare for the fact that your child is smart enough to work out that all the things you've told them over the years, about acceptable behaviour and so forth, seem to be null and void when it comes to football.
Finally, it's probably prudent to let them know that, under the right circumstances, you may hug total strangers seated near you.
Chants
Music and football have been largely uncomfortable bedfellows: think Anfield Rap (Red Machine In Full Effect); Fog On The Tyne; Diamond Lights; World In Motion. I could go on.
However, this hasn't stopped football fans hijacking their favourite tunes, and many popular football chants are based on easily-learnt ditties.
Most genres are catered for, from religious (Glory, Glory Hallelujah, Guide Me O Thou Great Redeemer, When The Saints Go Marching In); to crooners (Winter Wonderland, Volare, Que Sera Sera); to music hall (Knees Up Mother Brown, My Old Man Said Follow The Van); to pop (Give It Up, Seven Man Army, Go West, Sloop John B).
Armed with these basic tunes, they will be able to feel a part of the match straight away. Imagine your pride when your youngster confidently joins in with such classics as My old man said be a Tottenham fan, and I said go forth, rubbish, you're a fool… and the currently topical The referee's a banker…
Failing that, revel in the only two good football tunes ever made: Cicciolina by Pop Will Eat Itself and Eat My Goal by Collapsed Lung.
The Game
Prepare by showing them what it won't be like, by making them watch Escape To Victory or Mean Machine. In fact, with the odd exception, all footy films are dire, or if not deal mainly with the off-pitch machinations (e.g. The Damned United).
A notable exception to this rule, being an all-round great film, is of course 1939's The Arsenal Stadium Mystery.
In Summary
The truth is that all your preparations will probably be in vain. Excretive expletives will pass them by; questions concerning the referee's leisure pursuits will go unnoticed; the affectionate nature of fellow fans unremarked upon. Even if they have noticed some, or all, of these things, it's very unlikely that they will feel the need to discuss them with you.
More likely, in years to come, they will share with you the fact that it was at the football that they observed you in your purest form.
With that in mind, enjoy the game. Oh, and make sure you behave yourself…
---
If you are thinking of taking your kids to the football, check out our review of a Man City game. Alternatively check out our reviews of Stamford Bridge, Anfield, the Emirates, Old Trafford and Wembley.
And if you definitely are going to a football match soon we'd love to see what your kids think so K-Rate it!


---
With special thanks to Jes Wilkins, Richard Foster and Rob Smith for allowing us to use their wonderful photos.