Mum Report
Big Bus Tour – Mum Report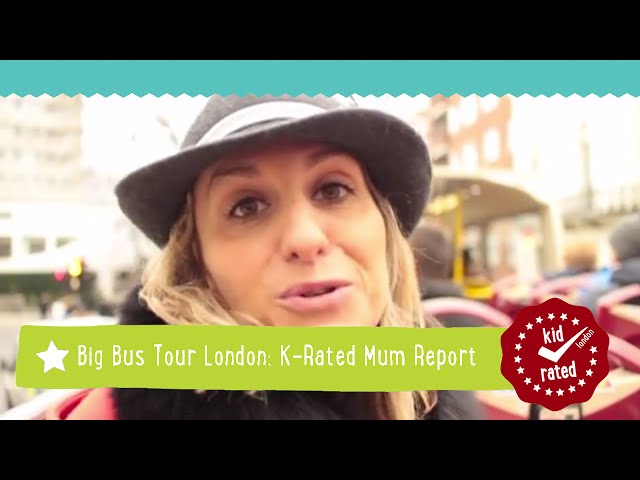 If you're coming to London, one place you cannot miss is the London Eye. Just take a look at that! It really is spectacular. Your only excuse for not coming here is if you're afraid of heights and event then I would urge you to give it a go.
But it is very very popular so the queues are always long here. A way to get round the queues is to prebook your tickets. You can do that online on various different websites or you can also go to tourist information centres or places that sell bus tickets often sell London Eye tickets as well.
The great thing about the London Eye is that you get a bird's eye view of London. You can see across the whole city. It really is spectacular.
My advice would be try and come before eleven in the morning or after three thirty in the afternoon. Because the queues tend to be less but do try and come on a clear day if you can.
If you get to the London Eye and it is raining. One thing you can do is go next door to eh experience. There's two movies. One about the construction of the London Eye and the other is through the eyes of a little girl who goes on the London eye in all the different seasons including New Years Eve when the London Eye is famously lit up by a glorious fireworks display. It's really worth going to and yin get to wear glasses as well.
So there you have it. If you're coming to London, the eye is an absolute must-have. On a sunny day I'd give this place a ten out of ten but as it's so weather dependent I think I'm going to have to give it a mum rating of seven, actually make that an eight.
9
Want to see lots of London but haven't got much time and don't want to have to walk too much? The Big Bus Tour is your answer. With three different routes, you can see great swathes of London landmarks in the space of an afternoon and from the comfort a seat on a double decker bus.
KidRated's Top Tips for Grown Ups:
Wrap your kids up warm, these double decker buses have not roof and so are very open to the elements. Nothing could spoil the day more than being cold.
In winter you can get a 48 hour ticket for the price of a 24 hour ticket in summer.
Take the red route for its live tour guide, they are often great kid-friendly characters.
If English is not your first language, choose the blue route which has audio commentary in twelve different languages.
Don't forget to take advantage of your free river cruise when you buy a Big Bus Tour ticket.