Food on the Go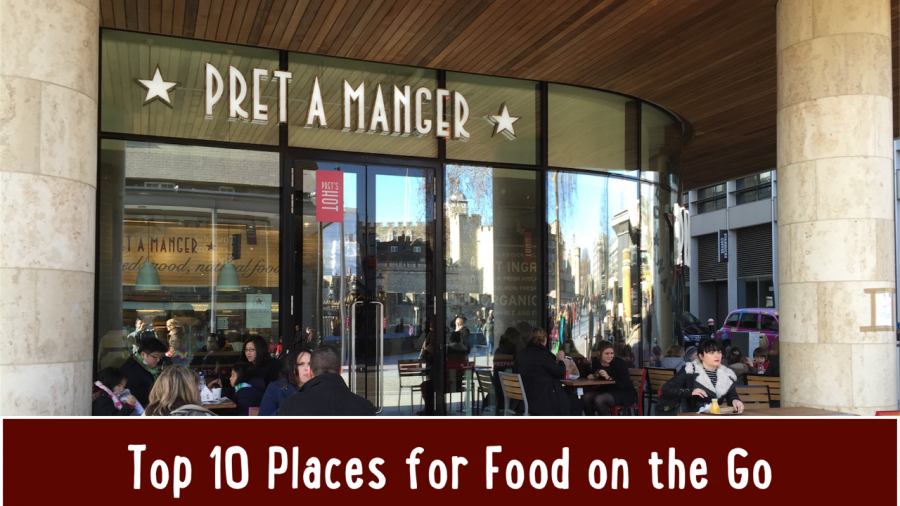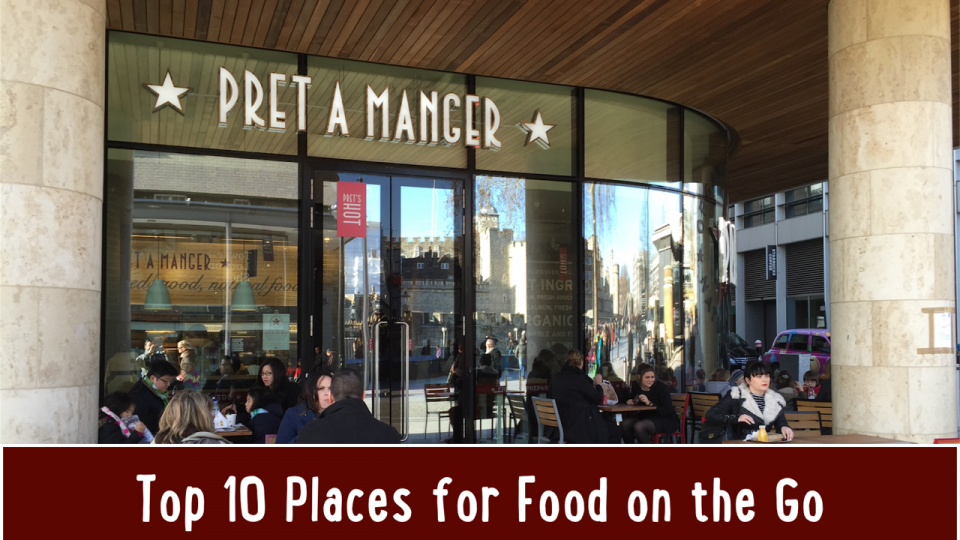 So you're out with your family seeing all the sights of London, but then one o'clock strikes and everyone starts to feel sluggish and hungry. You don't want a massive meal because in Central London that can be expensive and take ages, you have a lot more sightseeing/shopping to do in the afternoon. So where do you go for a quick sandwich? Here at KidRated, we have the answer: Our top ten places to find great food on the go in London. Bon appetit!
1. Pret A Manger
It is scientifically impossible to be further than 100 metres from a Pret in Central London. Their sandwiches and hot soups are good as is their range of soft drinks. We also have it on good authority that kids go crazy for the banana cake.
Feeling sluggish or like a cold's coming on? We highly recommend their Ginger Shot. It gives you that extra boost you need in the day so you can carry on with all the sight-seeing your heart desires. Now, having had many visits to Pret in my day, I happen to know that the staff there are extremely kind. Just like other companies, they have the ability to give away certain items at their discretion, should they feel a customer deserves it. So basically, be really nice! You might just get a free tea or brownie in the future.
Did you know? Pret give the food that hasn't been sold in the day to homeless shelters to feed the hungry. Pretty neat, huh?
2. EAT
Eat is a lot like Pret. It's also everywhere. We'd recommend the hot pots as they have options for everyone – vegans and vegetarians alike! And if you're more of a sandwich person but still want something hot, go for their cheese melt. I'm drooling just thinking about it. 
Top tip: they offer a 25p discount for customers who bring a reusable cup with them to enjoy the coffee from!
3. Wasabi
Sushi, noodle soups and lots of warm Asian cuisine options make Wasabi a great stop place to stop for lunch if you don't fancy a sandwich.
It also opens up young tastebuds to foods they may not have tried yet. Culture and food! Who could ask for more?
4. Five Guys
Five Guys make great burgers with so many choices of toppings at no extra cost. Cajun fries are a must for anyone who loves a bit of spice. The fizzy drinks machines are amazing, fruitpunch Fanta mixed with vanilla Coca-Cola anyone?
Five Guys is an American west coast staple and with its juicy burgers and sweet milkshakes, its looking to become one of the UK's favourite burger joints too. And if you're a fan of peanuts, they have huge bags of them to take as many as you want. Random, I know.
5. Selfridges Food Hall
It can be pricey but there is so much choice, from middle eastern to sushi, to salt beef sandwiches. The Selfridges Food Hall is the perfect refuel stop on a busy day shopping.
Specialist counters include the beautifully laid out cheese choices, fresh spaghetti from the deli counter, and an indulgent ice cream parlour which you'll find next to the oyster bar.
6. John Lewis Foodhall
Grab a sandwich or salad at the John Lewis Foodhall, just off Oxford Street, and then, if it's sunny eat it in the green space of Cavendish Square.
Notable features of this Food Hall are the large cheese room and the counter for William Curley chocolatier, which shares space with the patisseries counter and some rather sumptuous looking cupcakes.
7. Itsu
Sushi and noodles again. Itsu also have great Frozen Yoghurt for pudding. A favourite snack of ours is the Itsu Sweet & Salt Seaweed. May sound weird, but it's delish!
To round off with a sweet treat, grab the chocolate covered rice cakes. Light but sweet!
8. Homeslice
Located in the beautiful Neal's Yard, Homeslice serves reasonably delicious pizza to take away. A quarter of a 20″ pizza is only £4. Eat it on the benches in the middle of all the colourful buildings of Neal's Yard.
They started out making pizza at festivals in a mobile wood-fired oven built by hand!
9. Leon
The premise of Leon is healthy fast food. The fish finger sandwiches are great for kids and the waffle fries are divine!
Their Little Hot Boxes are super convenient for on-the-go so take a look at those too.
10. Borough Market
Located in London Bridge so near loads of London's best attractions, Borough Market has something for everyone.
From British fruits and vegetables to international delicacies, handmade chocolate truffles, Indian street food and raclette, there's plenty to peruse and tuck into from the many traders and restaurants at one of London's oldest food markets.