Things to do in Hyde Park & Kensington Gardens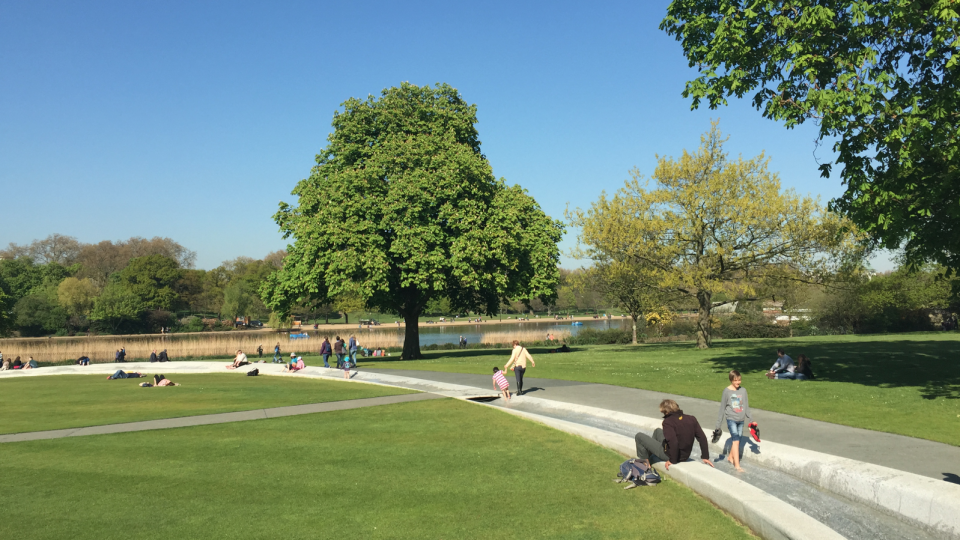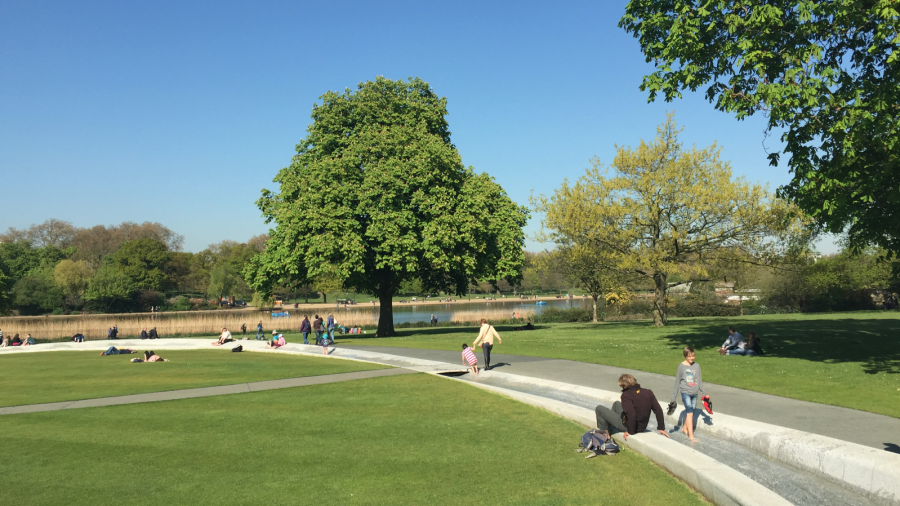 Together, Hyde Park & Kensington Gardens make up a giant area of parkland in Central London. It's actually bigger than the entire principality of Monaco! However, instead of casinos and tax exiles, the park is packed full of exciting things to do with kids.
1. Princess Diana Memorial Playground
*This exhibit is temporarily closed due to the COVID-19 restrictions
This is an absolute must-do! It is literally one of the best playgrounds in the world. The playground is Peter Pan themed and there is even a pirate ship! To enter, kids must be with an adult and adults must be with a kid, creating a really safe atmosphere for kids to just be kids. This is the closest place to Neverland in London! The café next to the playground is reasonably priced and serves organic ice cream.
There are various toys and sculptures dotted around to inspire creativity and plenty of seating for parents. The pirate ship itself has its own beach, which only adds to the sense of adventure! There are tepees to play in and a sensory trail, which is part of an overall design to bring less able and able-bodied children to play together, sharing in discovery and growing in confidence.
2. Kensington Palace
For kids, possibly a little too old to want to go to a playground, Kensington Palace is gorgeous. Teen girls and boys will love seeing all of the royal dresses from through the ages. 
Royalty isn't all about glitz and glamour, but a little bit never hurt anyone. Be dazzled by the amazing light installation at the centre of the Palace, made from almost 4 km of electroluminescent wire and containing nearly 12,000 Swarovski crystals!
Equally the in-house exhibition, Diana: Her Fashion Story, showcases outfits worn by the princess throughout her lifetime. After viewing classic works in The King's Gallery, get some fresh air out in the Palace Gardens which are filled with ornamental flowers and the 18th-century stroll down Cradle Walk.
Opening times are Wednesday to Sunday: 10.00 – 18.00.
3. Have tea at The Orangery
If you want a truly English experience in the park and don't mind splashing out then why not have high tea at the Orangery? At certain times of the year, such as Christmas, look at for special teas.
It was built in 1704-05 for Mary's younger sister, Anne, who became Queen when William died. Anne used Kensington for entertaining and she held parties in the Orangery. The building had under-floor heating and in winter it was used as a conservatory for delicate plants. The architect of The Orangery is thought to have been Nicholas Hawksmoor, the clerk of works on Kensington Palace and the designer of six new churches in east London.
4. Swim in the Serpentine Lido!
*Public swimming in the lido is currently closed due to COVID-19 regulations.
The Serpentine was the location for the swimming section of the Olympic Triathalon in 2012. For kids who are not strong enough swimmers to brave the Serpentine Lido, then there is also a children's pool. It is only open June to September. Alongside the Serpentine, Lido is the Lido Cafe Bar which has waterside tables and is the ideal place to enjoy a snack, meal or a glass of wine.
The Serpentine Swimming Club is the oldest swimming club in Britain. They swim every day in the Lido area between 6:00 am and 9:30 am and also during the famous race on Christmas day.
Highlights of this lido are the Sun Terrace and sunbathing area and also the children's play area including swings, slide, climbing frame and paddling pool.
Top Tip:
The kids meals at the Lido café are cheaper than at the Serpentine café across the water, however there is less variety.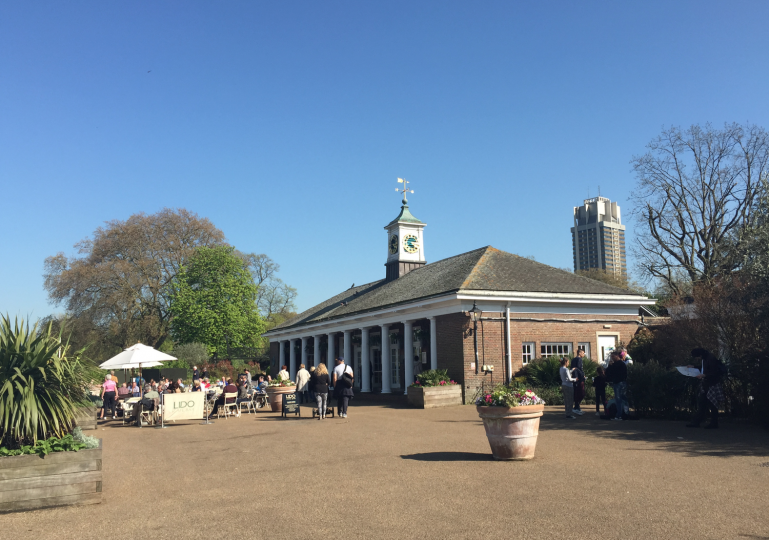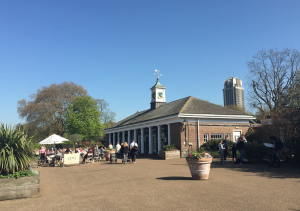 5. Paddle in the Princess Diana Memorial fountain
*This exhibit is currently closed due to COVID-19 regulations.
Kids love doing this. If the weather is at all nice, head here, it is generally quite busy but also fairly serene. The fountain is very unusual looking but it is a great place to cool off, especially if it is too early to swim in the Lido or your kids are very young.
The fountain is made from 545 pieces of Cornish granite – each shaped by computer-controlled machinery and pieced together using traditional skills. The design aims to reflect Diana's life; water flows from the highest point in two directions as it cascades.
6. Row down the Serpentine
This is great fun! You can also hire pedalos (life long goal). Parents beware that half an hour of rowing or peddling round in circles can get tiring. Make sure you can actually row before you hire the boat!
Boating on the Serpentine is open from April until October 31. Times are from 10:00 am until sundown which is around 4:00 pm in the winter and 8:00 pm in the summer. Children under 4 go free.
7. Hire a deckchair
This is a totally tween thing to do. Get your sunbathing done and snap a quick selfie in these quintessential deckchairs. But if you are prepared, like some of us parents, why not save money and bring your own picnic rug. Save even more money by packing a picnic as opposed to picking up a sandwich in one of the cafes. There are plenty of grassy patches to relax.
8. Get some culture at the Serpentine Galleries
Sometimes the exhibitions aren't child-friendly but generally, this will be pointed out at the entrance. The two Serpentine galleries (the original and the Serpentine Sackler Gallery a little further up the road) are small and so great for kids with short attention spans. The art is modern and thought-provoking. A good place to shelter from summer showers!
In addition to a seasonal exhibitions programme of eight shows per year, the Serpentine presents its annual Serpentine Pavilion during the summer months, the first and most ambitious architecture programme of its kind in the world. These programmes are complemented by a series of outdoor sculpture projects, special artist commissions, digital commissions, public and educational programmes, and major outreach projects including the renowned Edgware Road Project.
Open Tuesday to Sunday from 10 am to 6 pm, the galleries offer free admission throughout the year.
9. Wander through the gardens
There is a beautiful garden full of flowers in Hyde Park and another in Kensington Gardens. The flowers, particularly in Spring and Summer are really beautiful. Green-fingered kids will enjoy marvelling at all the colourful flowerbeds.
Why not play a game? You could challenge them to spot as many insects as they can, or even try and learn the names of the plants they find. Just remember to remind them not to pick the flowers if they look all fancy like the ones below!
10. Make friends with the wildlife
If your kids prefer fauna to flora there are a few animals to spot in Hyde Park. Bring nuts to feed the squirrels if you don't mind sharing with all the other kids in the park. In spring look out for fluffy chicks on the banks of the Serpentine. Click Hyde Park Wildlife to see what wildlife to spot.
The parks are well signposted throughout and maps are never far away!