KidRated Guide to Military London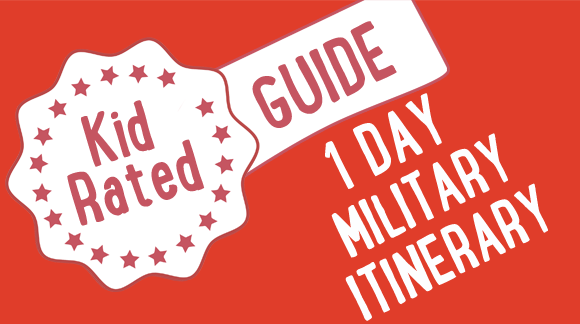 If you and your kids are at all interested in the military then London is a great place to visit. There are loads of museums and sights to see with a military twist.
Trafalgar Square
Start your military London day out at 10 am in Trafalgar Square which of course celebrates the Battle of Trafalgar and make sure you grab a photo either by the fountains, on the steps leading to the galleries or posing by one of the lions at the base of Nelson's Column.
If you'd like to make time for it, you can also do a 1.5-hour treasure hunt. There are more than a few mysteries hiding around every corner. Explore its secret underbelly on The Trafalgar Square Treasure Hunt Trail. The hunt for – fictional – treasure is one that has consumed many a pirate over the years. To keep your crew on course, download the trail PDF.
Household Cavalry Museum and Horse Guards Parade
After this walk down Whitehall towards the Houses of Parliament stopping off at the Household Cavalry Museum to pose with a mounted guard.
The Household Cavalry Museum is a living museum about real people doing a real job in a real place. Through a large glazed partition, you can see troopers working with horses in the original 18th-century stables.
The experience comes alive with compelling personal stories, first-hand accounts of the troopers' rigorous and demanding training, interactive displays and stunning rare objects, many on public display for the first time. They sometimes host family events days where there are crafts or storytelling, so to get the most out of the day for younger children do keep an eye out for those.
Or catch the Changing of the Guard at Horse Guards Parade which takes place at 11 am or 10 am on Sundays (check website for details).
St James' Park
Cutting through to Horse Guards Rd you'll find St James' Park which is a great place to stop and have a picnic lunch if the weather is good.
Today the lake is one of the park's most prominent features, but for six years last century, it didn't exist. The lake was drained in 1916 to allow temporary government buildings to be built there in the first world war. Ministry of Shipping buildings appeared on the lake bed and remained there until the lake was filled with water again in 1922.
Churchill War Rooms
After this, you'll be ready to visit the Churchill War Rooms which are situated in a bunker under the Government Buildings. This is a must for any kids studying the Second World War at school. Not only have the war rooms been lovingly recreated, but there is also a museum down there dedicated to Winston Churchill so definitely allow yourself a couple of hours.
Walk the labyrinth of rooms and corridors that stretch below Westminster that sheltered Winston Churchill and his war cabinet from the German bombing raids, and explore the Churchill museum to learn the story of his life and legacy.
You can also grab a quick snack from their on-site cafe or have a pit stop to use the loo.
Imperial War Museum
You may be worn out by now but if you're still in the mood for more things military head south to Lambeth and the Imperial War Memorial Museum. This is another place you can spend hours exploring. make sure you visit the stunning new First World War Galleries which were opened in 2014 to mark the centenary of The Great War.
Displayed across six floors, the museum's vast collections encompass a wealth of objects – from uniforms to photographs, vehicles to films, weapons to works of art – each with a story to tell.
Step into the world-famous atrium and experience the continuing influence of war on the world, from the First World War to present day in the award-winning galleries, all filled with the power to move, inspire and transform.
---
If you like this, you'll love…