Top 5 West End Shows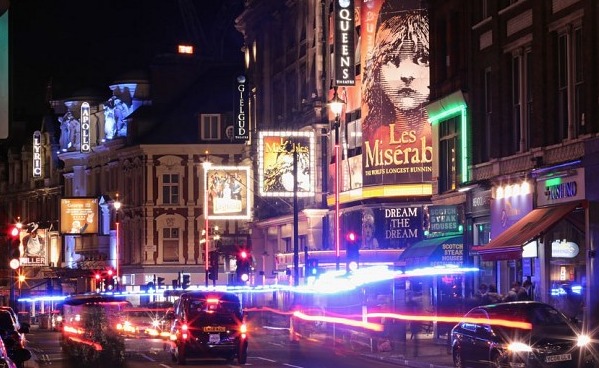 London's West End is world-famous for the quality of its shows. Theatreland has over 40 venues so the choice of plays, musicals and dance acts is varied and sometimes overwhelming.
It can also be very expensive, but if you buy through us you'll be assured the best and most competitive price. Simply click the button below to go to the KidRated Ticket Portal.
In the meantime here's our pick of the best…

5. The Woman in Black, Fortune Theatre
For older kids, who love being scared silly, our choice is The Woman in Black. The second longest-running play in the West End has been terrifying people since it first arrived at the theatre in the late eighties.
The show combines the power and intensity of live theatre with a cinematic quality inspired by the world of film noir. While The Woman in Black is not a tale of terror or horror, you'll find as the drama and tension build, you'll be transported into a terrifying and ghostly world.
And if you needed any more convincing, just check out the film adaptation starring Mr Potter himself, Daniel Radcliffe.
4. The Lion King, Lyceum Theatre
Hakuna Matata! The Lion King, adapted from the Disney smash hit, has been at the Lyceum Theatre since 1999 and the crowds still flock to watch it.
It's no surprise that this production has been running for more than 16 years in the West End as audiences continue to love this Disney classic brought to life. It's an absolute must-see for any musical theatre fan.
The incredible puppets bringing the animals to life are truly a sight to behold and you can't not love the Elton John penned songs – you'll even witness herds of full-size zebras and giraffes! All together now: It's the circle of life…
3. Les Misérables, Queens Theatre
Les Mis is one of the most popular, and long-running musicals in the West End. You might have seen the film, but watching it live adds a whole new dimension. Bring tissues: once Fantine has sung 'I dreamed a dream,'  there won't be a dry eye in the house.
Les Misérables has won a multitude of awards around the globe. It has run on Broadway in three separate productions and has enjoyed numerous UK tours. An Academy Award-nominated film adaptation of the show was released in cinemas in 2012 starring Hugh Jackman and Anne Hathaway and has continued to broaden the appeal of the show.
2. Matilda, Cambridge Theatre
Tim Minchin's adaptation of the Roald Dahl classic is here to prove that talent has nothing to do with age. It's a heart-warming show packed full of wonder, magic, rebellion and fun that'll keep every member of the family entertained.
We've yet to have a kid give this a bad review. Tickets for the West End are expensive but look for offers, returns or sell a kidney. This is a definite must-see. The young stars positively sparkle. Tim Minchin's songs go so well with Dahl's macabre story. Be warned, kids may leave feeling inspired to be 'a little bit naughty…'
Matilda The Musical is suitable for children aged 6 and up. Unfortunately, babes-in-arms will not be admitted into the theatre.  See Issy's review here.
1. The Play That Goes Wrong, Duchess Theatre
A polytechnic with a history of disastrous productions stages a murder mystery.
Unfortunately, for them, but fortunately for us the audience, nothing goes to plan. And it's hilarious. A real treat for all the family. The accident-prone actors battle against all odds to make it through to the end, with hilarious consequences during two hours of side-splitting laughs and mayhem for theatregoers.
If you need any more persuading, take a look at Elliot's 10/10 review here.