Jason Solomons
Published: 6th December 2017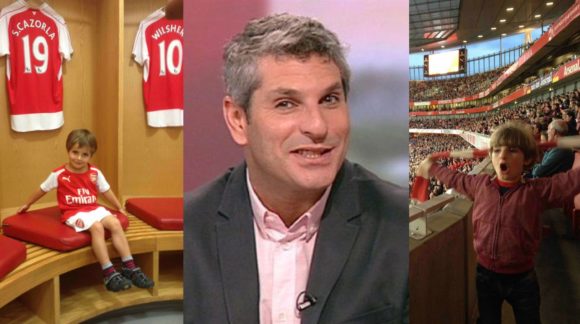 Jason Solomons is the film critic at the Observer. He lives with his family in North London,  conveniently close to his beloved football team Arsenal.
Tell us about what you're up to at the moment…
I've got a book out: Woody Allen Film by Film. The title is pretty self-explanatory.  It should be said though that it would make a perfect gift for Christmas and especially for any Woody Allen fans out there. You can get it on Amazon or check out the Carlton book site.
What was your favourite place to visit in London as a kid and why?
Without a doubt it was London Zoo. I used to go with my grandpa as a kid and we'd go and see Guy the Gorilla. Now I'm a dad I take my kids there and although Guy isn't there any more, there's a statue of him just outside the entrance. The kids love to climb on him. It's really nice because I feel a massive connection to my grandpa when we go. Also my brother got married there which was great.
My attitude to zoos has changed a bit since I was a kid but London Zoo is really special and I know they do a lot of research work.
Where in the UK would you recommend to another family?
Broadstairs in Kent is one of England's best coastal towns. It has excellent beaches and it's very accessible from London. It has this amazing traditional old seaside feel with all this Victorian grandeur. For those wanting a bit of culture, Dicken's House is there – Bleak House – and you can go and have a look around. The kids love it because there are also loads of sweet shops and two of the best old Italian ice cream parlours.
While you're in the area, I also recommend Dreamland in Margate. The kids love it.
Where's your favourite place to eat with your family?
The Canonbury Tavern – a pub off Highbury Corner. It's very kid-friendly with lots of space for them to run around. It does the perfect Sunday roast along with a great kids' menu.
Give us a tip for a cheap day out?
Go to Hyde Park. You've got everything there and what's more you're minutes from the centre of the city.
You can start at the Princess Diana Gardens and then take in the Serpentine which is awesome to stroll round or, if you're brave, row a boat on. You can eat relatively cheaply in one of the cafes. Then walk down to the Royal Albert Hall and take in the Albert Memorial on the way.
There are so many different people wandering around: Americans, joggers, dog walkers, lovers, frisbee throwers. All human life is there. Don't miss the great Serpentine Gallery which houses great free exhibitions and the pavilion in Summer.
Name three places you love going to with your kids in London:
The cinema, obviously. We love the big ones in Leicester Square.
I also enjoy taking them to the Emirates Stadium. As a parent, I get a kick from seeing them enjoying the same things I do – basically films and footie!
We also enjoy going to Golders Hill Park. Again it was somewhere I used to go as a baby and toddler, and my mum went there as well as a child so I feel a real connection to it. It's very pretty with nice walkways and they've got animals there too. They sometimes have concerts in the bandstand and there's also a very good place to get ice cream. Are you seeing a theme?
So come on Mr Film Critic, where are the best three places to catch a film in London?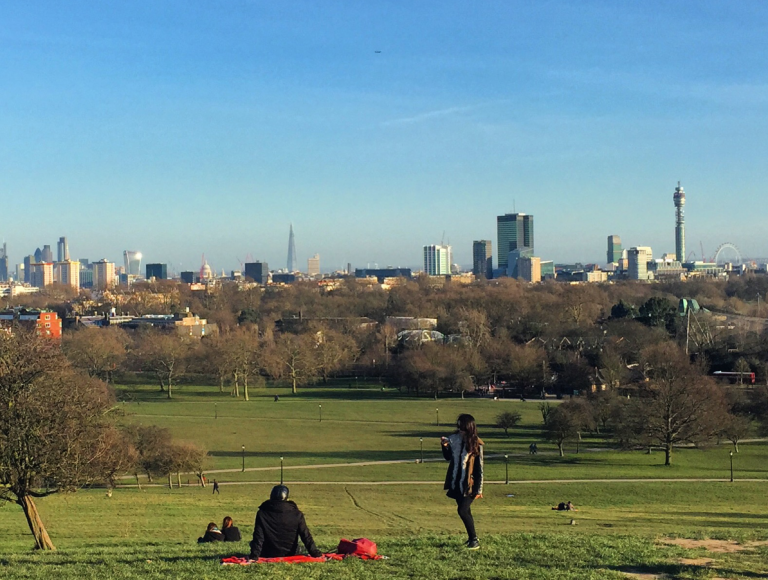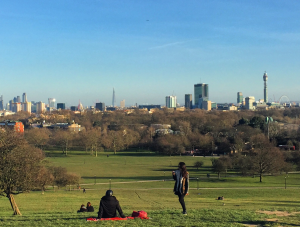 My favourite cinema is the Everyman in Hampstead. I also love The Screen on the Green which is my local. The Picturehouse Central on Shaftesbury Avenue is also fast becoming a favourite. The kids love the pick 'n' mix there.
As for movie locations, Primrose Hill became a bit clichéd in the 90s when it seemed to appear in every British film, but when you get to the top and see the views, you understand why.
Bus, Tube or Taxi?
Easy! Bus all the way. I'm a big fan and if I can get the front seat at the top, it's the best valued ride in London. The best routes? The number 19 and the number 11.
Give us a tip or a London life hack…
People stress too much about schools in London. Try not to because they're all pretty amazing. Remember it's the kids who need to be happy in schools, not the parents.