Jonny Wright
Published: 10th May 2022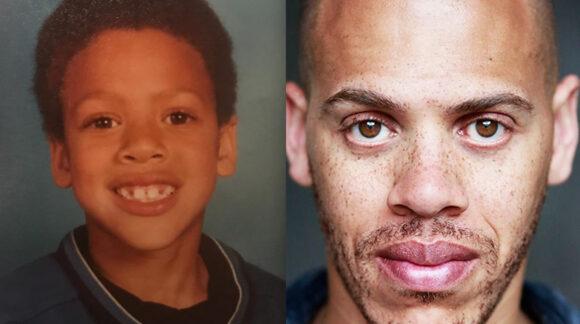 Jonny Wright is an actor, playwright, screenwriter, musician, rapper, husband and father. I hear you say… what can't Jonny do?!
Jonny came up through the Royal Court and Soho Theatre's Young Writers' Programmes and has had plays produced at The Bush Theatre and Arcola Tent and been commissioned by Talawa and Stephen Joseph Theatre.
Discover what Jonny gets up to with his wife Kemilia and 10-month-old daughter Zahara when he isn't getting standing ovations for his contributions to stage and screen!
Tell us about your latest project.
My latest project is something I co-wrote with Nathan Bryon called Little Darlings. It's an adaptation of a Jacqueline Wilson book by the same name. It's a 4 part series on Now TV and Sky Kids. It's also been released as a 90 minute film, which features as episodes back to back but cut a little bit differently, available on Sky Cinema. It stars Jamelia and Lemar plus a bunch of wonderful child actors. I have a small cameo in it too!
The story follows an 11-year-old girl Destiny, who has never known her dad until his identity is finally revealed as 'Danny Kilman' (Lemar), a huge music star. It's about a daughter finding her dad and then her three long lost siblings. Jacqueline really liked that Nathan and I reimagined her decades old story. She hadn't specified race but from Nick Sharratt's illustrations, it appears to be a white family. We wanted to tell the story from a black families perspective and I think it modernised the original book.
What was your favourite place to visit as a kid in London, and why?
I'm from Yorkshire, so we didn't come down to London that much at all. I would have to say Notting Hill Carnival, which was much bigger than Chapel Town Carnival which is where I used to go. We came down to stay in a London hotel when I was thirteen just for it. I also went to the last one running before lockdown and had a great (and hectic!) time.
Where's your favourite place to eat with your family?
My wife own's a cafe serving brunch in Tooting called MUD. I like eating there because I get free food! Her brother is the head chef there so it's a nice family community and it's the first time I've seen how the other side of a restaurant works. I take my baby Zahara too as It's only a 20 minute walk from home.
Where in the UK would you recommend to another family?
Everywhere outside of London may seem pale in comparison BUT as I grew up in Hebden Bridge, so it will always have a special place in my heart. If you are a tourist with no connections to England, however, I would recommend a visit to York. It's got a different vibe, it's more historical and there is a beautiful train station. Two of my best friends live there so I go quite often.
Name three places you love taking your kid…
She doesn't appreciate the big things yet. We recently took her to the highest building in the world in Dubai and she just started yawning. She falls asleep at any and every expensive attraction, so instead I love taking her to the best South London parks like Tooting Common, Dulwich Park, Battersea Park and Clapham Common.
Secondly, I enjoy pushing her in the buggy along the canal when we go to Hebden Bridge to visit my mum. Thirdly, my wife and I got married in Syon Park and at Christmas time, we saw the annual light show Enchanted Woodland there so I would say that was both nostalgic for us and magical for Zahara.
Bus, tube, cycle, walk or taxi?
Definitely not the bus. I can't handle the traffic. I like cycling in theory, but in London the roads are a bit dangerous. If it's a far way to go, I always take the tube because it's so easy. My love for walking grew over lockdown, where I avoided taking transport if I could help it. What I like about walking is that I am often running late but if you are walking / running, you can always make the time up and beat Google Maps. I like a practical walk, not walking for the sake of walking, plus it's cheap and who doesn't like saving money?
What is your #Londonlife-hack?
Stand by the 'MIND THE GAP' writing when waiting on the tube platform, that's where the doors going to open!