Julia Bradbury
Published: 15th August 2016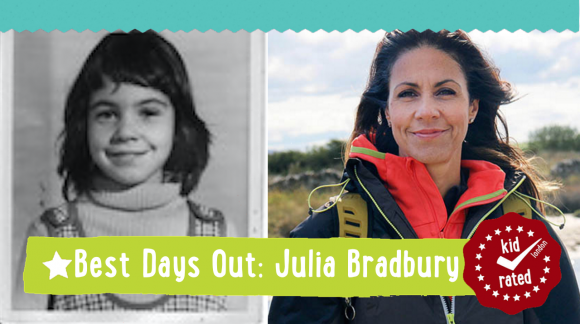 Julia Bradbury is a presenter on BBC and ITV and a face of the outdoors. During a long and varied career, she is probably best known for presenting Countryfile with Matt Baker between 2009 and 2014 as well as Wainwright's Walks.  She lives in Central London with her partner and three kids. You can catch her on Saturdays on ITV's Britiain's Best Walks.
What are you up to at the moment?
Busy promoting my new book Unforgettable Walks (published by Quercus) that tells the story of the walks shown on the primetime ITV series Best Walks With a View. It's a relaxing ramble through the stories of the places I visited in the series, including the beloved Lake District, Anglesey, the Jurassic Coast and the area I grew up walking, the Peak District. In the book I explain how we make the programmes, talk about some of the colourful characters I meet and how walking has changed my life.
I'm also involved in a brand new website called the Outdoor Guide which celebrated all things outdoorsy and offers tips and information on all sorts of things including accommodation and downloadable walking routes.
What was your favourite place to visit in London as a kid and why?
The Tower of London. I loved the Line of Kings armour display which shows all the elaborate and beautiful suits of armour worn by kings over the centuries. The life size wooden horses are dramatic as dramatic as well. Check out Henry VIII's codpiece, it's quite small.
Where in the UK would you recommend to another family?
Malham Cove in the Yorkshire Dales or anywhere in the Peak District. I'm also a big fan of forests and woodlands and there's a great website called Camping in the Forest to inspire. If you want a completely unique experience, my friend Amanda Owen lives on a farm called Ravenseat in Keld, North Yorkshire. You can go and stay in a shepherds hut and have dinner in the farmhouse with her family – eight kids, three dogs and one husband called Clive. The hut isn't big enough entire families but she's working on it…
Where's your favourite place to eat with your family?
Giraffe at Heathrow Terminal 5. It means we're going on a big adventure.
Best place to catch a film
Electric Cinema on Portobello Road; super comfy leather armchairs and a glass of vino! They also do an Electric Scream screening every Monday morning – all adults must be accompanied by a baby (under 1 year).
Bus, tube or taxi?
All of the above. I try and walk to as many appointments as possible and using the tube and buses is the only way to beat the traffic if you need to speed up the journey.
If you want to read more best days check out Nick Knowles' favourite West London haunts and learn why Sarah Parish loves her local.