Juliet Kinsman
Published: 14th December 2016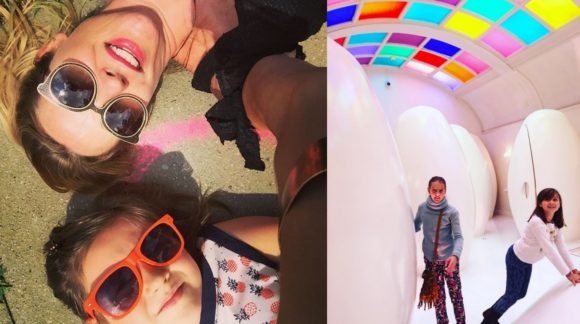 Juliet Kinsman is a luxury travel expert (Instagram @JulietKinsman), author of Louis Vuitton London City Guides, and regular guest on BBC Radio London celebrating the finer things about living in this city. She was also the founding editor of Smith & Family.
Tell us what you're up to at the moment. Do you have a project you want to tell us about?
I'm all about trying to promote sustainability at the moment. Especially relevant at this time of year when Christmas looms and stocking need to be filled… I'm reading the book Stuffocation by James Wallman which reminds us "memories last longer than things" and that parents should ditch the tat and invest in experiences and responsible presents that inspire kids to have fun or are good for their souls! Which I know you're all about at KidRated. Experimentalism over materialism. I'm even contemplating going to Bali for a few months next year so my daughter can attend an incredible school, Green School.
I've always tried to encourage everyone to give activities and experiences for birthdays and not just stuff. Even the gift of your time and going somewhere new in London can be the greatest gift of all.
What was your favourite place to visit in London as a kid and why?
I grew up in New York and I have precious memories of spending time at the Zoo. I know that people don't always consider these the most ethical environments, but London Zoo is pretty special and has so many conservation projects going on. I've always been a sucker for anywhere than treats you to a close encounter of the animal kind. Seeing the peacocks in the Japanese garden in Holland Park. Or feeding the ducks and swans at the Serpentine.
https://www.instagram.com/p/BMeFSVWBwu8/
Where in the UK would you recommend to another family?
I love the Isle of Wight where my in-laws live. As you still need to get a boat there, it's like a wonderful time capsule in parts. Cross the Solent and you soon skip into holiday mode – the boat rides to Yarmouth, Cowes or Ryde achieve a sort of time-travel trick impossible to conjure at easier-to-reach resorts.
The Isle of Wight was famously Queen Victoria and Prince Albert's favoured summer spot, and Poet Laureate Lord Tennyson described the air here as 'worth sixpence a pint'. Dickens went as far as declaring 'the views from the top of the Downs are only equalled by shores found in the Mediterranean'.
Today the bulk of the island is an Area of Outstanding Beauty, the perfect place to indulge in wholesome nostalgia. Head to Ventnor then seek out Steephill Cove and join grannies and hipster families flopped on deck chairs at this dinky summer-season spot and its tiny bit of pebble-and-sand beach. And borrow an alpaca from West Wight Alpacas for a trek over Tennyson Downs.
I can recommend booking in to stay at one of Vintage Vacations' airstreams or Tom's Eco Lodge.
Where's your favourite place to eat with your family?
We love going for a fun afternoon tea! You can book a Gingerbread House at York and Albany near Camden this time of year– can't afford that ski holiday this year book this cabin for some cosy afternoon tea – ridiculously light just-baked scones from Gordon Ramsay's kitchen, Xmas tree sweetly scented. Fun!
Sketch is fantastical… witty art everywhere… we managed to get a seat in the dark green Glade Room where artists a fairy-tale forest and decoupage wall covering and bamboo furniture … Not cheap but you do get a parade of inventive delicacies – dainty egg sandwich with a tiny dollop of caviar, Battenberg cake in Alice in Wonderland-like flavours – it's worth it just for a visit the egg-shaped loos.
I'm a big fan of Shuang Shuang for Chinese hotpot: on Shaftesbury Avenue, you pick your broth pluck fresh veg fish or meat ingredients from a conveyor belt, Yo Sushi style and create your own simmering speciality.
Give us a tip for a cheap day out?
Margate! Hit the amusement park, Dreamland. Have a whirl around the Turner Gallery. Stay at Suite Dreams. Swim in the Walpole Tidal Pool for nothing at all. Or just sit on the beach.
Name three places in London you love or loved going to with your kids:
Sir John Soane's Museum – a house full of treasures. It's like there are mini museums within the museum. They've just opened Below Stairs to show off their Regency-era kitchens. It's a proper Georgian house and not just loads of cabinets, it gives a true sense of what a house of that time was like.
Mini Picassos Art Centre in Kensal Rise – they do great workshops during the holidays for little ones right up to teens. Sarah, who runs it, is so inspiring and encouraging. The perfect place for birthday parties too.
My daughter loves keeping an eye out for Space Invader's street art around London!
Best place to catch a film?
Lexi Cinema, obviously. Staffed by volunteers, all profits go to Lynedoch Eco Village and the Sustainability Institute in South Africa.
And the Soho Hotel does a Children's Film Club once a month on Sunday mornings – £20 includes a truly amazing brunch spread and then a fabulous kids film in their stylish, comfortable luxury cinema with popcorn and treats agogo. We have seen some of our favourite films there and it's such a fun outing for the whole family!
Bus, tube or taxi?
If you're not in a rush, the bus is great. I love sitting on the top deck of the 52 from Kensal Rise to Kensington. 
The Tube is always a great anthropology lesson. Although not recommended at rush hour in holiday season. Kitty was sobbing this week on the Central Line as she had one man's derriere at eye level and Christmas party revellers shouting all around.
I have to confess I'm a little partial to UBER action now and again if it's raining and thanks to that, my daughter and I have met some lovely drivers and discovered lots about life in Afghanistan, Romania and Nigeria from chatting to them about their roots. It's taught her to engage in conversation with strangers and you never know what you might learn from each other.
Then again walking when possible is best too – even a stroll down Portobello lets you meet some charming characters.
Give us a London life hack…
Citymapper! This is a godsend when you want to figure out the quickest and easiest and most efficient way to get from A to B on public transport – especially in a new destination where you haven't got a clue about the bus or train network. I've realised I've been taking crazy convoluted routes for the last few decades.
Stylish, quality second-hand children's clothes from Fara in Notting Hill and the proceeds go to Romanian Orphanages. It's good to instil a sense of pride in recycling and not being a snob about wearing "pre-loved" clothes…