Marek Larwood
Published: 30th December 2020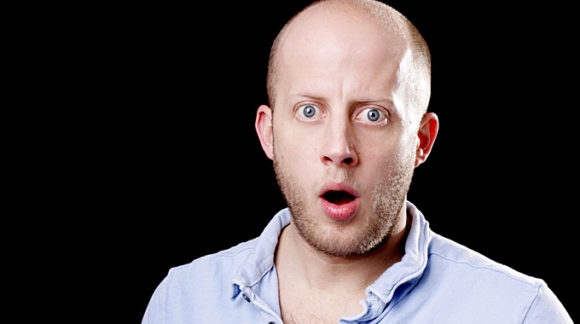 Marek Larwood is an English comedian and actor. He is best known for the ITV2 comedy show Celebability, the BBC Three sketch show Rush Hour and also as one third of the comedy trio We Are Klang. 
Tell us about your latest project.
I have two projects. I've made a new card game for kids, it's called 'Pooman'. My nieces and nephew used to pester me to pretend to be a monster and chase them round the house, so I devised a game where you don't have to run around so much. There are even ten blank cards so the kids can sit down and draw their own, so you'll get at least ten minutes peace and quiet. It's proved very popular so far. The website is www.pooman.co.uk, and you can see how to play here:
Also I'm going on lots of walks on my 'Cool Dudes Walking Club' channel. There are so many fantastic places in the UK to explore, and it's the perfect day out for older kids and gives them some exercise. If you combine walks with some geocaching then you're on to a winner.
What was your favourite place to visit as a kid and why?
One of the greatest places ever is Blackgang Chine on the Isle of Wight, I remember adoring it as a child. It's got a Maze, Dinosaur World, Cowboy Land and who could forget the traumatising Crooked House (only slightly more traumatising than the ticket prices).
I went back with my Dad a few years ago and tried to recreate some childhood photos in this video. Warning: contains swearing!
Where in the UK would yuo recommend to another family?
I would recommend visiting the Isle of Wight, it's got beaches galore, theme parks, a zoo, steam trains and loads of great places to walk.
What would be your perfect day out with your family?
One where my nieces and nephew become silent after two hours.
Name three places you love going with your kids.
Cinema, crazy golf and a walk somewhere new.
Bus, tube, taxi, walk or cycle?
Walk.
Give us a
#

Londonlifehack

Walk everywhere, and always walk down the back streets parallel to the main routes, that way you discover some incredible buildings and secret paths you've never seen before.