KidRated Blog
Channel 4's Black To Front: Initiatives versus Investment
Published: 10th September 2021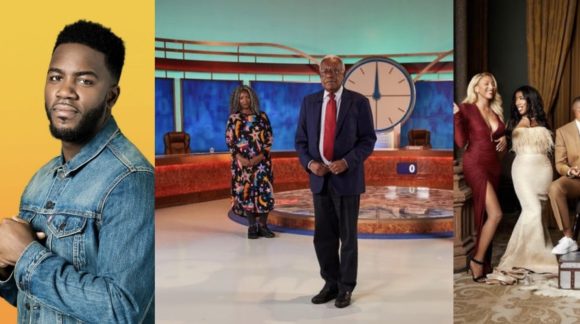 So today is the day of Black to Front (BTF) and Channel 4 is disrupting its regular schedule to broadcast 24 hours of TV, showcasing Black talent on and off screen. But is this a triumph for diversity or a triumph for Channel 4's press department? 
Firstly any company that seriously wants to address the lack of underrepresentation in its organisation should be applauded. So I want to start by doing that. BTF is a big and noisy idea that has promoted some great talent, energised the viewership (including me) and it looks as though some exciting new shows will be added to future schedules. 
So, I have no individuals to slag off, belittle or berate. I'm pleased for all concerned. Proud to see the talent on my screens, happy for the crews who made the shows and admiration for the C4 team who made this idea possible. 
But I'm a veteran of numerous initiatives, token gestures and false starts – so call me Mr Cynical but this will only be seen as success if it is the catalyst for proper change. And as a presenter, director, producer, writer who edits, shoots and live gallery/exec produces but hasn't worked in mainstream television for over six years – I think I'm allowed to have my doubts. 
And that's not sour grapes – I'm working in a job I really enjoy but I often feel like one of TV's lost generation described by David Olusoga in his brilliant McTaggert Lecture last year:
"(A) generation" of diverse storytellers and decision-makers. "They left because our industry failed to support their careers and nurture their talents. They left because they never got the next contract, because no one championed them or helped plan their careers."
Look, BTF is not up there with rainbow-washing. You know – slapping a rainbow on your product during Pride Week to show you're an ally because it's cheaper than taking any practical steps to change the culture of your business. But for me they definitely share some similar DNA.
Firstly, a day where you highlight Black talent is, by its very nature, a day where you "other "a group of people and reinforce an "us and them" paradigm. There are lots of underrepresented groups who work in television. How do they feel about this? Will it foster a sense of unity among them all? Are C4 planning on giving them different days to themselves as well – and if not why not? And I stress the word "day" because I don't see a "season" of shows as comparable.
As I said earlier, I've been involved in a number of TV initiatives that have all paid lip service to diversity.
Many years ago I was invited by Creative Talent at Channel 4 to apply to become a Commissioning Editor as they were running an initiative to recruit black faces. Frozen with imposter syndrome, despite having produced in excess of 250 individual shows across several genres, I stupidly said I thought I had should make a few more before I started advising others.
"Good idea", they said " But do stay in touch because the door is always open". On contacting them again a few years later the door wasn't open because the initiative was over. Plus I was told (by the same person) "your CV is full of programming making" and "you haven't really any extensive commissioning experience". 
Yup I was basically invited to join when I had what I perceived as very little experience and then rejected when I actively went out to gain more.
At the BBC I was tasked with finding new comedy writers in the North of England for an initiative that was also bold and courageous. I found loads but as it wasn't a strategy none of the talent was helped or supported. However, to show they were committed, the BBC asked me to repeat the exercise again the following year.
Also at the BBC, I was sent on a week long Visionary Leadership Course because i'd been identified as someone with potential. It was great, interesting and must have cost thousands of pounds. But as initiatives are really about PR and not about investment, they terminated my contract less than six months later – which ironically I was now trained to see wasn't very visionary at all.
I have numerous stories from Black friends on initiatives but nothing makes me sadder than a young comedian friend of mine who was tricked into appearing as the one Black face on a Radio Times cover. Inside he talked excitedly about his planned new series, which of course he was never given – he'd simply been there as window dressing.
So instead of BTF what would I propose in its place?
Well a "bold and courageous initiative" could be one that identifies a number of underrepresented groups and then actively recruits them into ALL available positions for a minimum of 12 months. 
So not just ethnic minorities but disabled, LGBTQ+ and older candidates especially women in their 50s.
Also television needs to make a genuine attempt to get more working class people through its doors and into decision making roles.
In the last few years I've been helping a number of young Black kids get a footing in the industry and the one thing they consistently tell me is there is nobody like them to chat to. They're not talking about other people of colour – they're talking about people with similar socio-economic backgrounds –  people who sound, talk and think like them. 
According to The Sutton Trust, the UK has lower social mobility than any other advanced country. This isn't hard to believe when earlier this year Birmingham  businessman and walking Hogarth engraving, Lord Digby Jones, attacked BBC's Alex Scott for dropping her "Gs" whilst covering the Olympics. It's not just about looking right you need to sound right as well…
Jeremy Ullman writing for the Media Diversity Organisation said "representations of working-class communities tend to focus on what they lack—not just financially, but also in knowledge, taste and morality. So they are constantly depicted as uneducated, poorly dressed and more likely to become criminals."
No wonder this group finds it difficult to forge careers (not jobs) in an industry that consistently portrays them in a negative light. This is a circle that really needs to be broken.
Now I have no idea what Channel 4 plan to do after today. Unlike London Hughes who publicly slagged off BTF the other day, they don't call me up to explain things.
But I hope there's a strategy, I hope there are policies and I hope there are plans for all underrepresented groups. 
And not just at the channel but at production companies as well. Don't win commissions off the backs of people you're not going to employ  – think bigger, think wider.
You can't change things with just a day, but imagine what would happen if you recruited a number of people with disabilities into your organisation at all levels. Your office would have to change overnight – metaphorically and physically. 
Initiatives are ok but they end. The long term investment that's needed to make TV a broad church has only really just started…Right back to the telly.