KidRated Blog
London Afternoon Teas with the Family
Published: 20th July 2019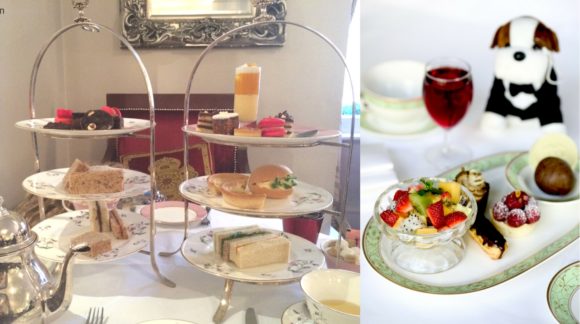 Pretend tea parties for the teddies at home are fun but how about taking the family out for a real afternoon tea? There are many children's tea options available (smaller version but you still all dine together) so the whole family can enjoy the occasion.
Afternoon tea is one of those wonderful meals that suits everyone – who doesn't like fancy cakes? – and you are always made to feel very special. Go for a birthday or anniversary, or when the grandparents are visiting to slow down and have some quality family time together.
How old should children be to enjoy the afternoon tea?
I've been taking my daughter for afternoon tea since she was two years old but most kids over five know how to behave in a nice restaurant so don't keep saving the treat for when they are older.
Where to enjoy afternoon tea in London with the Family
All of these recommendations have my daughter's seal of approval too.
Kensington Palace Orangery
After visiting Kensington Palace (kids go free), and before playing in Kensington Gardens (always free!), head to the palace Orangery that was once where Queen Anne enjoyed court entertainment. The classical 18th century architecture means large windows and lots of natural light. There's an outdoor Terrace for dining too.
The long venue has tables on both sides and a wide aisle down the centre for waiting staff. Tables aren't spaced too closely together so it's not a problem if children want to get up and look out of the window.
It's not formal here in the way you might expect in a luxury hotel but the high level of service and exceptional afternoon tea are of the same high standard. Plus, highchairs are available for the youngest guests and everyone feels very special here with the excellent service and delicious treats.
Children's afternoon tea is available at less that half the standard price. While tables are kept for 'walk ins' every day I would recommend booking in advance then you can walk straight to the front of the line and not keep kids waiting.
Official website: www.orangerykensingtonpalace.co.uk
Also see the Top 10 Things to Do in Hyde Park and Kensington Gardens
Grosvenor House Hotel
There's something very posh about having afternoon tea at a Park Lane hotel. The Park Room at Grosvenor House Hotel overlooks Hyde Park and feels like you're dining in an English stately home. There's a pianist in the room who can play something for you for celebrations.
Children are welcome and there's a special 'Grover's Children's Tea' named after the hotel's British Bulldog. The tea includes a tropical fruit salad, ice-cream and a cuddly 'Grover' toy to take home. There's a lovely choice of fruit teas so children can look grown up drinking tea too.
For the adults, this is a really luxurious setting. After working your way through finger sandwiches, scones and pastries you can choose a large slice from the cake selection as well.
Official Website: www.parkroom.co.uk
Bateaux London Afternoon Tea Cruise
When you need a venue with lots of distractions how about an afternoon tea cruise along the Thames? In this 75 minute journey you'll see lots of famous landmarks, such as Tower Bridge and the Houses of Parliament, so give the kids a camera to snap away. There's a glass roof on the boat too which is great for taking photos going under the bridges. A children's activity pack is also provided so they won't be bored.
The afternoon tea still has all the essential elements – sandwiches, scones, cakes and tea – plus the best views in the capital.
There's a pianist on-board so let them know if you're celebrating. Hopefully you'll hear them play songs from Oliver! (as we did) as Food Glorious Food makes everyone smile.
If you'd like to guarantee a window seat it's best to upgrade the adult afternoon tea to the Premier package. You'll get Champagne too so you'll thank me for that tip.
Official Website: www.bateauxlondon.com
Royal Horseguards
This five star hotel has a special Mini Tea for "little ladies and gents" under 12 years old. Children get a three-tier silver cake stand with all the treats, plus an activity pack to keep them occupied for longer so you can savour your sweet treats without rushing.
It's a great location, close to Trafalgar Square and just across the river from The London Eye.
It feels very grand here and children are treated really well. There are lots of afternoon tea options for the adults so do see the menu before booking.
Official Website: www.guoman.com/en/hotels/united_kingdom/london/the_royal_horseguards
Chesterfield Mayfair
All of the Red Carnation hotels are family-friendly but it won't be just the kids who love the 'Charlie and the Chesterfield Afternoon Tea' in this Mayfair hotel. It's themed in honour of Charlie and the Chocolate Factory The Musical on in the West End, and it's an afternoon tea with a chocolatey twist.
As this is Mayfair, the service is superb and staff are very good with children. There's a 'Little Oompa Loompa Afternoon Tea' menu for the kids and from the adults menu I can recommend the Golden Egg and the Oompa Loompa Cupcake.
This themed idea is a really fun way to introduce children to the delights of afternoon tea.
Official Website: www.chesterfieldmayfair.com
Laura Porter is @AboutLondon and writes aboutlondonlaura.com. She's dragged her daughter around London for the last ten years.