KidRated Blog
#KidRatedMeets Lunchbox World AKA Caroline Job
Published: 24th October 2016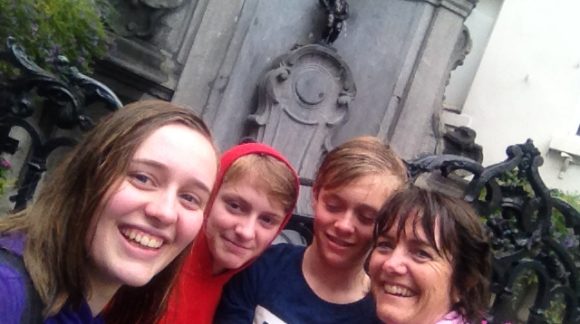 We created the blog series #KidRatedMeets to learn more about some of our favourite mummy bloggers on the internet. Today we meet, Caroline Job, founder of Lunchbox World.
How did it all begin?
It started with an idea, a light bulb moment, as a busy mum having to pack lunch for three school-age kids, whilst the kids were having tennis lessons on a Friday night, adults sipping on a Pimms at the local club, in Summer 2008.
"Wouldn't it be great to create a website that is a one-stop shop all about lunch boxes," I said. "How about Lunchbox World, a site covering new food, drinks, snacks on to the marketplace to help busy mums find fun stuff in the supermarkets, to tips, hints, nutritional ideas, lunch box ideas to recipe ideas."
The aim of the site is to help busy women put the FUN back into packed lunches. It's so easy to get into a lunch box rut when packing lunch. The site also reviews new lunch box kit, bottles, picnic gear, new to the market and sprinkled in the mix are posts on fun family days out, lunch out, and the odd spot of parenting along the way.
How did you get called the Lunchbox Lady?
April 2009 – April 2014 packing lunch boxes to ship to customers was a regular feature of daily life. Pick, pack, ship, often it took all day and into the evening to stay on top of the orders. Trot down to the post office, see the jaw of customer's faces that joined the queue behind me drop to the floor when they saw how many parcels I had to ship! The Post Office staff would comment "Oh it's the Lunchbox Lady again!"
The kids even got roped in to help, particularly in the busy summer holiday months when there are lots of lunch box orders to get out, in readiness of Back To School. When the e-commerce shop orders got too many for me to handle, I employed a fulfilment house to fulfil the orders for me, which gave me back the time to focus on the fun bits of the Lunchbox World website: the sampling of new products, attending exhibitions, sourcing new lines to stock, meeting with PRs, learning about new food and drink, new recipe ideas, meeting top celeb chefs, basically along the way I have become a total utter passionate foodie! Running a business, you wear many many hats and I had to wear them all – customer service, logistics, finance, tech support, manage agencies working on the site, promoting and marketing the site, as well as being a full-time mum with a regularly absent hubby.
May 29 2011 Theo Paphitis retweeted my tweet in his #SBSwinner Small business Sunday and that was a huge turning point for Lunchbox World. Lunchbox World started featuring in the Independent Back to School round-ups, Red Online, the Sunday Times mentioned some lunch bag items I stocked! So I now regularly attend the annual SBS Winners conference and am a proud owner of a photo and signed certificate from Theo himself.
So the focus of the site has returned to my original dream of an e-magazine style website: all the tips, hints, recipe ideas, reviews, a kind of magazine style content – to be a hugely helpful useful resource when packing lunches, picnics or any kind of food-on-the-go occasion. There's even breakfast ideas and soon there's an off to uni section, now my oldest is at Uni! (I worry she won't eat properly!)
What is the philosophy behind your blog?
Lunchbox World was created as a one stop shop to help busy women, with and without kids to help put the FUN back into packed lunches. So there are recipe ideas for toddlers, back to school kids, teens, sporty kids, adults wanting to take lunch to work, and picnic ideas for family days out. There's more food art on the way too!
The website's aim is to be an inspirational resource when it comes to food-on-the-go, with tips on nutrition, 5 a day, how to keep the lunch bag smelling fresh, ideas on how to tackle fussy eaters, and more. My two boys are really sporty and now in their teens and it's no joke, they both look like extra long stick insects, but eat like a horse. So I'm having to really pack a wholesome lunch that'll keep them going through school, into after school sports activities and beyond!
There's still a huge learning curve and loads to be done on the website. I'm learning all the time. Before the year is out I MUST get into video!
Describe a typical day in the life of the Lunchbox Lady!
Up at 6:30am first stop a Nespresso coffee, then down to pack the lunches for the day. Kids all gone by 7:35am. Breakfast. To do lists. Plan for the day. Sometimes I have foodie events to go to in London, usual blog activities like catching up on emails from PRs, researching blog posts, watching youtube how to's, scheduling posts, updating SEO of site since migration over to WordPress, social media updates, creating new lunch box ideas, testing out on the kids. Improving photography. The kids are home from 3:30pm onwards, with last one in by 5pm. After school activities for kids – athletics, football, table tennis, tennis, life guarding, dinner, bed, then repeat the next day!
I'm currently learning how to increase productivity and how to learn better food photography…
Do you have any tips for aspiring bloggers?
Just get started. Have a go. You will make mistakes along the way. We all do, I still do. The thing is it is the only way to learn. Blogging is a journey. Take part in blog challenges and things like NaBloPoMo – these happen in November and May (may be more dates now) but it started in the USA and is a way of kickstarting your blog, blog every day for a month. You then get more confident as you are blogging so much. Have your own voice, be you. You can't be anyone else, they are taken so don't try. Just be you.
Don't be too hard on yourself. 80% good enough is better than striving for perfection, for that magical 100%. You will waste way too much time in perfecting and most people might not see the difference between 80% and 100%. Don't strive for perfection or you will never click "publish". Have a plan and stick to it. Have somewhere to jot ideas down. I call it my "some time, maybe" book – it allows you to log your ideas without getting side tracked. You may go back to them at some point, but for now, you won't forget them.
Don't worry too much…
(I need to listen to my own advice more!)
What topics do you feel passionately about?
Food, obvs! Flowers, nature, creativity, photography (although my own photography doesn't show it yet) and positivity, gratitude, feeling grateful for everything we have and the world and our family around us.
I also love travel, experiencing different cultures (maybe that stems from living overseas for 12 years) and speaking languages. I love learning how people got to doing what they are doing or learning really inspiring stories – I am so curious about people!
Do you have any future plans or upcoming projects?
I'm keen to start an "In the Kitchen with…" series with bloggers, getting their top 5 lunch box tips, go-to's, 3 must-have gadgets in the kitchen that they couldn't live without.
And I also want to start sharing inspirational stories of folks that have made it in business, the blogging world, ideally foodie related somehow.
Tell us the top five places your kids love…
Where do you like to visit in London with your family?
Museums especially the Science Museum – it's so interactive.
The really touristy bits – walking from St Paul's over the Millennium Bridge to the South Bank, London Eye and Westminster, Big Ben and then on to the parks.
The kids want to see the graffiti walls in London – photography has become a big thing with the teenagers each building their Instagram accounts!
If you were planning to visit London what would be the top three things you would do?
Bond in Motion – this is definitely on our to do list.
The Shard – I'd love to go up to the observation level on a clear day to see all across London
The Emirates Air Line Cable Car – My husband is a bit nervous, but with adrenalin-junkie kids it must be done!
Follow Lunchbox World:
Blog url: http://lunchboxworld.co.uk
Plus, check out her day out reviews here: