KidRated Blog
Making the Most of your Money at Kew Gardens
Published: 4th October 2017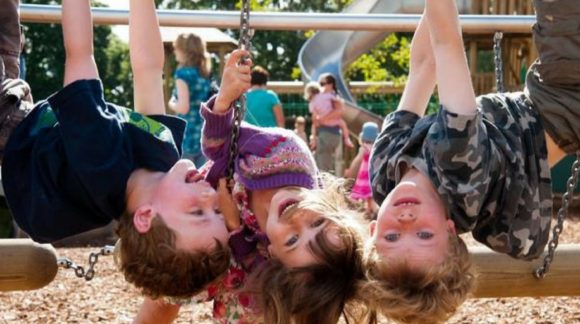 We all know family days out can cost a fortune, be exhausting and make you wish you'd stayed at home. But here at KidRated we LOVE days out, and believe some attractions are worth every penny, but you need to know what you're doing, and that involves planning – which is why we've created this series of blogs for you.
Kew Gardens is a fantastic family day out. There's lots to see and do but the gardens are only about a mile across so it's manageable for little people.
Be aware, as our Kew Gardens Mum Report points out, Kew Gardens is on the Heathrow Airport flight path so you will hear planes overhead all day. But it is surprising how quickly you stop noticing them so don't be put off.
1. Getting there
Get the District Line or London Overground to Kew Gardens station as it's a 5-10 minute walk to the Victoria Gate entrance. (If meeting friends before going in, be aware there are other entrances.)
By the station there's a chemist, bank, healthfood shop and a Tesco Express so you can get your supplies for the today here.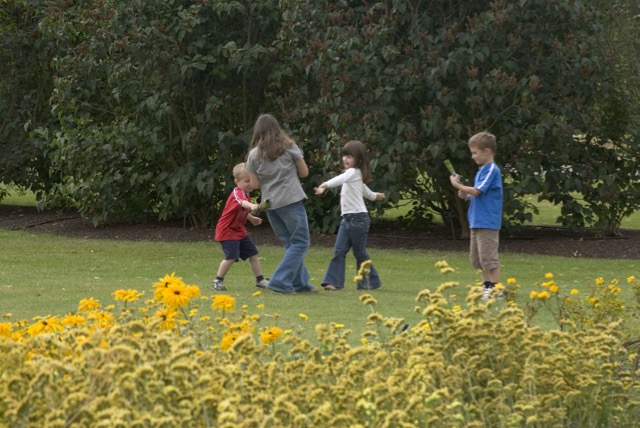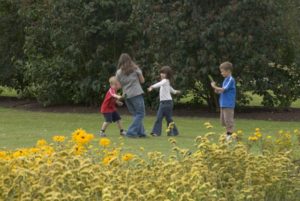 Tip: If bringing a buggy go to Richmond station and then get a train back one stop to Kew Gardens station so your train platform is on the same side as the exit. Otherwise you'll have to carry baby and buggy down and up stairs to cross under the train tracks.
2. How long?
The minimum amount of time you want for a visit to Kew Gardens is 3 hours, but it can easily turn into a full day, so do try and arrive in the morning.
3. What to bring
Your energy! While the Gardens are not as big as you might expect you can still easily spend all day here so wear comfy shoes and be prepared for all weather (this is still London). You will mostly be outdoors but there are places to shelter inside so rain won't spoil the day.
Make sure you have a camera – or more than one! – as taking photos is a fun activity for the kids here too.
There are four places to eat at Kew Gardens but the cafes can get busy at lunchtime and kids can be impatient. It's best to bring a picnic or at least lots of snacks so you don't spend the day hearing "I'm hungry" complaints.
4. No scooters
Bikes, skateboards and scooters are not allowed in Kew Gardens. There is storage for them at the Victoria Gate but it's best to just leave them at home. The same goes for footballs and frisbees as sports are not allowed. Running around happily is encouraged.
Before you worry that small people won't walk far that's never normally a problem as they love the space to run around safely. If they really can't walk there is the Kew Explorer land train that offers a hop-on hop-off tour around the Gardens. (Tickets are valid all day and can be bought at Victoria Gate or from the driver.)
5. Victoria Gate Entrance
Children 4-16 years do need a ticket at Kew Gardens and are no longer free but the ticket rate is very low. Under 3s are still free.
Do pick up the Gardens map at the entrance as a new one is produced for each season. It includes any seasonal highlights and any temporary closures so you'll need it even if you know the Gardens well.
The Victoria Plaza is just inside the Gate and has a shop, locker room, café and, most importantly, toilet facilities. The toilets are out the other side of the Plaza building.
6. Events and activities
Kew has some really good annual events such as Easter at Kew, which always has a egg/bunny/chocolate hunt, and the light-filled evening visits for Christmas at Kew. These are great fun but can mean a lot more visitors.
7. Open all year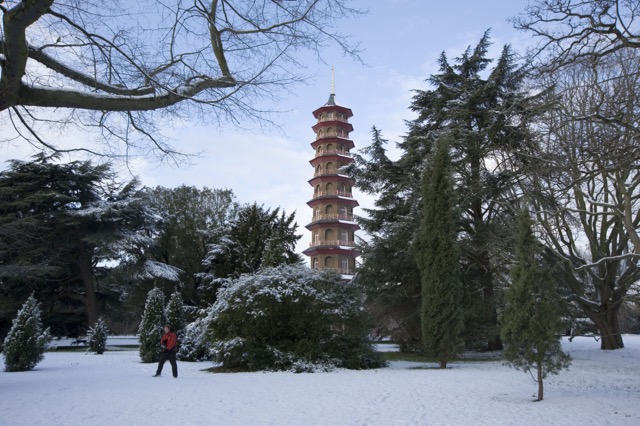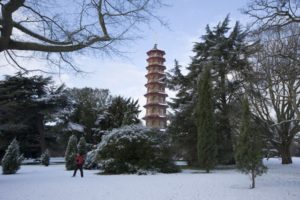 Don't think of Kew Gardens as somewhere to only visit in the summer as it's just as good a day out in the winter. Kids love wearing their wellies and the glass houses are still steamy warm in January. A visit in June and November can look very different as the trees change colour.
Kew Gardens has slightly different opening times throughout the year (extended in spring and summer) but only closes on 24 and 25 December.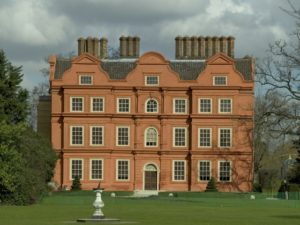 Kew Palace and Queen Charlotte's Cottage close for winter.
8. Play areas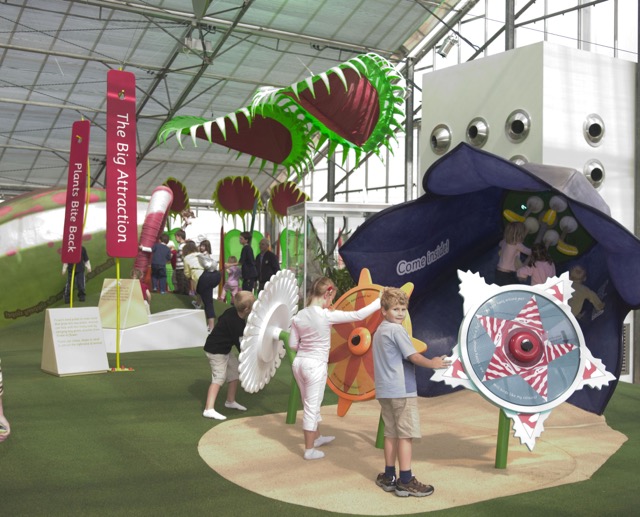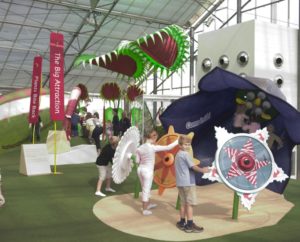 Never start your day at Kew Gardens by going to the Climbers and Creepers indoor play area as the kids won't want to leave! Aimed at children aged 3-9 years, they can pretend to be insects to climb in plants, trap model flies with Venus fly traps and even get 'eaten' by a pitcher plant. It's definitely education with a heavy dose of fun.
The outdoor play area is at the same location. The Treehouse Towers playground is for children aged 3-11 years. While they don't get to climb actual trees there's a fun climbing frame plus swings and slides.
The White Peaks Cafe is next to the play area and does takeaway coffee which you'll need while the kids go wild.
9. Suggested route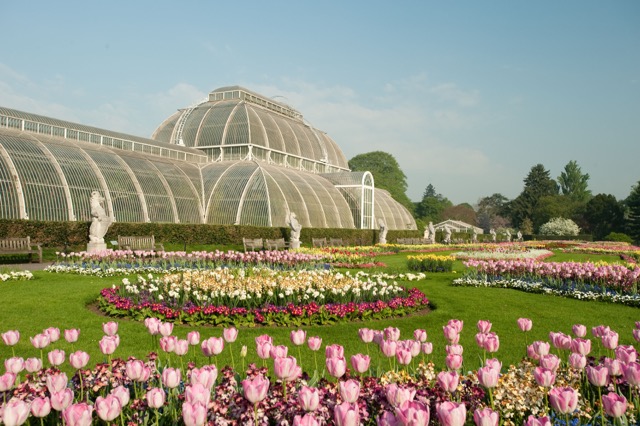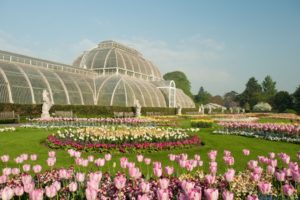 You can explore the Gardens in any direction but the Palm House is close to the Victoria Gate entrance. Be prepared for the humidity and make sure you climb up to the high walkway and down to the Marine Aquarium too.
Have a look in the Princess of Wales Conservatory next and, if it's summer and the kids will allow, have a look inside Kew Palace. There's a family trail to give you a reason to look around.
At this point the kids will be begging for the play area so let them indulge while you get that well earned cuppa.
Make sure everyone uses the toilets before walking to the Treetop Walkway. It's 18 metres high and 200 metres long so you really are walking through at the 'top of the tree' level. Kids should look out for the facts along the walkway. Do note, even with light winds the walkway can sway and make you feel a bit 'seasick' so avoid in stronger winds.
If everyone still has lots of energy go to the north west corner of the Gardens to the Log Trail and Badger Sett. The Log Trail is a natural play area for children over 7 to test their balancing skills. And the Badger Sett is a human-sized tunnel to see how badgers live.
When ready for a break, stop at the Pavilion Restaurant as it's usually the quietest restaurant and it has wonderful slices of cake.
Do pop in at the Marianne North Gallery to see the the lovely botanical paintings. Kids will like the touchscreens to zoom in on selected paintings.
End your day at the Victoria Plaza with the usual family debate on what to buy in the shop before heading home.
---
All images ©  RBG Kew