KidRated Blog
Royal Letter
Published: 8th December 2015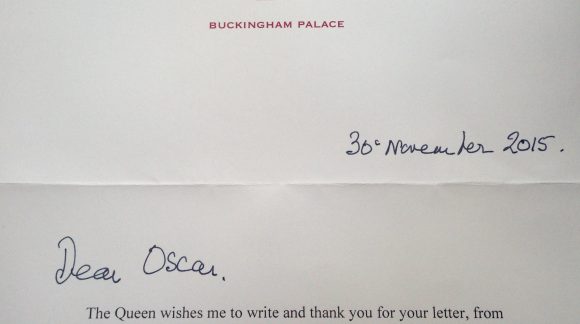 A month ago my six year old son was set homework to write a letter to the Queen (grrrrr homework for six year olds, I could go on, but that's another blog).

He dutifully wrote a lovely letter, telling Her Majesty about his family, our house and how he's seen the outside of Buckingham Palace, but would very much like to see the inside. Being a literal little fella, once the letter was written he was adamant it was to be posted. I didn't expect he'd get a reply this side of his 16th birthday, but I posted it…and then forgot all about it.

I've been really quite surprised by how he's taken with the Queen and everything to do with her – but not as surprised as I was when a few days later a letter postmarked Buckingham Palace dropped on the mat. I quickly came up with a spurious reason to go to school and drop the letter off.

At the school gate that afternoon, a beaming face told me he'd opened "her Majesty's letter" in front of the whole class and read it out. He was very understanding as to why it had been left to a lady-in-waiting to write on behalf of the Queen, after all, he explained, "the flag's hardly ever up at the palace, she's always busy and she's a Granny". He also loved the fact she'd used a stamp with her own head on it!


The palace sent him leaflets about the Changing of the Guard & the Queen's Day, which served as the bedtime story that night, and informed him that he can see inside the palace. (Our reviewers have been there already – you can see our KidRated review here.)
The royal letter was lovely, his name and the signature were reassuringly written in real ink (hopefully from a quill) and it was personalised, saying the Queen had loved hearing about his life.
We've got iPads, Super Mario & my boy loves them all, so I was thrilled a simple letter could touch him so deeply. He's shown it to everyone he knows.
So Ma'am, thanks to your lady in waiting, you've got a monarchist for life. He's started composing his reply, so you may also get a pen pal for life!
Watch this space.
If you like royal experiences, have a look at our reviews of Windsor Castle, Kensington Palace, Madame Tussauds and the Tower of London.