KidRated News
Hogwarts Express Arrives at Harry Potter Warner Bros Studio Tour
Published: 4th March 2015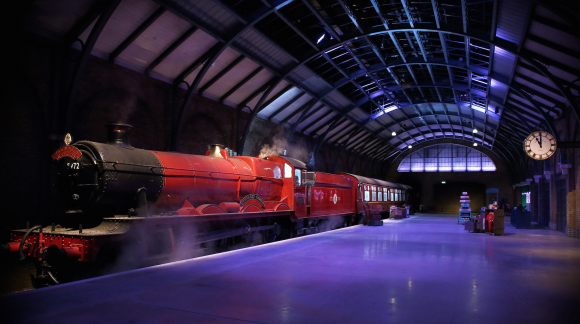 On 19th March, a new feature of the much loved Harry Potter Studio tour will arrive, the original Hogwarts Express. Which is in fact a real 78 year-old steam engine train, formerly known as Olton Hall. The train will be housed within a recreation of the iconic Platform 9 3/4.
Yesterday, Tuesday 3rd March, Mark Williams, a train enthusiast, who fittingly played muggle invention-loving Mr Weasley in the film series hosted a sneak peak of the new attraction. He commented that he's, "really enjoyed being back at the Studio Tour, seeing the original Hogwarts Express and the superb recreation of Platform 9 ¾. People don't always realise that the school train was in fact a real working locomotive which has been transporting passengers up and down the country since 1937. We always enjoyed filming on Platform 9 ¾; it was the beginning of every adventure. The Hogwarts Express was a magical part of the Harry Potter film series."
If you visit the studio tour you will not only get to see the 20,000 ft squared expansion but experience it. You will have the chance to pose for a photo with a luggage trolley disappearing into the wall between platforms 9 and 10. Even more excitingly, you will be able to climb aboard a train and take a seat in one of the famous old fashioned carriages. Here you will be able to learn about the effects used the make the glass freeze when the dementors attacked.
Curious visitors will also be able to interactively snoop through luggage props and see what some of the best loved characters brought in their trunks to Hogwarts. There will also be a shop on the platform selling souvenirs.
The only thing you won't be able to do is travel across the country to Hogwarts, but this is definitely the second best option.
You can book tickets now for this unique experience. Why not also watch Charlie's review of the tour before you book. It couldn't come more highly recommended!
All aboard the Hogwarts Express!