KidRated News
Sophie the Steg comes to the NHM
Published: 4th December 2014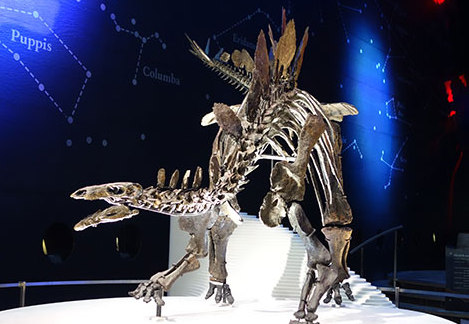 There are a lot of old and ancient things in the Natural History Museum (it's kinda their 'thing') but their latest acquisition is something special.
Instantly recognisable from their distinctive fins, the Stegosaurus is one of the most recognisable and iconic prehistoric creatures. But with only 6 specimens ever to be unearthed to-date, very little is know about them.
Sophie is a 150 year old stegosaurus skeleton and at almost 90% intact, she is the most complete specimen of her kind. Found in what is now Wyoming, USA, the team at the NHM hope to learn a great deal from this example and paint a much more detailed picture about this amazing animal, including how heavy they were, what they ate, and what their fins were used for. Museum dinosaur expert Prof Paul Barrett at the NHM says they are hoping to 'do a lot of new science with this animal, as well as making a beautiful and inspiring display.'
She goes on display to the public today.
Unlike the replica Diplodocus in the Central Hall, Sophie's skeleton is the real deal, and set to become one of the Museum's hottest exhibits. Read more about this amazing discovery on the NHM website.