KidRated News
Win an Oculus Quest 2 64GB All-in-One VR Headset
Published: 21st January 2021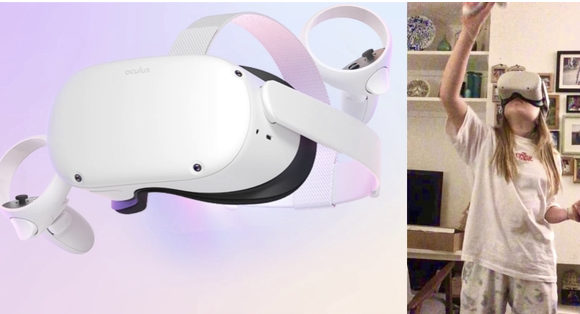 Review a virtual  experience for the chance to win an Oculus Quest VR Headset
Sadly, due to coronavirus, families have been unable to leave their houses and visit any of London and the UK's great attractions. But just because you can't be there in person, it doesn't mean you can't visit via the internet.
All over the world galleries, museums, attractions and landmarks have been making themselves available to the public by offering a virtual experience.
And as KidRated is the website where kids and teens review the best days out – we've decided to run a competition for the best review of a virtual attraction in the UK.
So we want you to visit an online destination, film a simple review and send it to us at win@kidrated.co.uk. It can be anywhere you like as long as it's in the UK.
The best entrant will win an Oculus Quest 2 – an advanced all-in-one VR system which allows users to explore an expansive library of awe-inspiring games and immersive experiences with unparalleled freedom.
So what are you waiting for? Get virtual visiting and send us your reviews.
Rules for KidRaters
a) At the beginning kids must state their name, their age and what they're reviewing but NEVER their surnames – we can't use the review if you do.
b) Keep it under THREE minutes and make sure you include the BEST and (if there are any) WORST things about the experience.
c) Reviews MUST end with a K-Rating! That's a score out of 10 on your fingers.
d) Parents/Guardians must email the final review via a file sharing service like wetransfer to win@kidrated.co.uk and include a contact email address.
Good luck!
Entrants must be under 18 
and residents of the UK. See our
Terms & Conditions
for more information.
All entrants MUST be subscribed to the KidRated Newsletter. Click below to join now.

Competition closed Wednesday 3rd March 2021 at 11:59pm
Our crowned winner is Mordecai, for his incredibly creative video review of Stonehenge. It was a tough decision here at KidRated headquarters, but we believe Mordecai bought something truly special and creative to the challenge.