Charlie Condou
Published: 20th January 2021
Charlie Condou has been acting since the age of 12. His colourful CV includes numerous iconic TV dramas including The Bill; Robin of Sherwood; Midsomer Murders; Gimme, Gimme, Gimme; Nathan Barley, The Impressionists and Unforgotten.
His film roles include Dead Babies, an elf in Fred Claus and Auguste with Cate Blanchett.
Coronation Street fans will remember him as sonographer Marcus Dent, and Holby City viewers will recall he played Ben Sherwood, a consultant in the medical drama Holby City.
Not content with acting Charlie is a prolific writer and a former Guardian columnist.
A passionate advocate for LGBT rights and same-sex parenting, Charlie is associated with a number of philanthropic organisations including Stonewall, the Albert Kennedy Trust, Diversity Role Models, The Terrence Higgins Trust and his own charity Out With The Family.
He lives in Islington with his husband Cameron and their two children Georgia and Hal.
Tell us what you're up to at the moment…
Well as we're currently in Lockdown Part III, my industry has all shut down. But, I'm due to start a play in London in April though so fingers crossed the theatres are open by then!
What was your favourite place to visit in London as a kid?
When I was a kid (many, many years ago), a brand new swimming pool opened in White City, which had slides and a wave machine. I thought it was the coolest place ever and would go every weekend with my mates.
*White City is obviously now home to Westfield. Although there is a swimming pool there – but it's on the roof of swanky the members club Soho House. 
Where is your favourite place to eat with your family?
*Make your own Chilli Chicken ramen from home, or order on Deliveroo until restaurants reopen.
My kids love eating out (possibly because of my cooking) and they take it in turns to choose.
My daughter is a big fan of ramen, so Wagamama is usually her first choice. My son would go for Five Guys every time. He says you can't beat their fries.
Where in the UK would you recommend to another family?
We couldn't go abroad this Summer so we packed up the car and headed to St. Ives in Cornwall for a week of sun, sea and surf
It really is a magical place; there's something about the light in that part of the country thats unlike anywhere else. It felt like we were somewhere tropical and we had the most fun we've had in years. We've already booked to go back!
What would be your perfect family day out?
My perfect day would probably look very different to my kids (mine wouldn't involve watching Tik Tok for hours on end!). We've got very into making morning feasts recently (chocolate chip waffles this morning), then somewhere outside that we can run around.
We've had to get creative recently because everything is closed so my husband and I have started doing circuit training with the kids which is a lot of fun. Pizza for lunch, and by evening we have recreated a movie experience with popcorn and treats.
Lockdown has been tough for everyone but its forced us to rethink the way we parent in a lot of ways, and I've found that we've actually been doing lots more as a family, which i've loved.
Name THREE places you love going with your kids…
Bike riding on Hampstead Heath, the London Aquarium and a great West End show (we've seen Wicked three times so far!)
Bus, Tube, Taxi, Walk or Cycle?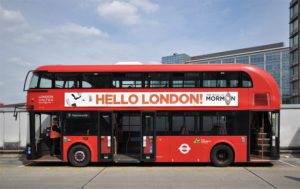 I walk everywhere, but the kids always want to get the bus. Top deck, at the front, always.
Give us your #Londonlife-hack!
Cass Art have collated some of our favourite creative activities to make things as easy as possible, provide a spark of inspiration and add some fun during these challenging times.   
Our local art shop in Islington, Cass Art, has daily activities going on for kids that you don't have to book and are free. You can just turn up and get creative. The kids absolutely love it.