KidRated Blog
Great Things To Do in Edinburgh for Babies & Toddlers
Published: 20th May 2022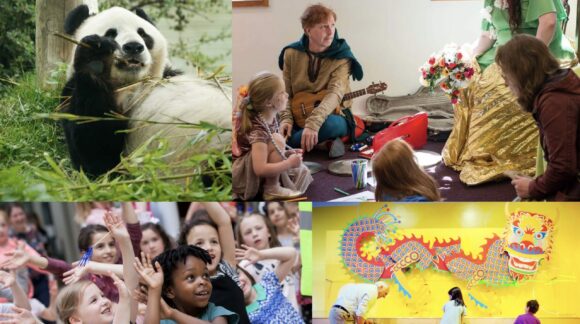 Organising a trip away with the little one can be stressful. You need to pack the buggy up, bring along her favourite snacks and… where did you put Mr Bunny again? If you're planning to visit Edinburgh with a baby or toddler, KidRated has your back. We've put together a list of our favourite places to take the kiddies, from the best parks to the coolest soft play spots!
We hope you enjoy, and don't forget to tell us which ones you've been to in the comment section.
Looking for how you can keep the teenagers entertained instead? Why not check out our Great Things to do in Edinburgh for Kids and Teens?
Go and see Greyfriars Bobby
If your little ones love dogs, you'll want to show them the statue of Greyfriars Bobby in the old part of the city.
The story of Greyfriars Bobby is lovely if not a little heart wrenching for tots. The statue was put up to celebrate the life of Bobby, a terrier who spent 14 years guarding the grave of his owner. Even if you don't want to share the tragic tale, your tots can still say hello to the brave pup. And of course, the statue sits in front of the Greyfriars Bobby pub if you fancy a cheeky tipple before continuing your journey!
Wave to the pandas at Edinburgh Zoo
Right in the heart of the city, Edinburgh Zoo is a must-see if you have little ones! No matter what your toddler's favourite critter is, you'll be able to find it here.
There are even dinosaurs that your tot can get up close to!
Go visit the National Museum of Scotland
We get it – lots of museums can be a bit of a snooze fest for toddlers and babies. However, the National Museum of Scotland has plenty to do for little ones and parents alike.
The Imagine Gallery is a dedicated space for kids to dress up, listen to stories and have lots of fun, while Adventure Planet is fantastic for budding David Attenboroughs. There's also a weekly 'Magic Carpet' session with stories, songs and playtime for the smallest museum patrons.
Take a trip to the park
Did you know nearly half of Edinburgh is green space? This means that you're not far from a park wherever you are in the city!
Your toddler can watch the swans at Holyrood Park or burn off some energy at the massive play park in The Meadows. If baby starts to get hungry, Princes Street Gardens has a fab café where you can sit and relax with a cuppa and a slice of cake!
Go for a swim
If your little one is a water baby at heart, you should visit the Royal Commonwealth Pool for a swim. There are three pools to splash around and have fun in, as well as a soft play for toddlers who prefer to stay on dry land!
There are other swimming pools in the city too, including the Dalry Swim Centre, Leith Victoria Swim Centre and the Glenogle Swim Centre.
Head to the soft play
Who doesn't enjoy a soft play session? Your little one can get nice and tired, while you try and relax with a coffee or three!
You'll be spoilt for choice if you're looking for soft play in Edinburgh! Clown Around has trampolines and a sensory room, while Wonderworld has one of the largest soft play areas we've seen, as well as go-karts for the older kids. One of the coolest soft plays we've seen is Timetwisters. This fun play zone has an Egyptian theme, meaning little ones can learn as they play!
Enjoy a tasty meal or snack
Scotland is well known for its food. If you've never eaten it before, you need to give haggis (or vegetarian haggis) a try while you're here!
There are plenty of restaurants and cafes where you can enjoy a meal, all while keeping the little ones entertained. Some of our favourite baby and toddler-friendly eateries include Joytots, which has arts and crafts for little ones and Reds, which has an indoor climbing frame. If you go to the Scottish Parliament Café, you can even take advantage of free childcare while you tour parliament!
Go for a (buggy) walk
If you want to get some fresh air and meet some other parents while you're in the city, Edinburgh Buggy Walk could be right up your street!
Edinburgh Buggy Walks organises free walks around the city, with a visit to a kid-friendly café at the end of each stroll.
Climb and explore at Fort Douglas Adventure Park
Part of Dalkeith Country Park (which is also worth looking around), Fort Douglas is the ultimate open-air adventure spot and caters for kids of all ages.
There's a toddler play area for the under-fives, meaning your little ones have a space to run around in, with tunnels, towers, bridges and a jumping pillow for safe bouncing. You can go in with the tots or alternatively, chill in the picnic area with a hot drink.
Wander the Royal Mile
The most well-known street in Edinburgh, the Royal Mile is one of the most family-friendly parts of the city. It's a pleasant, leisurely stroll if you have a pushchair or pram and means you can get from Edinburgh Castle to Holyrood in no time at all.
Plus, your tots will love the bright and exciting street entertainers!
Fun fact: The Royal Mile is actually longer than a mile. It's 1.8km long, which is technically a Scots mile, a measurement that hasn't been used for over three hundred years!
Get inspired at Camera Obscura
One of the quirkier venues in Edinburgh, Camera Obscura, is lots of fun for all ages. Adults and older kids can try out some cool optical illusions, while tiny tots can enjoy all the lights, sights and sounds this museum has to offer.
Don't forget to visit the rooftop for some fantastic views of the city!
Hop on a bus
If you have a little baby or toddler with you but want to see all the city's sights, a hop-on hop-off bus tour can be a great way to do this. You can chill out with your little ones and keep them entertained while driving past all the popular parts of Edinburgh and disembark if they get fussy or need the loo.
Best of all, kids travel free!
Catch the latest movie
If it's raining or you have an hour or two to spare, nothing beats going to the cinema to see the latest film! There are many cinemas dotted around the city, making it easy to pop in and watch your little one's favourite cartoon.
Vue Edinburgh Omni Centre has 12 screens and hosts Vue Mini Mornings on weekends, where you can watch all the best family-friendly films.
Enjoy a calming stroll on the Water of Leith walkway
Only a couple of minutes away from the city centre, this gentle walk is perfect for the tiniest little legs.
Kids can watch the water and look for wildlife, while parents can check out the quirky traditional buildings at Dean Village.
Have fun at the Edinburgh Fringe
The Edinburgh Fringe takes place every August, with plenty of entertainment for the whole family to enjoy across the city.
There are plenty of fun activities for the littlest members of your clan, including storytelling and singalongs. There may even be a baby disco or two.
Chill out on the beach
If you love nothing more than building sandcastles with the little ones, you'll be pleased to know there are lots of beaches close to the city centre!
The nearest is Portobello Beach or 'Porty' as the locals call it, and it's only a few miles from the centre of Edinburgh. It's full of golden sand, Victorian buildings and even has its own swimming pool! If you're happy to travel a little further, North Berwick, Cramond and Seacliff are only a short drive or train ride away. Just pack a picnic, and you're guaranteed a fun day out.
Go shopping
Edinburgh is a top-class shopping destination for people across the UK, and the good news is your tots can enjoy some well-deserved presents too!
Ginger and Pickles is an independent bookshop specialising in literature for little ones, while Gulliver's has everything from baby gifts to the latest on-trend toys. Meanwhile, Cloudberry Gifts has treats for children of all ages, as well as an onsite coffee shop.
Hunt for butterflies in the Royal Botanic Garden
The Royal Botanic Garden is a working museum, collecting and cultivating plant specimens to make sure they don't go extinct. Not only this, but it's a lovely place to wander around and spend an afternoon.
Little ones will be soothed by the lush greenery and smells, while older tots will have lots of fun looking for butterflies, insects and birds. And of course, there's a lovely café where you can all enjoy some tasty treats afterwards!
Wave to the starfish at Deep Sea World
This one is cheating a little as it's a half-hour drive or 45-minute bus ride from Edinburgh to Queensferry. Trust us though, if your little ones love 'Finding Nemo', this is well worth doing!
Deep Sea World is where your toddlers can learn about the wonderful creatures of the deep, from frogs to sharks! The place is also very tranquil and relaxed, making it the perfect trip out for tiny babes.
Don't forget to pop out to the harbour and say hi to the seals!
Take some family photos on Calton Hill
There are many places to take great photos in Edinburgh – perfect if you're planning this year's Christmas cards and calendars in advance! One of our favourites is Calton Hill.
This gentle walk is ideal for little toddlers and will help them burn off some energy. Once you're at the top, it's time to take some awesome family photos!
Travel down to the farm
If you have a little one that loves singing 'Old MacDonald' in the car, why not surprise them with a visit to a real-life farm?
Love Gorgie Farm is in the city centre, making it perfect if you don't want to travel too far out. Your tots can see goats, ducks and pigs… even snakes and ferrets!
If you don't mind going further afield, Craigies is a pick-your-own farm where you can get lots of yummy fruit and veg to take home. Kids can also pet and feed the chickens, ponies and cows (or 'coos' as they're called here!)
Listen to a story
If your little ones are starting to tire out from exploring everything Edinburgh has to offer, why not take a break at the Scottish Storytelling Centre?
Your wee ones can listen to iconic Scottish stories, including the tale of Nessie the Loch Ness Monster, as well as enjoy the interactive story wall in the Storytelling Court. We think you'll enjoy it as much as the little ones do!
Take a trip to the theatre
We've looked at the cinemas in Edinburgh, but there are plenty of fantastic theatres if you and the family are in the mood for some live entertainment too.
The Edinburgh Playhouse is the largest seated theatre in the UK, meaning you're likely to find seats at short notice for your little one's favourite shows. Meanwhile, the King's Theatre is home to the city's best pantomimes (oh no, it isn't!).
Bounde around on a trampoline
Looking for a rainy day activity in Scotland's capital city? A trampoline park is a fantastic choice! What's more, many places have toddler-friendly sessions where you can bounce around with your tot without worrying about them falling off!
Some of our favourites include Jump In, Gravity and Ryze.
Feel like a King or Queen at Edinburgh Castle
Not going to Edinburgh Castle when you're in Scotland is like going to London and not seeing a red phone booth – unthinkable!
While adults and older kids will enjoy the castle the most, there is still lots for younger kids to see and enjoy – in our experience, tots are in awe of the cannons! The site is pushchair friendly and has baby changing facilities too, perfect if you have a small baby with you.
One word of warning– a cannon is fired at one o'clock each day apart from Sundays, so you may want to bear this in mind if you have sleepy little ones!
Thanks for reading through to the end of this article – we hope you liked our guide to things to do in Edinburgh for babies and toddlers.
Now over to you… where are your favourite places to take the kids when you visit Edinburgh?