KidRated Blog
The Best Stocking Fillers for Older Kids and Teens
Published: 3rd December 2020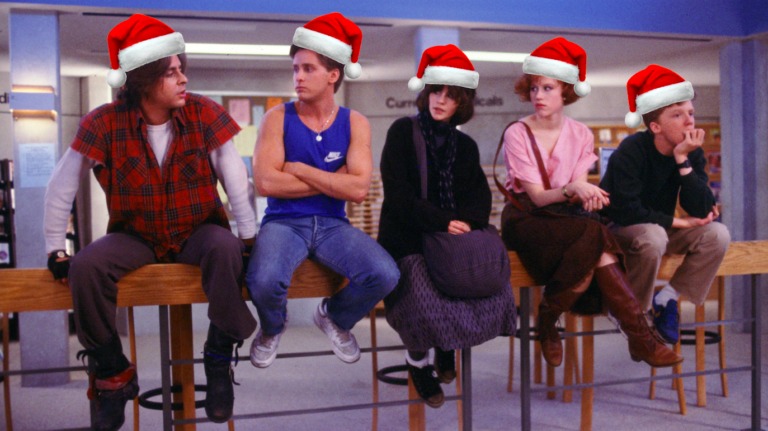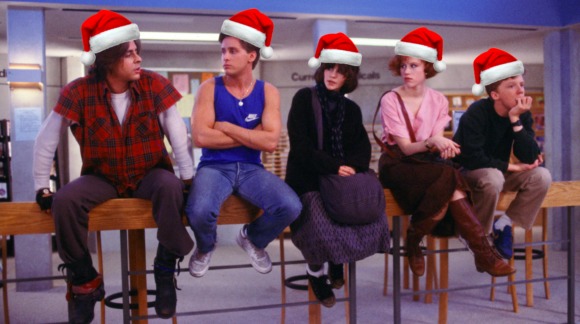 When you have older kids and teenagers, the main Christmas present is a piece of cake. It's the fiddly little ones that are the problem. Don't worry, help is at hand. Here's our list of the The Best Stocking Fillers for Older Kids and Teens.
The trouble with having teenage kids at Christmas is the little presents. You know the ones that go in the stockings that us Dads put at the end of their beds on Christmas Eve and then strut around like superheroes despite not having bought ANY of the contents.
And the stocking filler has to be right so that the difficult teen/parent relationship is not harmed in any way. Buy things that remind them you still think they're babies and they'll be insulted. But if you buy things that remind you that they don't need you any more, you'll start to cry.
So you need gifts that are cool, funny, useful and preferably a variety of different shapes…Well, here at KidRated we've talked to parents and our reviewers and the result is our list of the 48 best Stocking Fillers for Older Kids and Teens. *
*Prices taken from Amazon and direct from product websites in December 2022 as an indication. Other retailers are available for all these products.
THINGS FOR TECH HEADS
Amazon Fire TV Stick
Teenagers like watching TV, but in 2022 there's so much to choose from that it's not enough to have the standard channels. They want everything they can get their hands on and more. So the Amazon Fire TV Stick 4K, now with Alexa Voice Remote is the perfect present. They can watch everything that's available online through Amazon Prime, Netflix iPlayer or pretty much any other streaming service. Simply plug it into the HDMI port on the TV and its good to go.
Smartphones can do it all these days, even serving as a full-on gaming device. A mobile game controller connects to your phone through its charging port to add buttons and analogue sticks, making mobile gaming even better. With options available for both and Android or iPhone this is a great gift for older kids and teens!
Flexible Smartphone Holder
We're not saying teenagers are lazy but if there were, then this would come in handy. A functional designed flexible Smartphone holder can be clipped onto most surfaces and leaves there hands free for… whatever it is teenagers do.
Smartphone Projector
A smartphone projector is guaranteed to be great fun for older kids and teens. Connecting easily to a smartphone, laptop or TV your kid can take it to their next sleepover where they can all watch those horror films that will keep them and therefore you up for the next few months! Let's face it; they are going to stay up late watching movies or YouTube anyway so why not choose a gift they are guaranteed to love!
Whether an older kid or a teen, every iPhone owner could use more charging cables. Not saying teens are lazy, but if they were a set of long cables would be super handy for when they complain the plugs in their room are just too far away!
Mini Portable Power Bank
Sometimes the best stocking fillers for teenagers are the ones that benifit you. And this is definitely more a gift for you than them. But make all the right noises and they won't notice. You may have noticed teenagers use their phones – a lot – and they always have enough power to chat to their mates but never enough to call you and tell you where they are. So, give them one of these and then force them to charge it before they go out on pain of a grounding.
Is your older kid or teen a budding artist? Stocking-sized, affordable, and versatile; a drawing tablet makes a great gift for the aspiring digital artist in your family. It's suitable for both left- and right-handed users, and even comes with customisable Express Keys at the top. The perfect socking filler digital art beginners!
Do you have a teen who takes their phone everywhere with them, even into the bathroom when they shower and tries to turn the volume all the way up? Save them the stress with a Bluetooth shower speaker, which is water-resistant and sticks easily by suction to the shower wall. Stocking filler priced brands come in several colour and light options, and typically last for around six hours once charged.
We all agree – beanies are some of the comfiest accessories out there. But, one from with built-in speakers, Bluetooth connectivity, and up to five hours of music listening takes it to a brand new level!
Now, your teen can stay warm and listen to music at the same time, without having to wear or carry two things at once. Best yet, this one comes in two different shades but shop around because some even have pom poms, and you can get them in their favourite colour or design.
Panasonic Ergofit Headphones
To a teenager, your voice is whiny and irritating and is constantly saying things like" Please can you take out the rubbish?", "Could you help with the washing up?" and "Why are you rolling your eyes at me?"
So, to protect their sensitive ears they love to constantly wear headphones. And, as headphones regularly snag, break and go missing – headphones make an ideal gift.
And these headphones are absolutely brilliant. BUY THEM!
Not only is the sound awesome but as they're under a tenner they're an absolute steal. They come in a variety of colours as well, so if you buy the wrong ones (which you will because you're a parent and therefore an idiot) you can easily swap them.
Cleaning Kit for Headphones
Headphones get dirty and headphones that are worn ALL the time get really dirty. So get them a cleaning kit. A word of warning though – don't be in the room when they use it. Fluff covered-wax is not a pretty sight.
Animal Bites Cable Protector
Are you constantly buying your kids new leads and cables because they break and fray? Well these cool little Cable Bites will hopefully put an end to that or at the very least extend the cable's life.
What's more, they come in these cool animal designs that look as though an animal is biting the phone. We thought they might be dismissed as being too babyish, but a 17-year old loved them, so they're on the list.
Selfie Ring Light
This may just about squeeze into a wide stocking, and your older kids will be impressed that you are so "in the know".The price of a Ring Light ranges from £20 – £60 depending on the quality and the lighting functions (soft light, harsh light, shadows). Anyone taking a selfie in front of this lighting tool basically looks like a Hollywood star. Your kids probably don't need more reason to focus on image, but this will make them smile for a while.
STUFF THEY'LL EAT
Chilli Sauces – Nando's Selection
For some reason kids love trying stuff that will burn their mouths, and if your kids love Nando's then chances are they've tested their resistance to its various hot sauces. So now you can bring all the fun of that pain and discomfort into your home by buying a gift set of chilli sauces just for them.
Terry's Chocolate Orange
Chocolate! Without doubt one of the best stocking fillers. Kids and teens of all ages not only find chocolate oranges tasty, they also find them fun because they have to smash it on a hard surface to get it to break into segments. Also these segments are easy for a grown up to steal if that's the sort of parent you are. I am – so that's why it's on the list.
Percy Pigs (Original and Vegan)
Arguably the best thing Marks and Spencer have ever produced. Originally Percy Pig sweets contained real pig in the form of pork gelatin, as opposed to pectin, a common vegetarian alternative. Then in 2011 Veggie Percy was launched, which replaced the animal products with beeswax and pea protein. Basically they're delicious and loved by everyone.
Gumball Candy Vending Machine
With actual coins becoming a rarity – these sweet or candy dispensers will soon be considered nostalgic. In the meantime though they're quite good fun and can sit on a desk providing some much needed tooth-rotting encouragement as your kids pretend to do their homework.
Personalised Jars: Marmite & Nutella
With their slogan, "you'll either love it or hate it" Marmite have cleverly become a brand that exudes a stylish sort of cool. The logo itself looks great on pretty much anything so you might want to get your kids a T-shirt or mug. We suggest going one better and getting them a personalised jar. If they love it then it's great and if they hate it then it's funny – sort of.
Oh and don't forget Nutella do one as well….
Tony's Chocolonely
Did you know that right now there is modern slavery on cocoa farms in West Africa? Tony's Chocolonely was a response to the unequally divided cocoa chain, creating delicious cruelty-free chocolate that is totally worth the extra pennies. Your kids and teens will love the range of flavours – they also come in mini bar sizes, stocking filler style.
Giant Personalised Dairy Milk Bar
Kids and teens of all ages will love these giant personalised chocolate bars from Daily Milk. Why not get one for all the kids with their names on, then there will be no arguments about whose is whose.
CAMERAS
Nearly every parent who got back to us with stocking filler ideas mentioned a camera. We may think of older kids and teens as selfie-obsessed phone addicts, but it would seem many love the idea of looking at the world through a different lens. So with that in mind…..
Clip-On Camera Phone Lenses
Ok, nothing is going to replace the camera phone – with it's built in digital features it's pretty much all your kids need to record those precious memories. But that doesn't mean they still can't have fun by accessorising it.
This three-in-one lens kit contains a fisheye lens, a macro lens (for extreme close-ups) and a wide-angle lens. It simply clips over the phone and of you go.
Analogue Camera
The Lomography Simple Use Film Camera is pre-loaded with "funky film" and comes with Color Gel flash filters which allows users to change the colour negative of the pictures they take and add effects. It should definitely be well received and, who knows, it might even spark an interest in photography.
Kodak M35 35mm Reusable Camera
If your kids love taking disaposable pictures but also care about the planet, why not buy then a reusable camera that won't break the bank? Let them capture their favourite memories with a fixed focus lens, manual film winding and rewinding and a switch to turn flash On/Off. The simplicity of this camera makes it a great introduction into film.
Instax Mini Camera
Nudging the £60 mark really prices this gift out of the stocking and under the tree, but so many people mentioned it we relented and put it in.
Basically it's a lightweight, small plastic camera that produces instant credit card size photos. There's a built-in flash & automatic exposure control, a close-up lens attachment and of course an all-important selfie mirror.
Portable Photo Printer
Photo printing is still just as popular as when us parents were teenagers, there are just easier and more fun ways do it now! Older kids and teens will love a wireless portable photo printer, for instant memories they can share with their mates wherever they are simply by connecting their smartphone (options available for iPhone and Android).
BEDROOM BITS
Led Strip Lighting
Somethings are just cool, no matter how old you are. We've seen these LED strip lights both in toddler's room and student digs. Available in colours that flash, change and are dimmable, they easily stick to the edge of the walls, immediately pimping up the room. Plus they're more energy-efficient and have a longer lifespan so you can trick your kids into helping you save money.
Incense Sticks and Holder
You may have strong opinions about agreeing to have anything that's deliberately burning in the bedroom of your older kid or teenager, but, if they're mature enough to handle it and everything is safe, we're hearing incense burners are well received.
Celebrity Candles
See our remarks above about fire in bedrooms. But again, if you think your kids are responsible enough to handle a naked flame in their room then we think these are pretty cool and funny.
My Sainted Aunt basically does any famous person you can think of in the style of a religious candle. Have a browse. They often have a BOGOF (buy one, get one free) deal going on. So get one for yourself whilst you're at it.
Pot Plants (No, not that sort!)
A plant smacks of responsibility because if not looked after it will literally die. So the implicit message in this present is – "So you think you're a grown-up? Well keep this thing alive like we've managed to do with you and then we'll talk."
On the plus side, plants help purify the air , by absorbing harmful gases through the pores in their leaves and filtering and cleaning the air. And they also add a nice touch of decor and bright energy to a teenager's 'den'.
Scratch Map
This is what is known as a twofer – because it contains two items for the price of one. So, not only is it an educational aid, it's also a fun poster.
Each country is covered in a thin removable layer made of that scratch card stuff. So they can remove it when they've visited that place. Or, come up with their own reasons to scratch it off.
A Neon Letter
A neon sign can look awful or, depending on your hunger and intoxication levels, a thing of beauty – think kebab shop at 2am. That said, you probably wouldn't want a huge neon sign in your house would you? Ahh, but your kids would. After all there's nothing cooler than your name in lights…and neon lights at that.
Well the bad news is a neon sign will definitely bust your stocking filler budget. But the good news is a single initial letter is actually pretty reasonable.
So buy one of these instead and save yourself a bob or two.
Dreamy Rainbow Jewellery Box
Does your teenager love jewellery and the colour pink? If so, they are bound to love the dreamy rainbow jewellery box by Rockahula. This velvet jewellery box is every little trinket-lover's dream, complete with four small compartments, a ring cushion and a pocket in the lid, providing lots of room for special items.
Their Nibs PJs
Their Nibs creates beautiful vintage inspired clothes families. Our partnership goes back over the life of this site and we've never been disappointed.
Tiny Riot Artwork
Brighten up those teenage walls with some cool and quirky artwork. Tiny Riot have some great prints suitable for kids of all ages and especially for the fashion conscious teen.
We recommend the Hide Collection which features recognisable characters in camouflage. Plus the Icons range which takes well known faces from the world of pop and puts a clever postage stamp spin on them.
Sunset Projector Lamp
We all know living a metropolitatan city has it's perks, but the lack of natural sunlight exposure can cause Seasonal Affective Disorder and major blues. Your kids and teens will adore this Sunset Projector Lamp, which comes in red, rainbow, sunny and yellow colours.
This bargain has now joined the sale at Official Sunset Projector Lamp, down from £69.99. to £29.99. Grab it while stocks last!
Neon Twisted Yarn Socks
Socks are a classic stocking filler, how about a pair kids wont find boring? Zara have some fabulous bight neon socks for older kids this year.
Star & Moon Bookends
Is your kid a bookworm? Not on the high street have gorgeous star and moon bookends available to purchase on their website, perfect for children or teenage dreamers alike!
DRIVING LESSONS
A Trip To Young Driver
Young Driver is the UK's largest under-17 driving school. With more than 70 venues all over the country their dedicated team of instructors have helped more than 750,000 young people enjoy the buzz of driving.
Aged 10-17? You'll be in a brand new Vauxhall Corsa where you'll learn to drive, change gear, steer, reverse, park and most importantly, brake. All the essentials for driving confidently on the road.
Aged 5-10? They'll put you in a special two-seater electric Firefly cars, that handle just like the real thing.
GIFT CARDS, VOUCHERS & SUBSCRIPTIONS
Back in the day book tokens were all the rage and now pretty much all the big brands do some sort of voucher/token thingy.
According to the teenagers we spoke to, you'll get Brownie Points if you buy them one of the following cards pictured below that allow them to redeem at the following places:
Uber, Itunes, Amazon & Spotify Premium Cards
Claire's Ear Piercing Gift Card
Claire's Accessories is THE best place to get your ears pierced in the UK, with free piercing in-store with purchase of an after care starter kit (worth £15.00).  You may be reluctant to encourage a teen rebellion, but piercing your ears is simply a right of passage for any older kid. Better you being there for the experience than finding your ice tray empty and a wonky hole in their earlobe!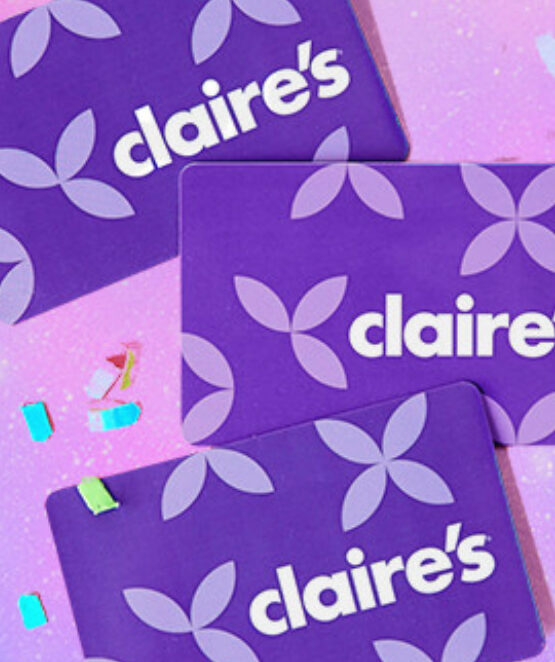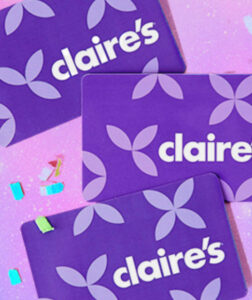 Calm Subscription – Give the Gift of a Calmer Mind
Share the benefits of better sleep, relaxation, and mindfulness with your kids early on and they will have this gift for a lifetime.
We can all feel empathy for the younger generation what with social media releasing un-natural and addictive endorphins as well as the impact of covid on learning and education. A year's calm subscription is a wonderful lasting gift, full of sleep stories, daily mediations, 7 day courses for tackling anxiety and much much more. Only £53.00.
SMELLY STUFF, MAKE-UP AND GROOMING KITS
First the bad news – teenagers tend to smell, especially teenage boys. Now the good news – they want to smell nice which means buying them aftershave, perfumes and general grooming stuff is a no-brainer.
Not only that, but because you wear this stuff you're tacitly acknowledging them as equals. They're not of course – you're in charge,  you rule the house with a rod of iron and your word is law. Never, EVER forget that.
CK One
CK One is considered to be a unisex fragrance which is great because not only will you have bought a great present you've also shown your teenage kids that you're completely up to speed with issues like 'gender fluidity'.
I should point out there's a lot more to it than smelly stuff that teenagers of both sexes can wear but hey, baby steps. You're on the right track now go and Google the rest.
Anything From MAC
Ever since Madonna wore their lipstick and RuPaul became the face of their Viva Glam Campaign, MAC has been shorthand for cool, luxurious and ethical. If your teenager wears make-up then an item from one of their ranges should be met with appreciative noises and who knows, maybe even a hug,
Nail Polish
"Essie is the go-to nail polish brand for beauty lovers, celebrities and fashion icons around the world, and is centre stage on runways around the world offering highly anticipated colour collections that drive trends season after season."
Not my words people but the words of the Superdrug website, and who am I to argue. They don't tell me how bogle in a cage on a podium so I won't tell them how to write content.
Anyway, I am reliably informed by several parents and teenagers, that nail polish is always gratefully received. Looks a bugger to wrap though doesn't it?
Glossier Skincare
With prices closer to the £50 mark, Glossier Skincare sets could easily find themselves out of the stocking and under the tree. However, a brief visit to their website and you can find some bargains plus I was told "EVERYONE loves ANYTHING from Glossier."
Natural Jade Roller
A skincare essential for skin health, jade has been used for thousands of years to help lift the face, leaving it looking and feeling radiant. If your teens are addicted to skincare or deserve to have a pampering product in their make up bag, a natural jade roller is the perfect Christmas addition.
Lavender Bath Essence
This luxurious essence will soothe away any adolesences worries of the day. This bath oil is also presented in this pretty glass bottle that means it is an even more aesthetically pleasing gift.
Pour a small amount of this lavender fragranced oil into a warm bath, the oil disperses to create a slightly milky, highly moisturising, and truly relaxing bathing experience. You may even want to 'test' it out before it's all gone…
Neal's Yard Gift Bags
Founded back in 1981, regular visitors to London's Covent Garden will almost certainly have visited Neal's Yard and if you went with a parent (or big sister) chances are you've had a browse around the shop.
Back then it was a tiny business specialising in cosmetics, skin care products, and essential oils. Now it's an international giant selling to the Far East and the US. However, its remedies are still affordable and they remain proud of their organic credentials, which means teenagers will probably have heard of them and alread bought some of their things.
Lynx Gift Set
Not much really to say about a Lynx Gift set except it's pretty much like giving your wife flowersIt – never a bad idea and always well received.
Now I confess I don't exactly know what Lynx is supposed to smell of but I do know that for teenagers it's like catnip. They get all dopey and glassy-eyed when they see it and for weeks afterwards you can smell them coming a mile off.
So don't knock it – it works. Plus it's deceptively large, so looks more expensive than it is.
Look Fantastic Beauty Box
Choosing the latest, coolest beauty products for your teenagers isn't easy, but LookFantastic can give you a head start. The company has a monthly beauty box that is packed with sample products, trial sizes and bonus packages at a bargain price, with each box guaranteed to contain a minimum of £50 worth of products. Your box will contain six of the latest hair, body and skin brands that they will have seen on social media and TikTok.
Shaving & Hair Kits
If I had any advice for teenagers about shaving it would be – wait for as long as possible. It's a massive pain in the backside.
However, several parents pointed out that a decent shaving kit isn't that expensive and means your kids won't be nicking and blunting your razors.
Harry's combine simple design with quality and their foams, gels and basic hair and face products are pretty good as well. I still say "grow a beard" and save yourself time and money, but if your kids are disappearing under a tsunami of bum-fluff then this stocking filler is for them.
Beard Growth Oil
Growing pains in adolescence are the worst – all you want to do is grow up when your parents want to baby you. This stocking filler will ease the worries of the late bloomers, enriched with multiple natural nourishing ingredients that activate the dormant hair follicles, increase nutrient absorption and accelerate hair growth.
MISCELLANEOUS
The following is a random selection of stocking filler ideas from KidRated's Instagram and Twitter followers. A big thanks to all those who got in touch. We hope you have a wonderful Christmas.
Playing Cards
Buying a pack of cards and teaching them a couple of games to play with their mates is a nice bonding process and a very easy gift. Buy regular or go get them personalised – but not with a picture of them as a toddler.
Tarot Cards
Support an independant business on Etsy and recieve a beautiful handcrafted box full of tarot cards that your older kids and teens will love. This set comes with The Magician wooden Box
and free velvet bag to add to the mystical experience. An exciting present that can be used on Christmas Day, parties and birthdays for the forseeable future.
Metal Water Bottle
Does your older kid or teen need a water bottle to take to school and out and about? A great way to save on plastic waste, this year we particularly loved H&M's Hogwarts bottle – perfect for Harry Potter lovers!
Carhartt Unisex Wallet
With everyone paying via phones I would have thought wallets would be considered as redundant as CD Walkmans, Quibi and Lawrence Fox's agent. But these devices for carrying your hard earned money are still very popular amongst 'da yout.'
Cheaper models are definitely available.
Casio Watch
You may have thought with the arrival of smart watches, an old-school looking Casio digital watch would be the last thing your kids want. Well think again codgers – Casios are still very much cool and happening.
With prices starting at £50 and going up to £850, the G-Shock and Baby-G models are definitely out of consideration. However, a good old no-frills Casio F-91W-1XY is still popular and will only set you back £20.
Scratch Cards
Ok yes, it is technically gambling and I don't condone that. But if your kids are over 16 I call it a bit of annual harmless fun.
At the end of the day you know your children. If you're comfortable with them playing a scratch card this is a really easy stocking filler with the added bonus that they might actually win and then you can confiscate their winnings.
On the flip side please don't try and blame us if they develop a huge gambling habit and pawn your TV, cutlery and jewellery. It was just a suggestion….
Bath Noodles
I think we all agree that there's only one thing better than eating ramen and that's sitting in a massive tub of it. Am I right?
Well if your kids think the same, get them these. They're 100% natural, vegan and claim to both exfoliate and moisturise the skin. Good luck!
Emotional First Aid Kit
Because it was so long ago, we often forget how stressful life was as a teenager.
This first aid kit focuses on mental health instead of physical health and contains wise emergency advice for 20 key psychological situations, including: Friendship, Love, Sex, Work and Self.
Misogynists Tears Mug
Drinking the tears of your enemy has become one of the most popular 'burns' on social media and if you have a young feminist under your roof we think they'll especially like this.
And if you think I would be stupid enough to make a joke about making sure she washes it up afterwards and leaves that kitchen nice and tidy – you've badly misjudged me.
Pop Socket
There is a new fad for older kids every few years. Once upon a time it was Tamagochi, Top Trumps and Aliens. This year it's Pop It, a ridiculously simple game that helps with stress relief and anxiety, which we know many millenials are experiencing after the pandemic.
Why not give into the craze and buy one or two this festive season? Your teens will be off their screens and playing Pop It for hours while you relax on the sofa…  you might even have a go when they are off to bed.
A BIG THANKS TO ALL THE PARENTS AND KIDS WHO CONTRIBUTED