The UK's Best Merlin Attractions
Here at KidRated our aim is to help you and your family have the best days out and if possible save you some money in the process. So we've teamed up with Merlin Entertainments to ensure you get the best available prices and offers when you book through us here at KidRated.
Merlin is dedicated to helping families make incredible memories at their 125 global attractions which includes in the UK, The London Eye, SEA LIFE, Madame Tussauds, LEGOLAND and Blackpool Tower.
And remember, we've reviewed most of their venues in our Attractions section, which means you can see what our kids and teens honestly thought of their experience when they were there.
So, without further ado, here's our list of the best Merlin Entertainment locations in London and around the UK.
Plus we've also got some great discounts for tourists with offers like The Big City Saver. 
Enjoy! x
THE LONDON EYE
The London Eye is the world largest observation wheel and the fifth-highest structure in the skies of London, with only Canary Wharf, Tower 42, The Shard and the London Telecom Tower being higher.
Weighing more than sixteen hundred tonnes, it incorporates over four miles of cables. From the highest point, you can see 25 miles in every direction, giving a spectacular view of St. Paul's Cathedral, Windsor Castle, Big Ben and the Palace of Westminster. Native Londoners can even try and spot their houses.
Sea Life Aquarium
Have your kids ever wondered what life forms exist deep down in the oceans? Do they want to get up close to a Sand Tiger shark? Then the Sea Life Aquarium is the place for them. With many listed as conserved and endangered, visitors can see over 500 species of marine creatures from every area of the world. The aquarium has 14 themed zones to explore, and kids can interact with animals at its touch pools, feeding pools and diving displays.
In a recent survey, 96% of kids thought that Sea Dragons were mythical creatures. Luckily the London Aquarium is here to prove all those doubting kids wrong with the new Sea Dragon Kingdom. Unfortunately, the four-inch sea creatures don't actually breathe fire, but they are pretty cool and now in the new attractions kids can learn all about them.
You can visit Sea Life Aquarium's across the UK, with locations in London, Birmingham, Manchester, Brighton, Weymouth, Scarborough, Blackpool, Hunstanton, Great Yarmouth, Loch Lomond and Bray.
Madame Tussauds
No star is too A-list to avoid the party at Madame Tussauds London… even Michael Jackson managed to return from the grave to be there!  Those of you unimpressed by Cosmo-cover celebs can still be entertained thanks to the gallery's sports stars, royals and even cultural intellects such as Einstein who dares you to see how smart you really are with his interactive IQ test.
Don't forget the Stars Wars Experience at Madame Tussauds where you can meet your favourite characters from The Force Awakens! Check out Madame Tussauds Blackpool, or for those American travellers, how about Madame Tussauds New York!?
Shrek's Adventure
Somebody once told me… Shrek's Adventure opened in County Hall in 2015, right by the Aquarium, Dungeon and London Eye and has proved to be a massive hit, especially with anyone who loved the Dreamworks franchise. Starting off in a 4D bus, with Donkey as a tour guide. As you journey around the Far Far Away you will spot some of your favourite Shrek characters, including Puss in Boots, the Gingerbread Man, Rumpelstiltskin and so many more.
You have the chance to explore Shrek's swamp. Kids who love gross stuff will especially like to see his ogre-sized loo! Having had a shrek-tastic adventure, you can also meet loads of other Dreamworks characters including the animals from Madagascar and Kung Fu Panda, Po and Toothless from How to Train Your Dragon.
The Blackpool Tower & Circus
The Blackpool Tower is one of Britain's best-loved landmarks, and one of Blackpool's most popular attractions, including venues for function room hire. With over 125 years of rich history, the tower is the perfect place to start on a family tour around Blackpool.
The Blackpool Tower Circus has also returned after a covid hiatus, promising visitors a host of all-new jaw-dropping performances and never-before-seen acts. Join Mooky and Mr Boo for the UK's biggest and best Circus as they deliver their hilarious slapstick antics and edge of your seat death-defying stunts. This one is perfect for your little ones – why not check out our list of Toddler Friendly Things To Do in Blackpool while you're here?
The Dungeons
Come and encounter a terrifyingly fun time at The London Dungeon, a live-action journey through the last 1000 years of London's history! It contains 19 sets, using a talented cast of live actors, special effects and scenery to produce a thrillingly real representation of the stories it tells. There's no end to the thrills provided on this walk-through experience. Smell, see and feel the fears that truly come alive as you walk around the dungeons.
Get a close shave by Sweeney Todd at Fleet Street, escape from the Great Fire of London, or head to the Ten Bells where Jack the Ripper's victims once drank. Next, test your navigational skills in Whitechapel's labyrinth streets to see if you can outrun the Ripper himself! Finally, finish your journey at the Dungeon outside Newgate Prison by facing the hangman's noose… will you make it out of your 90-minute trip alive?
Have no fear (or maybe a little!), there are locations for The Dungeons outside of London including Edinburgh, York and Blackpool.
Legoland Discovery Centre
Themed on everyone's favourite toy, Legoland Windsor is a child's theme park and resort. Live shows, attractions, building workshops and interactive rides all make this resort perfect for families. Live outside of London, or fancy venturing out? Why not check out Legoland Discovery Centre's in Birmingham or Manchester?
The park is divided into zones so you can choose which area to explore from Vikings to Pharaohs. Kids can drive an electronic car around the Legoland driving course and gain an official Legoland Driving License! Just keep them from veering off course towards Miniland where nearly 40 million Lego pieces recreate well-known European and American attractions. Adventurous kids can hurtle around the castle on The Dragon or swing on the Jolly Roger while there is plenty for younger visitors to see and explore.
Big City Saver
Big City Saver launched in the Summer of 2022, helping London visitors make the most of their time in the capital with exclusive discounts to the best attractions in the city, including SEA LIFE, Madame Tussauds, Dungeons and The London Eye. Save up to 32% when combining attractions, a perfect option for tourists who are hoping to see the best sights available without breaking the bank!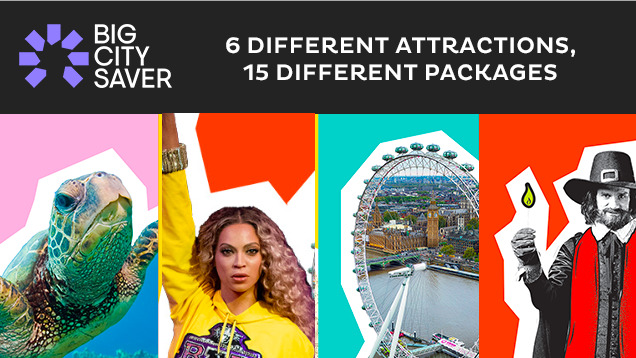 How it works
Choose your perfect pass, then pick a date for your lead attraction. Simple.
Book and visit your remaining attractions within 90 days.
Need to reschedule? No problem. You won't be charged either.
We are all living in unprecedented and uncertain times, but we love the ticket guarantee you get with Big City Saver, safe in the knowledge that you can move it free of charge if anything interrupts your plans.
Bear Gryll's Adventure
The Bear Grylls Adventure brings together eleven epic experiences, all of which offer their own challenges and encourage guests to push their limits and achieve the remarkable. Memories are waiting to be made throughout the attraction, from the indoor climbing walls to the archery range, iFLY indoor skydiving wind tunnel to the shark dive oceanarium. Experience the latest new adventure for 2022: Axe Throwing, where you can unleash your inner lumberjack!
No matter which experience you choose, Adventure Guides will inspire your kids and encourage them every step of the way.