10 Family Days Out for under £15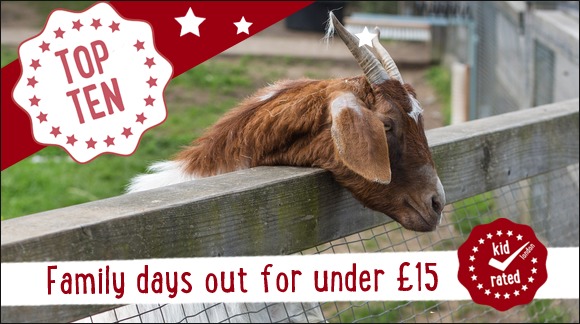 A day out that won't break the bank
We know that taking your family on holiday can be expensive, but giving your family a great day out in Britain doesn't need to cost you a lot. So give your wallet a break and treat the whole family to fabulous family days out in Britain for under £15.
Dinosaur Expeditions C.I.C. – Isle of Wight
All kids love dinosaurs and going on a Dinosaur Expedition is pretty much the closest thing in the world to meeting a live dinosaur. Dinosaur Expeditions CIC is a community interest company designed to promote responsible fossil recovery and as a family educational resource.
The field centre has fossils on display, Paleoart, guided tours to participate in and some activities just for the kids too!
Great volunteer guides will take you on fossil hunting tours of the beaches and will even point things out like dinosaur footprints. Dinosaur fossils have been collected here since the 1850s officially, but the discovery of their large bones by locals goes back much further than this. To date, there are over 20 different types of dinosaurs discovered on the Isle of Wight!
On your hunt for fossils, you'll get to keep any that you find. This is the perfect day out to start your collection and marvel in the ancient history within the remains you find. The museum contains many fossils and a replica dinosaur skeletons which are sure to keep the kids enthralled.
Check out our blog on Dinosaur Museum Dorchester for more pre-historic inspiration!
Kids will love…
learning about the different kinds of dinosaurs that once roamed the earth in the Expeditions Centre!
Visit website here. 
Tall Ship – Glasgow Harbour
If you're in Glasgow, climb aboard the Glenlee. A cargo ship that between 1896 and 1969 circumnavigated the globe four times. The ship is the only one of her kind in the UK.
A visit takes you back in time to experience what life was like on the high seas. Visit the galley, take the wheel, and explore the cargo hold. Where did the Glenlee sail? What did she carry? What did the crew eat? These are questions that must be answered!
Hopping aboard this ship makes a wonderful day out as it's always got something fun to offer. The Tall Ship operates a programme of year-round maritime-themed events and activities, with specially devised talks and tours, school visits and costumed volunteer days. You can explore every nook and cranny of the Glenlee, including the refurbished Captain's cabin, with a fun new audio guide facility to help you learn about the ship.
Kids will love…
the mini cinema and an under 5s play area on board!
Visit website here. 
Wilderness Wood – East Sussex
An antidote to computer games, Wilderness Wood is a natural playground for kids. It's a unique family-run working woodland park in the beautiful hills of the Sussex High Weald. They run a great number of events and activities ranging from Bug Hunts, Camp Building and How To Survive In The Wild to Fairy Gardens, Fire class and seasonal specials.
Come to Wilderness Wood for a very special Christmas atmosphere, with the scent of hundreds of Christmas trees filling the air, the barn festooned with wreaths & mistletoe, and busy activity in the dig & cut-your-own plantation, with mince pies warming on the log stove and hot chocolate, mulled apple juice, and hot soup to warm chilly fingers. If like me, that description has you in a festive mood, check out Kidrated's Christmas Life Hacks!
Or for a truly unique outdoor living experience spend the night under the canopy of the trees in one of their beautiful woodland glades, complete with fire-place.
There is a delightful cafe as well as picnic and barbecue spots and space for kids to run around and be free. You can follow the cycling trails on a family bike ride. Visit in May for beautiful bluebells or at one of the events across the year.
Kids will love…
learning the skill of building a forest fort, as we all have when we were kids!
Visit website here.
Museum of Witchcraft – Boscastle
For families looking for something different to do in Cornwall, the Museum of Witchcraft is your answer. Great for rainy days in the county more commonly associated with outdoor pursuits, the museum is home to one of the world's largest collections of witchcraft-related artefacts. This is not a museum for the faint-hearted, but if your kids love all things weird and gory it's definitely worth a visit.
The museum itself gives a cosy, witches cottage feeling and adds to your journey exploring all the artefacts, myths and legends. The gifts shop is also worth a peruse, selling all kinds of bits and bobs. You can even buy your very own charms and spells to take home with you! Don't forget to make a wish in the wishing well next to the brooding wicker statue outside.
Grab a nice afternoon tea in the Harbour Lights cafe opposite and marvel at the gorgeous views of Boscastle Harbour at sunset. You could even take some good ol' fashioned fish and chips from Sharon's Place to go along with your picturesque evening.
Top tip: whilst you're in Cornwall, absorb the history as much as possible. Take a trip to Pendennis Castle from our list of 10 family days at Britains castles.
Kids will love…
the view of the cliffs from the museum that look exactly like the queens head on a coin!
Visit website here.
London Fields Lido
London's only outside heated Olympic size swimming pool is a great place to go to cool down after a busy day sightseeing in the capital. Being a whopping 50m this welcoming pool has permanent lane swimming available as well as free swim areas, so you can relax knowing the kids' splashing about isn't getting in any serious swimmers' way!
There are also individual and group swimming lessons available for booking, as well as swim-fit sessions where the experts on hand will answer any health and fitness queries you have pertaining to swimming and technique. Their facilities also include a classy cafe plus a large sun deck with dedicated sunbathing area.
Visit on a Saturday and after your swim why not stock up on food from the nearby Broadway Market.
Kids will love…
the heated water! All year round too… none of that toe-dipping business.
Visit website here.
Killhope, the North of England Lead Mining Museum – Durham
Visit the museum, then put on a hard hat and head down into a real Victorian mine! Killhope is very much a hands-on place, enabling and encouraging visitors to learn about the past through interaction and experimentation.
On the surface children (and adults too!) can have a go at being waterboys for the day or dressing up in Victorian style clothes and clogs. They can even try their hand at using water and primitive equipment to find lead ores. There are plenty of friendly and knowledgeable staff members that will join you on a guided tour of Park Level Mine, which tells the story of a bygone age of mining.
Make sure to bring those wellies to go along with your hard hat. There are also FREE driving treasure trails to download before you visit to make your journey to the museum extra exciting.
Kids will love…
exploring the history of the mines using their own torch underground!
Visit website here.
Segedunum Roman Fort – Wallsend Tyne & Wear
Discover what life was like for the Romans living on Hadrian's Wall. The Segedunum Roman Fort is the most excavated and developed Fort along the famous Hadrian's Wall.
The site now also boasts a large interactive museum showcasing Roman artefacts found in the excavations between the 70s and the new millennium, ranging from the only known surviving stone toilet seat to accurate models of the Carpathia and HMS Comus, plus a recreated section of Hadrian's Wall itself. Kids can also get hands-on with a bust of Emperor Hadrian, a building model and some replica Roman fabrics.
If you think your kid has caught the taste for Roman history, why not take them on a day trip to the Roman Baths?
Visit in summer for loads of great family activities including meeting some of the Romans who might have lived at the wall over 1800 years ago. Take advantage of the magnificent views from the viewing tower too.
Kids will love…
the interactive theatre!
Visit website here. 
Cotswold Country Park and Beach – Gloucestershire
A park full of playgrounds and fun activities for kids and even an inland beach – the biggest one in the UK in fact! There is an abundance of things to do here and luckily it's open all-year-round.
This the perfect setting for a fun-filled family day out. It has seven bookable BBQ's and a Lakeside Park Cafe where they believe that Fairtrade, Local and Organic products are the best way forward.
You can hire a boat (pedalo and rowing), but that's not all. Get a load of this! You can do kayaking, stand up paddle boarding, raft building, and various team-building activities. Want more? There's even a 9 hole crazy golf course, adventure playgrounds, lakeside walks, and bouncy castles and slides. Active and outdoorsy kids will be totally at home here. Here's a list of 15 things to do with active kids, just in case Cotswold Country Park and Beach isn't quite enough for them!
Kids will love…
water zorbing! The giant hamster balls that you can hire and take out onto the water.
Visit website here.
Spitalfields City Farm – London
If while in London you want to take a break from urban life and see something a little more pastoral, head to Spitalfields City Farm.
Located just off Brick Lane, it is the nearest city farm to the Square Mile. It's hard to believe this animal oasis is just a stone's throw away from the heart of the City of London. At Spitalfields City Farm. You'll find goats, pigs, sheep, chickens, geese and ducks, donkeys, a pony, guinea pigs, rabbits, ferrets and budgerigars.
Kids can find out about all their favourite animals and learn where milk and eggs come from. It's great for animal-loving youngsters. There are also plenty of green spaces to enjoy including a wildlife garden, plant nursery and a vegetable patch. It's an absolutely charming escape.
Top tip: whilst you're there, why not check out some other fun things to do by following our guide to Exploring East London!
Kids will love…
meeting Hamish the pygmy goat, Derek the donkey and Watson & Holmes the kunekune pigs.
Visit website here. 
Golden Hinde – London
The Golden Hinde is a replica of Sir Francis Drake's ship that circumnavigated the globe. For kids who like pirates and/or Tudors, there is nowhere better to go in Britain.
Experience the life of a 16th-century explorer aboard the Golden Hinde. Start your voyage by delving into the decks for hidden treasures and pretend to be a sailor navigating the high seas for a day. Whether you want to have a go at hauling up the ship's anchor or just simply soak up the atmosphere of an Elizabethan expedition on the open ocean, a visit to this magical ship has something for everyone!
Located alongside the historic Bankside, with stunning views of the Thames, the Golden Hinde offers interactive tours and programmes, complete with actors in period dress who really do bring history to life. Whilst you're in the Elizabethan mood, have a go at exploring Shakespeare's London using our handy dandy list!
Kids will love…
the year-round events, like shadow puppet theatre performances and storytelling.
Visit website here.