Tony Way
Published: 24th December 2020

New Dad, Tony Way is an English actor, comedian, and writer. He is best known for playing characters in a number of British comedy TV series including Extras, Black Books, It's Reeves and Mortimer and Ricky Gervais' Afterlife.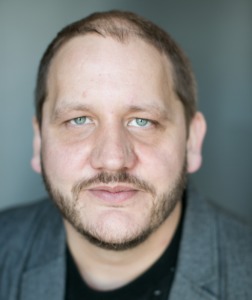 Games of Thrones fans will recognise him as Ser Dontos and he has also appeared in Doctor Who and the movies Sightseers, The Festival, Ali G Indahouse as well as being saved by Tom Cruise in Edge of Tomorrow.
Oh and he creates amazing sandwiches!
Tell us about your latest project
I am currently acting in a couple of TV dramas, but people can watch me in Ricky Gervais' After Life on Netflix. We start filming series three in Spring 2021.
Tony discusses his roles and what's it like to be saved by Tom Cruise
What was your favourite place to visit in London as a kid and why?
The Thames Barrier was right up there. I did a huge project on water when I was at primary school, and I became obsessed with the Thames and the Thames Barrier. When we travelled into town on a coach from my native Essex to the visitor centre, it was like visiting a mega star for me.
We also went along the Thames in a 'Clipper' (still a thrill for me now in my 40s) saw the Cutty Sark, and hung around in The Greenwich Observatory.
What a great day. Oddly years later I helped my Dad work on the Thames Barrier as a painter and decorator. I got to go deep into the workings. I was in heaven.
Where is your favourite place to eat as a family?
Anywhere there are good fish and chips. Poppies in Spitalfields are great – as is that whole area for food.
Sutton's and Sons and Faulkner's are the two best chippies around my way (East London).
Or I'll happily have a Brick Lane Bagel (or Beigel). They are THE best…
Where in the UK would you recommend to another family?
I have never had a bad time in Wales. North Wales in particular is amazing. The Snowdonia area is stunning. We have had some brilliant New Year breaks in the Welsh Countryside and I have filmed there lots over the years.
Get to Wales! Or Norfolk is great too, and a lot flatter than Wales if you don't like walking uphill.
Bus, tube, taxi, walk or cycle?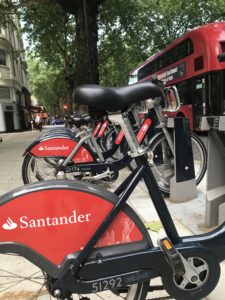 I love them all, but bus and cycle for me.
And a bus through the City or West End is THE best way to travel.
It's the cheapest tour you can get. You will always see something, interesting, new and exciting London is like an ever changing, living creature.
Give us a #londonlifehack
Get on the top deck of a 55, 242 or 149 bus – it's one of the best ways to London.