Best Free Things to do in London for Kids and Teens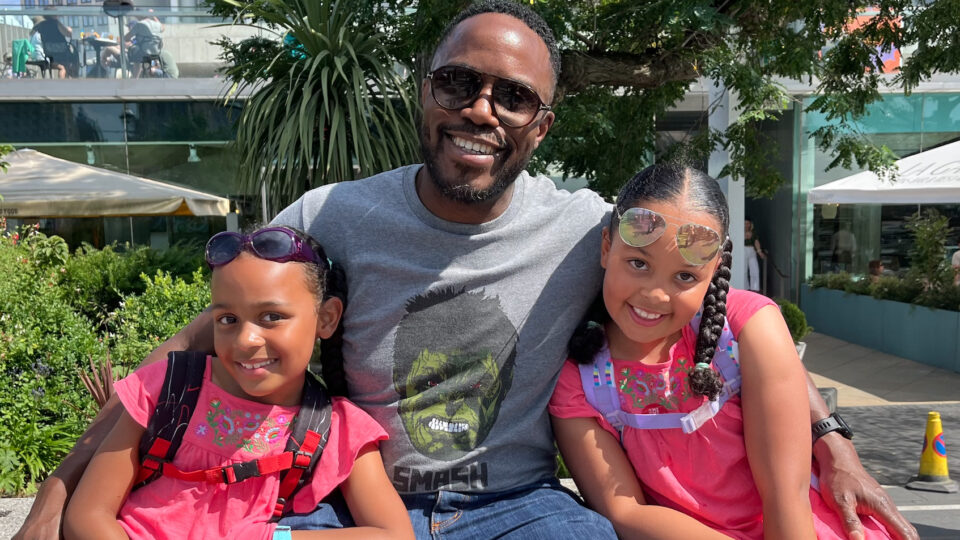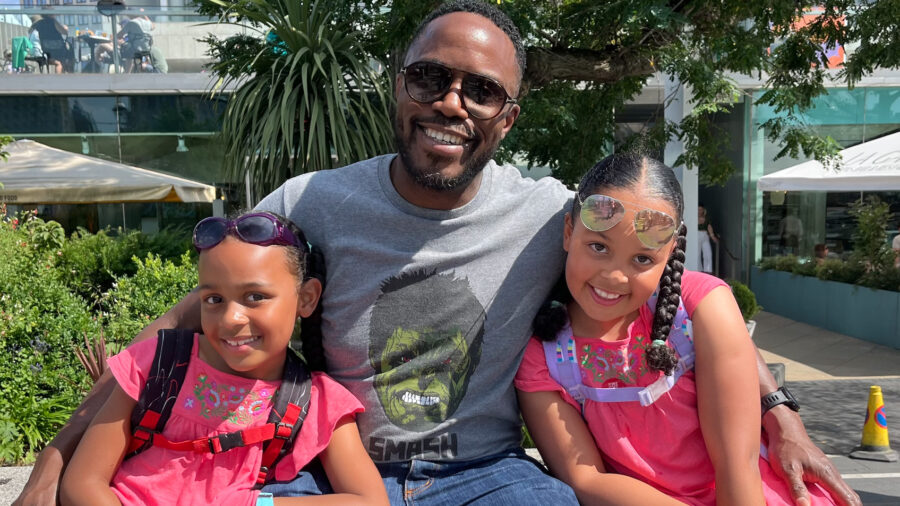 So why this guide for the Best Free Things to do in London for Kids and Teens?
Well, you may have noticed that London is one of THE most expensive cities in the world for tourists. However, there's an amazing number of places you can go which won't cost you a penny. Better still, many of them are close the venues that are free to visit.
So, if you plan your day properly and swap that bought meal visit for a picnic – you can still enjoy   the greatest city in the world without breaking the bank.
We've pulled together a few top line ideas for you with more detail below. Have fun…..
Grab a Meal
Many supermarkets and restaurants offer deals where kids can eat free or at a huge discount this summer. Here's a handy guide that's worth a screenshot….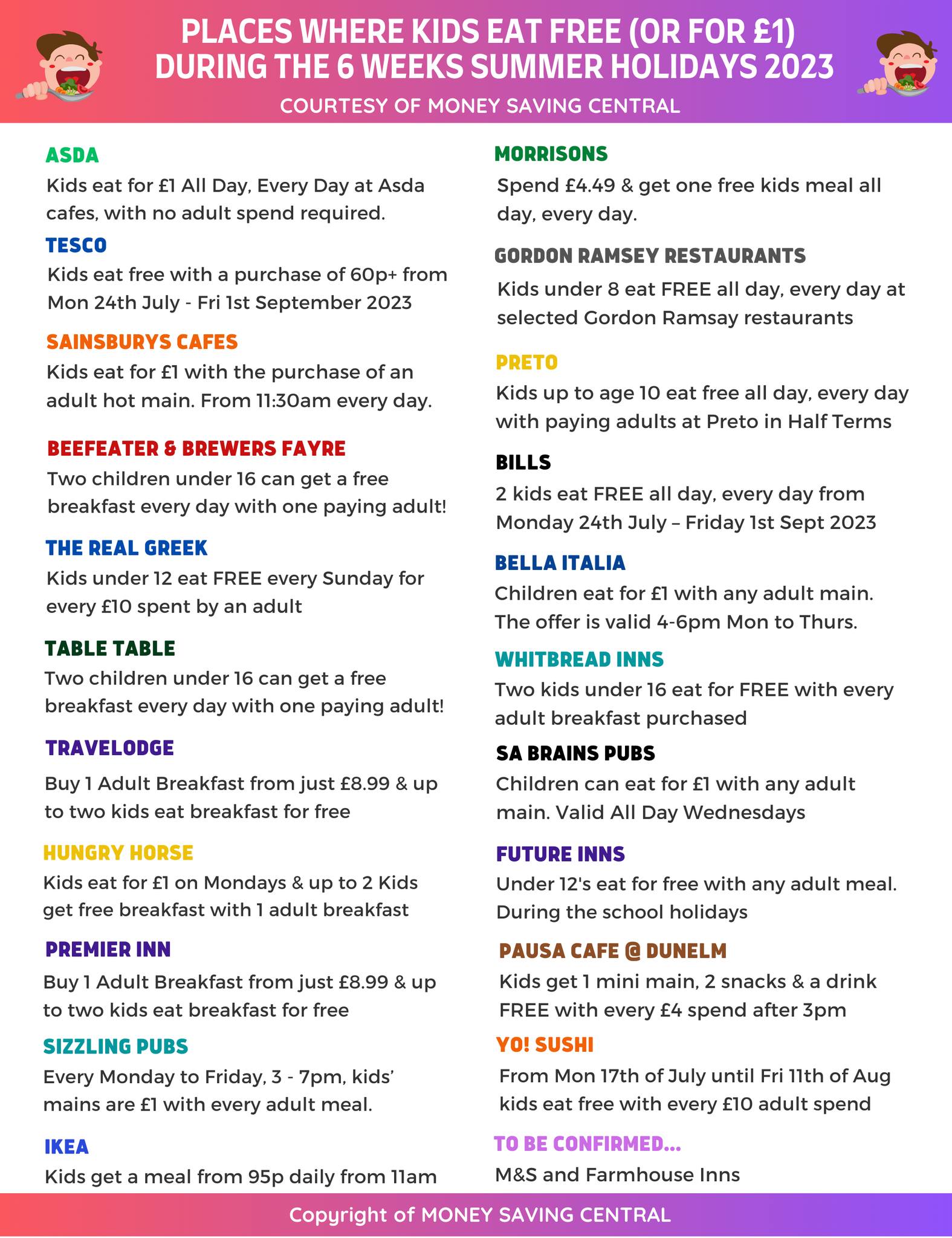 See London's Iconic Sights
Watch the Changing of the Guard
Witness this iconic ceremony outside Buckingham Palace with the guards in their uniforms and bearskin hats. Kids of all ages will be blown away by the spectacle and tradition. And if you're lucky you'll see them shout at someone!
Stroll along the South Bank
You'll find iconic landmarks like the London Eye, Shakespeare's Globe Theatre, and the National Theatre. Enjoy street performers, take in the views, and soak up the lively atmosphere.
Watch Tower Bridge Open
Seeing the bridge actually open to allow large ships to pass never gets dull.. The schedule can be found on their website.
Enjoy London's Best Views
Located in Hampstead Heath, Parliament Hill offers breathtaking views of the London skyline.
Help the kids identify the famous landmarks like the Shard, St. Paul's Cathedral, the Gherkin, the London Eye, and the BT Tower. Or make a game of it by challenging them to find as many as possible.
Sky Garden
Take your kids to London's highest public garden, located in the "Walkie Talkie" building. Enjoy the stunning panoramic views of London from the 360 degree observation deck.
Remember though – you'll need to book at LEAST two weeks in advance to guarantee a slot!
Visit A Movie Location
London has always been a favourite city for film directors and their production scouts. So if you have teenagers who are big movie fans, then spending a day seeking out locations can be good fun, and will certainly help them gain those all-important 'likes' on Instagram.
Paddington & Harry Potter
There are obviously hundreds to visit – but we've put together one from Paddington and one from the Harry Potter films .
Other places include Borough Market – featured in various movies, including Bridget Jones's Diary; Notting Hill – the setting for the famous Julia Roberts/Hugh Grant movie complete with its the coloruful houses, quaint shops,  Portobello Road Marke and of course THAT door!
Plus Richmond Park – featured in several movies, including The Duchess and Wimbledon. It's a great place for a family walk or a picnic. It's also a wildlife reserve so look out for red and fallow deer and brightly blooming flowers.
And Old Royal Naval College – also known as the Royal Naval College Greenwich, this site has served as a filming location for various movies and TV shows including Pirates of the Caribbean 4, The King's Speech, The Crown, Les Misérables, Four Weddings and a Funeral, Thor II: Dark World, Skyfall and Enola Holmes. Guided tours are free for kids when accompanied by a paying adult.
Follow in the Fab Four's Footsteps
Abbey Road
If your teenagers and family are hardcore Beatles fans, a fun thing to do in London is pose on the famous Abbey Road crossing. Not only is it free to do, but there's a webcam there so you can text friends and family and get them to watch you live as you recreate the famous album sleeve.
We've done this several times and it's always great fun. Be aware that the sunnier it is the more people are there so be prepared to wait your turn.
Also, quite a few impatient drivers sometimes refuse to stop if they see it's an amateur photoshoot – so make sure you put everyone's safety first and let traffic pass if it wants to,
Finally, remember to take a pen so your kids can legitimately graffiti the Abbey Road studio walls and then if the weather is nice, take a stroll along the Regent's Park ring road to Baker Street, where you'll find The Beatles Store. This little shop is crammed with gifts, records and souvenirs so they can spend the money you saved by not paying for the Abbey Road experience!
Enjoy London's Parks & Gardens
Paddington Recreation Ground
This park in Maida Vale features a large playground with different play areas suitable for younger kids. There are also sports facilities, including tennis courts and a skate park that older kids can enjoy.
Coram's Fields
This seven-acre park in Bloomsbury is exclusively for children and their parents. It features playgrounds, sandpits, a city farm, and a sports area.
Greenwich Park
Based down in South London the park offers beautiful views of the city and has a vast open space for kids to run and play. There is also a playground and a deer enclosure.
Hyde Park
Including Kensington Gardens and Green Park, Hyde Park covers an impressive 350 acres and there are lots of activities for all the family. Your teenagers might be particularly interested in tennis, horse riding, football, rollerblading, cycling or boating on the Serpentine. They might also want to visit the Serpentine Gallery, which houses an exhibition every year. If none of the above grabs them, then they can just wander around taking Instagram selfies.
The Diana, Princess of Wales Memorial Playground in Kensington Gardens is inspired by the stories of Peter Pan. Younger kids can explore the pirate ship, enjoy sensory trails, and have fun in the sandpits here.
Other attractions in the park include the Princess Diana Memorial Fountain; The Albert Memorial; and Apsley House (The Wellington Museum). Kensington Palace and Gardens, which is home to the late Princess Diana and still a royal residence, is also recommended, as is Speakers' Corner, where you can watch or listen to people standing on small stepladders debating loudly in front of a crowd.
Queen Elizabeth II – Olympic Park
Not just a park with playgrounds, fountains, and walking trails, the Olympic Park is also home to the London Aquatic Centre, The London Stadium, The Copper Box Arena, the Lee Valley VeloCentre and the Lee Valley Hockey and Tennis Centre which are free to spectate.
Other London parks worth checking out include Battersea Park, Brockwell Park, Camley Street Nature Park, crystal Palace Park, Finsbury Park, Glamis Adventure Playground, Greenwich Peninsula Ecology Park, Highbury Fields, Highgate Wood, Holland Park, Mile End Park, Ravenscourt Park and Victoria Park.
Hunt for Street Art
London is covered in art both inside and outdoors, and following the street art trail is an awesome way to explore the city with artistic teens. And what's more, it's totally free. Don't forget to take a snap of it and hashtag #KRatedTeens.
Shoreditch would be many people's number one street art destination, especially because of its famous Brick Lane Street art scene. The artwork changes almost daily and the kids will enjoy the bold colors and imaginative designs, including works by renowned artists like Banksy.
Streets to check: Princelet Street, Hanbury Street, Corbet Place, Brick Lane, Dray Walk, Wheeler Street (tunnel next to Shoreditch High Street), Pedley Street, Grimsby Street, Bethnal Green Road (Brick Lane end), Sclater Street, Whitby Street, Chance Street, Ebor Street.
Brixton – the multi-cultural London area of Brixton is a lively, colourful neighbourhood. Thanks to its large Afro-Caribbean community, you can eat some fantastic food here. And, Brixton is also a great location to find urban art in London. The most famous street artwork in Brixton is the David Bowie memorial on Tunstall Road. The Stockwell Hall of Fame is also worth a visit.
Dulwich – a great destination if the kids are into unique things and you like a village feel. Besides plenty of unique shops and cosy cafés, Dulwich is also home to the Dulwich Outdoor Gallery. Ingrid Beazley who worked at the Dulwich Picture Gallery initiated this huge street art project.
Camden – you'll come across loads of street art just wandering around the streets of Camden. Streets to check: while the number of streets of walls available for street art in Camden are getting smaller, these are your must-go to street art and graffiti spots: Miller Street, Hawley Street, Hawley Mews, Stucley Place.
Penge – this area of southeast London has a growing street art scene. Take a stroll along Penge High Street and keep an eye out for colorful murals, many of which are created by local artists.
Leake Street Tunnel – situated on the same street as the station, you'll find the famous Leake Street Tunnel, which is also called the Banksy Tunnel. This is a true graffiti hotspot and the perpetual paint fumes are a testament to this. Kids can marvel at the colorful and ever-changing street art in this underground space.
https://youtu.be/cc3LDtrGR2Q
There are even more street art destinations to be found in London if you hunt them out.
Visit a City Farm
Surprisingly, the city of London has a whole host of farms where you can spot anything from alpacas, llamas, goats and cows to chickens, horses, pigs, and sheep. 
Please note that while these city farms offer free entry, they often rely on donations to support their operations and maintain their facilities. It's also a good idea to check their websites or contact them directly for the latest information on opening hours and any additional activities or events that might be on.
Enjoy some street performance
Covent Garden – witness some of the best street performers in London who'll entertain the crowds with magic tricks, juggling, and music. Kids will love watching the lively performances.
Southbank Centre – you'll see all manner of street artists and buskers as you walk along the South Bank. this venue often hosts free events and activities for children, including storytelling, arts and crafts workshops, and live performances. 
The Scoop – located near Tower Bridge, The Scoop is an amphitheater that often hosts free outdoor performances during the summer. Kids can enjoy open-air theater shows and concerts.
Kids Week – Not strictly Street Perforce but….every year during August, children up to the age of 17 can attend London shows free of charge, provided a paying adult accompanies them. There are a wide variety of musicals, plays, comedies and children's shows to choose from, plus it's great way to introduce your whole family to the theatre. It's very popular so it's advisable to book well in advance.
Enjoy Free Entry to a Gallery or Museum
Nearly ALL London's museums are free to visit. You may be charged for a specific exhibition but there's usually enough to see in the venue that you can avoid dipping into your pocket and make it a fun and free outing.
We obviously have individual guides for a lot of museums in our attractions section here. Plus a dedicated Guide to Museums for Older Kids and Teens here and below.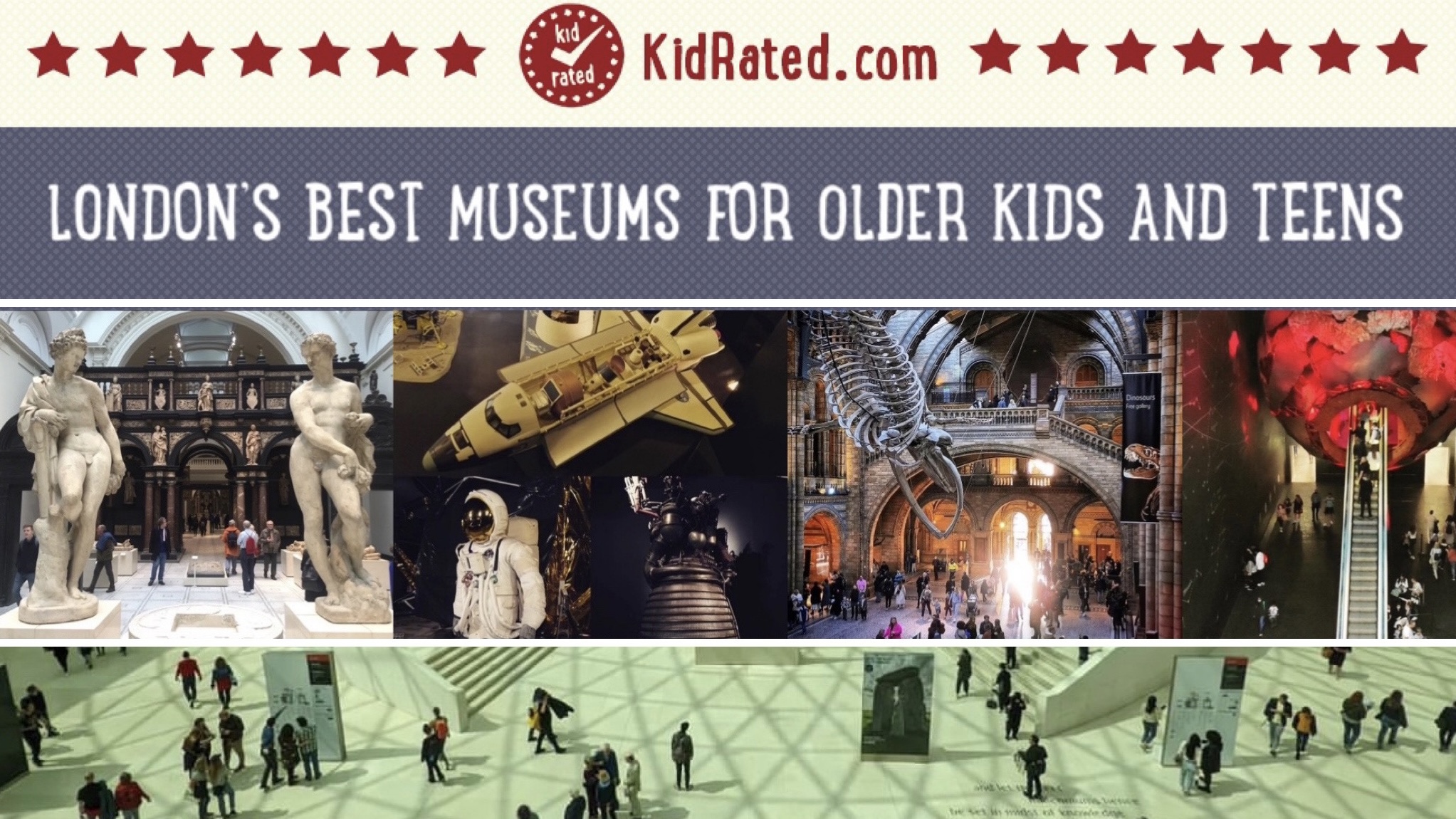 But in the meantime, here's a quick summary of 10 of our favourites:
National Gallery – this may not seem an immediate choice for teenagers, but if they're adventurous and artistic in nature, it's a no brainer. Plus, if they want to put on their headphones and disappear into their own little world, this is a great place to do it. You can easily spend anything between 45 minutes to three hours in here. There are two very good venues here – a restaurant and a cheaper cafeteria. It's also a stone's throw from Covent Garden so teens can always wander over there for a good old mooch if they get bored, then you can arrange to meet them back inside the gallery.
Victoria & Albert (V&A) Museum – the V&A Museum offers a wide range of art and design exhibits. Older kids will enjoy exploring the collections of fashion, sculpture, photography, and more. Some special exhibitions may charge a fee.
Natural History Museum – with an array of educational and interactive exhibits, this is a fantastic destination for kids. They'll be able to delve into the world of natural science, marvel at the famous dinosaur skeletons, learn about human evolution, explore various habitats in the Wildlife Garden, feel the ground shake in the Earthquake Room and enjoy the Nature Live shows.
British Museum – this is a fascinating place for kids to explore and learn about history and cultures from around the world. There are hands-on exhibits that kids can touch, exhibitions with interactive elements and multimedia displays, and ancient Egyptian, Greek and Roman antiquities. There are also interactive trails that will be a fun and engaging way for the kids to explore the museum's collections.
Science Museum – this museum offers a wide range of interactive exhibits and hands-on activities that your kids will love, including the exhibits and experiments in Wonderlab, the Flight and Space galleries, the sensory and hands-on experience of The Garden the 3D Cinema, and the live demonstrations that take place throughout the day. There's something for everyone at the Science Museum.
National Portrait Gallery (re-opening 22 June 2023 following refurbishments) – housing over 2,000 paintings, the National Portrait Gallery is one of London's most visited galleries. At first, teens might think the idea of looking at pictures of a lot of dead people sounds desperately dull but lots of kids we've spoken to say that actually seeing people they'd heard about through school was fascinating. Plus, there are hundreds of portraits of contemporary famous people as well.
V&A Museum of Childhood – this museum in Bethnal Green is dedicated to children and has a vast collection of toys, dolls, and games. There's also the Sensory Pod which is a multisensory space designed specifically for children with sensory impairments. The museum also offers trails and activity packs that are designed to engage and educate kids as they explore the exhibits.
Science Gallery London – located in King's College, Science Gallery London offers free exhibitions and interactive displays that blend art and science. It's an excellent place for older kids and teenagers.
Grant Museum of Zoology – this museum, part of University College London, is home to a fascinating collection of animal skeletons and specimens where kids can learn about different species.
Horniman Museum and Gardens – this is a family-friendly destination that offers a range of natural history exhibits, interactive displays, an aquarium, a musical instrument collection, and beautiful gardens to explore. They also organise family events and workshops throughout the year, including storytelling sessions, arts and crafts activities, interactive performances, and hands-on workshops focused on science, art, or music.
Cool off in a fountain
Here's one strictly for the summer months but it's good to know there are some great water fountain locations that are perfect for kids to splash around in while you can keep one eye on them as you bask in the sun.
Don't forget to pack some shade, some sunscreen, towels, a change of clothes and of course a picnic – it's a free day out remember!
Somerset House – Used in winter months as an ice rink this is arguably one of London's most majestic locations. However check there's no other activities going on in the courtyard before you visit as it's is often used for special events such as film screenings in summer.
Granary Square – Situated near Kings Cross the fountains in in the Square feature 1,080 water jets making it one of the city's largest open space splash park. You'll have to fight for seating if it's busy but try and bag some chairs and a table underneath the trees…If you want to treat your kids, let them stay up after sunset when the fountains light up for extra excitement.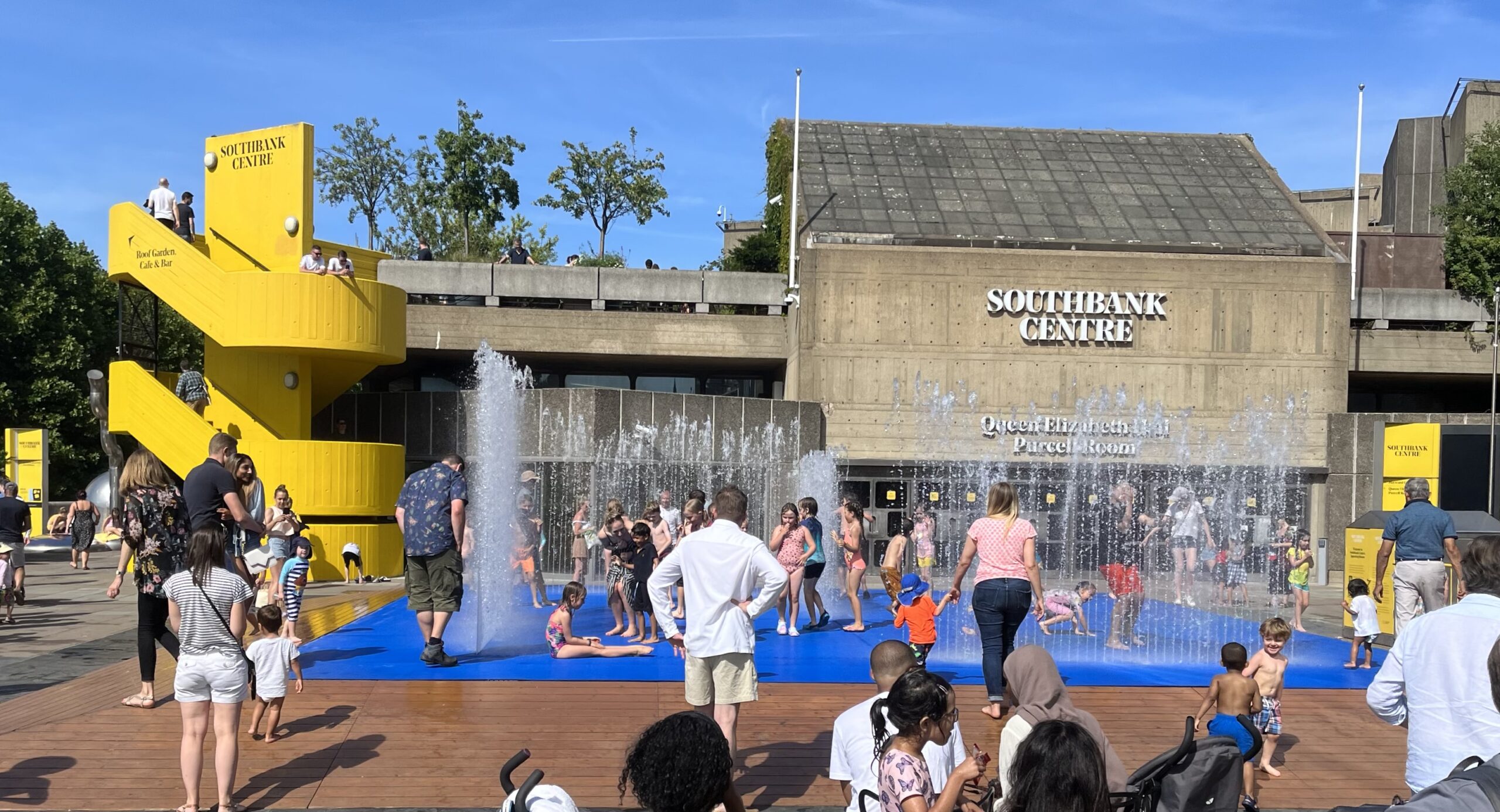 South Bank Centre – Although, your kids probably won't realise, Jacob Hein's aquatic structure Appearing Rooms is actually an interactive art installation. The jets send walls of water high into the air creating 'rooms'. So if you time your entrance correctly you can actually go inside them and remain completely dry.
Top Tip: You can use the numerous toilets in the South Bank Centre as a makeshift changing room.
Diana, Princess of Wales Memorial Fountain, Hyde Park –  Another work of art, the Diana Fountain is made from Cornish granite blocks arranged in a loop, over which fast flowing water moves, navigating waterfalls, grooves, air jets and other uneven surfaces. There are bridges so kids can cross it a various points and a shallow pool area where they can paddle and grown-ups like to dip their feet.
It's free but entrance can be restricted at busy times.
More London  –  These 200 water jets have a brilliant backdrop as they are situated between City Hall and Tower Bridge. Programmed at random kids will love the surprise they get when they get caught in the spray.
Queen Elizabeth Olympic Park, Stratford  –  We mentioned the park earlier as a fun place to hang out and the Waterworks Fountains are an added bonus.They're made up of nearly 200 individually controlled jets that make a maze and walk of water. You'll find them near the ArcelorMittal Orbit at the south of the park and they're open from March – October (excluding West Ham's match days).
Merchant Square, Paddington Basin – Open from 7am – 7pm daily this fountain maze is a firm favourite with kids of all ages during the summer months. 320 jets are arranged in three concentric circles that squirt and splash at different heights, so the challenge is to get around the circles without getting wet?
Combine this visit with a lovely stroll along the canal and you've got a very cheap and a very enjoyable day out.
John Madejski Garden Fountains at the V&A  – Located in the beautiful and ornate Italianate courtyard of the famous Victoria & Albert Museum, the water feature has water jets bordering steps that means it doubles up as a paddling pool in hot weather.
Again, if you combine this visit with a trip to one of the museums in the vicinity you've got a very fun, free day out.
Check Out These Other Handy Guides