Things to Do at Christmas in London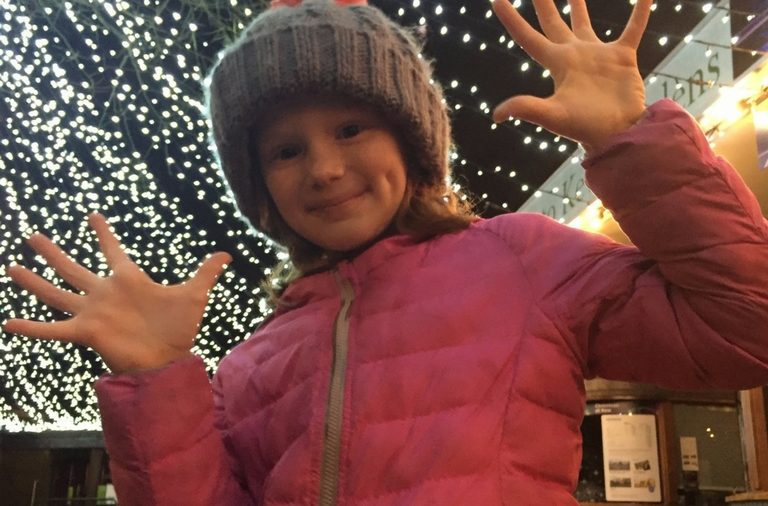 Last year's Christmas was a rather lacklustre affair thanks to the pandemic and subsequent Lockdown. But this year's festive season looks set to be much more fun as things return to normal and the greatest city on earth enters the festive season.
Whether its shopping, carols, pantomimes, lights, ice skating, grottoes, markets, shows, movies or exhibitions – you'll find something on this page that should both inspire and delight and get you, your kids and teenagers rocking around the Christmas tree!
Feel free to add any ideas or comments at the bottom.
***Please check each listing carefully, where possible book in advance and remember to take a mask as you may be required to wear one***
Go Ice-Skating
Queen's SKATE DINE BOWL is the perfect place to take the kids over the Christmas break. Located on Queensway in the heart of London – it's open all year round, boasts an indoor ICE RINK; 12 BOWLING LANES, retro arcades, two cafés and a MEATliquor restaurant – perfect for burger lovers.
Please be advised that gloves and face masks must be worn at all times when skating and booking in advance is advised.
There are lots of great outdoor skating opportunities in London at Christmastime, in beautiful locations. Read on for a summary or click here for our comprehensive guide.
You could go to Hyde Park's Winter Wonderlands ice rink which claims to be the largest outdoor ice rink in the UK! Stretch out and practice your skating moves during a crisp, early morning skate; enjoy the afternoon sun as it glistens on the ice; soak up the romantic atmosphere at twilight, or skate after dark under the stars. Ideal for all ages and abilities, it's a great family activity which the kids will love, whether you're a complete beginner or looking to improve your skills on the ice!
Another option is the ice rink at the Natural History Museum, set against the backdrop of the Waterhouse building. It's the last year to ice skate at the Natural History Museum so it really is one of the most magical places to be this winter. Experience the thrill of skating surrounded by fairy lights nestled in frost-covered trees, with the smell of mulled wine in the air.
A great choice for ice skating is  Hampton Court Palace. You can skate around Henry VIII's sixteenth-century pad this festive season. Hampton Court Palace makes a mighty picturesque backdrop for this outdoor rink, especially when lit up after dark. The rink, which is right in front of the Tudor pile and by the side of the Thames, is an impressive 1,040 square metres. With sessions for beginners and experts, as well as food and drink pop-ups, this wintery attraction is ideal for skaters of all ages and skills. Wrap up warm and take a turn on the ice in this regal back yard.
Our last pick is the ice rink at Somerset House. Skate at Somerset House returns, with an exciting new partnership this year with Moët & Chandon, promising a spectacular season of celebration in the heart of London. From skating lessons with Skate School and Polar Bear Club to the ultimate nightlife sets from trailblazing DJs on rink-side decks at Skate Lates, there is something for everyone across the Skate season.
Soak up the festive atmosphere as you make your way around the ice. Sessions can get busy, so book ahead and consider whether your children will be comfortable skating on a busy rink. However, at most sites even smaller kids can enjoy skating with skate aids.
Take a Christmas Quiz
One for the parents here. Test your music knowledge with our UK Christmas Number Ones Quiz!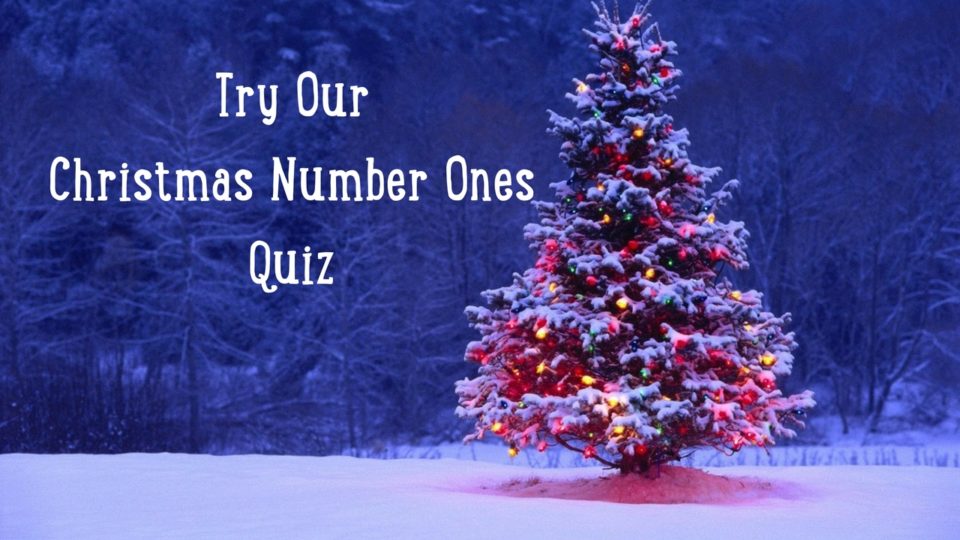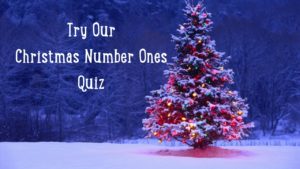 The Magic of Christmas, London Zoo
Santa's arrived early to London Zoo to research what the animals would like for Christmas.
But with over 18,000 animals there's far too much for just him and his elves to manage so he'll be enlisting the help of any willing kids.
So head out with the family across the Zoo gathering information along the way, before finishing up at the polar post box where they can send off their trail card to Santa and help make sure the animals get the perfect present this Christmas!
Runs from 3rd December – Sunday 3rd January
Visit Winter Wonderland
Every year, on the corner of Hyde Park, the magical Winter Wonderland pops up – a collection of funfair rides, shows, an ice-skating rink and pretty wooden stalls selling fun gifts and delicious food and drink. Although you will need to pay for rides and performances, entrance is free and it's a great way to soak up the festive atmosphere while browsing Christmassy trinkets and enjoying seasonal music. It is open in the Christmas months all day from 10am to 10pm, so if you want to bring smaller children, come early to avoid the big crowds. 
It's a real treat for anyone wanting to get into the festive spirit – as long as you're ready to hear all those songs as you potter around. Other highlights of Hyde Park's annual Christmas treat include circuses and the biggest outdoor rink in the UK – it surrounds the Victorian bandstand and is illuminated with more than 100,000 lights. There's also the Winter Wonderland Comedy Club, ice sculpting workshops and a German-style Bavarian Village full of frothing steins and live music.
Here are some top tips for you festive bunch! If you plan on sitting inside Bar Ice or The Magical Ice Kingdom, you could always wear a heating pad on the inside of your jacket to stay extra warm during your visit. Also, if you purchase any tickets to a Winter Wonderland event or ride online beforehand, you can choose the fast-track entry option so you don't have to wait in a long queue outside. The last tip – to avoid the crowds (which can be rowdy and full of Christmas booze, sorry, cheer) try to visit Winter Wonderland during the weekday or on Saturday or Sunday afternoons.
See Santa in Leicester Square
Every year Leicester Square is transformed into a Christmas lover's dream, with 8 weeks to enjoy a Christmas market, warming food stalls, hand-crafted gifts, festive decorations, Christmas shows and family activities. Of course, Santa will be there to find out if you've been naughty or nice, so don't miss a trip to his grotto. They'll hear a festive fairytale, meet Father Christmas and his helpers and receive a gift. dance at a baby disco, or catch the Brat Kids Carnival, which is filled with all kinds of magic and mischief. Watch incredible circus acts or get on stage for a boogie – it's the perfect recipe for a silly afternoon.
Sessions are for groups of up to 20 children and are up to 30 minutes long. Entry to Christmas in Leicester Square is free, but tickets must be bought for selected events, including Santa's Grotto and some performances. Each child may be accompanied by one adult for free.
Gawp at the Christmas lights
In major areas of London, around Oxford Street, Regent Street and Covent Garden, Christmas lights will provide a huge part of the festive atmosphere. Drop by to gaze, or check for details on when the lights will be switched on, signalling the start of the Christmas period.
Alongside the lights, there are lots of little pop-up gigs inside Oxford Street shops and the street will also play host to their biggest ever shopping night, with plenty of surprises along the way, and drinks and treats available for those of you searching for Christmas presents for the kids, or just eyeing up something for yourself.
Admire the Trafalgar Square Christmas Tree 
Every year, the City of London is given a huge Christmas tree from the city of Oslo. The giant Norwegian spruce has been an annual gift to London from the people of Norway since 1947, in recognition of Britain's support during the Second World War. Each year, the 25-metre (82-foot) tree is illuminated with hundreds of lightbulbs set in vertical strings of light.
Don't miss the lighting of the famous Christmas tree in early December. There is also a blessing of the crib ceremony, which features a torchlit procession and music from St Martin-in-the-Fields church.
Drop by Trafalgar Square to take a look, and maybe get involved in some carol singing.
Plan a Harrods Christmas list 
Okay, we may not all be able to afford to get our Christmas gifts from this luxurious department store, but that doesn't mean it isn't worth having a gander. Kids will love visiting the Toy Department, and it can be a great place to get ideas for presents (and stocking fillers)…
See Hogwarts in the snow
The Warner Brothers Studio Tour is a must for all Potterheads at any time of year but add to the nostalgia by visiting at Christmas for their Hogwarts In The Snow event. As well as seeing lots of props and sets and finding out production secrets from the eight famous films, from November through to January the model replica of Hogwarts castle will be covered in snow and sets will be decorated as they were for festive scenes. Butterbeer, anyone?
The festive transformation will begin in the Great Hall, which will be lined with Christmas trees decked with golden baubles and topped with witches on miniature broomsticks. The long dining tables will be dressed as they were for seasonal feasts at Hogwarts, complete with Christmas puddings surrounded by real flames. Discover the stage decorated as it was for the iconic Yule Ball scene, as seen in Harry Potter and the Goblet of Fire and get a taster of this incredible set dress featuring snow-covered Christmas trees, icicles and an orchestra of magical instruments.
Discover how filmmakers created snow that never melts and flames without fire as you get hands-on with the different types of filmmaking 'snow', each selected for its ability to float like falling snow, crunch under foot or glisten in the light like ice. As you make your way around the Studio Tour, look out for the 'lit' fireplaces and discover how the fire was created on-screen by the Special Effects team using a combination of water vapour and lighting effects.
Be sure to book in advance running from 13th November – 16th January 2022. This festive event is very popular amongst all us Potterheads, so be sure to read our guide at making the most of your money on the tour. And finally, check out our guide to Harry Potter London locations.
See A Christmas Movie at The Prince Charles Cinema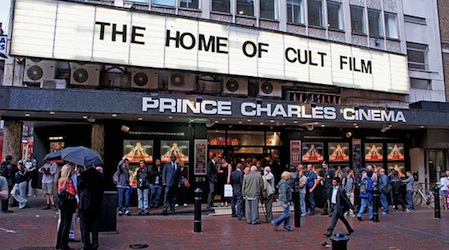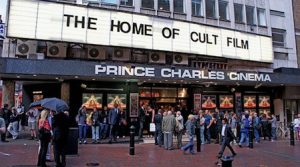 Tucked away from the big multiplexes in Leicester Square showing the latest blockbusters is the PCC. This place specialises in the favourites, the cult and the classics, the latter often with singalong subtitles. It's great fun and people often dress up in accordance with the films they are seeing so there can often be a party atmosphere at some screenings.
They always have special events and festive films for the Christmas period. So check out their website to see what's on and what's suitable for your kids. Parents may want to see what their teenagers think of the 80s films they loved so much when they were their age.
Traditionally, they have shown the all the festive favourites including Muppet Christmas carol, Gremlins, Die Hard, Jingle All the Way, the Home Alones and of course It's A Wonderful Life.
Tips: The layout of the seats is very different meaning your view can be obscured if someone tall sits in front of you whihc is obviously not great at Children's screenings. So, make sure you take an inflatable cusion for smaller kids or be prepared to bundle up your coat to boost their height.
Experience the illuminated magic of Christmas at Kew Gardens
If you visit Kew at Christmas time, you can enjoy a range of festive treats and activities. However, the real magic starts at twilight. A one-mile path through the gardens is festooned with lights, making the plants, trees and structures of Kew glow. Be transported by the Christmas trees, scented fire garden, glittering trees and tunnels of light. Santa will be with his elves, plus there will be vintage family rides, Christmas gifts and heartwarming festive food and drink on offer. The finale to the trail is one you shouldn't miss. The renowned Palm House will await visitors with festive projections playing across a giant screen of water in the centre of the lake, and across the iconic glasshouse itself. A marvel of lights and music combined will end the night with a bang!
Along the trail, there are bubble stations for the kids to marvel at and you'll also find many snacks along the way. Including roasting your own chestnuts, dipping churros in chocolate and, of course, candy floss. Be sure to check out their two gift shops along the trail for some extra Christmas shopping where you can buy, not only plants but also Christmas socks, chocolate and delicious festive chutneys and jams! The trail is very popular, so book yourself a timed slot in advance.
Go carolling
Christmas carolling is one of the oldest traditions of the holiday season, but it's still a fun activity to take part in today. You can spread some good cheer around the neighbourhood while also admiring the beautiful decorations and lights adorning each house.
Belt out some seasonal favourites at one of the hundreds of carol concerts around the city – or find some friends and see if you can impress any passers-by! If you don't live in an area with many neighbours or if you want to try something new this year, consider carolling at a nursing home, school, or anywhere else you can spread some Christmas cheer. Invite others to join you in singing—the more the merrier! Remember to bring a camera so you can take lots of pictures of your Christmas carolling party. It's sure to be something that you'll want to remember and share the memories for years to come.
Find some original gifts at a Christmas Market
With Christmas markets on every corner, there is sure to be one near you. However, if you're looking for something special in the capital, try a traditional Christmas market with wooden cabins and chestnuts roasting on an open fire – some favourites are Hyde Park's Winter Wonderland, the Christmas Market at the Tate Modern complete with Victorian carousel, or London Bridge City Christmas Market.
If you're looking for something bigger, you're sure to find the perfect gift at Olympia's Spirit of Christmas Fair, which has hundreds of independent boutiques. Foodie? Try the Real Food Christmas Market at the Southbank Centre. Or for something completely different, visit Hyper Japan at Tobacco Dock, where you can buy Japanese handcrafted items, enjoy Japanese food, and take part in creative workshops such as mask and doll painting.
Travel back in time at Charles Dickens' House
Charles Dickens' Bloomsbury townhouse is decorated for a Victorian Christmas. A Very Dickensian Christmas is the perfect day out at Christmas with the family. Each year, the Museum provides a unique and enchanting glimpse into how the festive season was celebrated by the great Victorian author, with the historic interiors transformed into a true embodiment of Christmas Past.
Follow in Dickens's footsteps as you savour the sights, sounds and smells of the rooms where he lived and worked – with holly and ivy decking the halls, beautiful Victorian decorations and a whole host of other festive surprises to discover.
Make sure to look up the programme of events, and stop by for some carol singing, storytelling or a candlelit tour.
Take in a pantomime
Initiate the kids into a festive tradition of interactive theatre. Pantomimes are an integral part of the festive calendar – Oh no, they're not! Oh yes, they are and there are plenty to choose from across London
A pantomime is the perfect thing for a family evening out. Grab dinner afterwards if you're in the West End, as there are an abundance of great places to eat!
Check out KidRated's guide to the Top London Pantomimes and Performances.
Feel Festive at Dulwich Winterlights
Wander the gardens of the picture gallery on a dark winter night and discover light installations and lanterns from the same creative crew that makes Christmas at Kew from 6th-18th December.
This annual event at Dulwich Picture Gallery is a lights trail with carolling, plus local artists and artisans sell their wares at the Christmas market. Pick up some original Christmas gifts, enjoy a slice of cake, and let your children settle in for some storytelling. Visit the market during the day for creative workshops.
Stare in wonder at the Lightopia Festival in Crystal Palace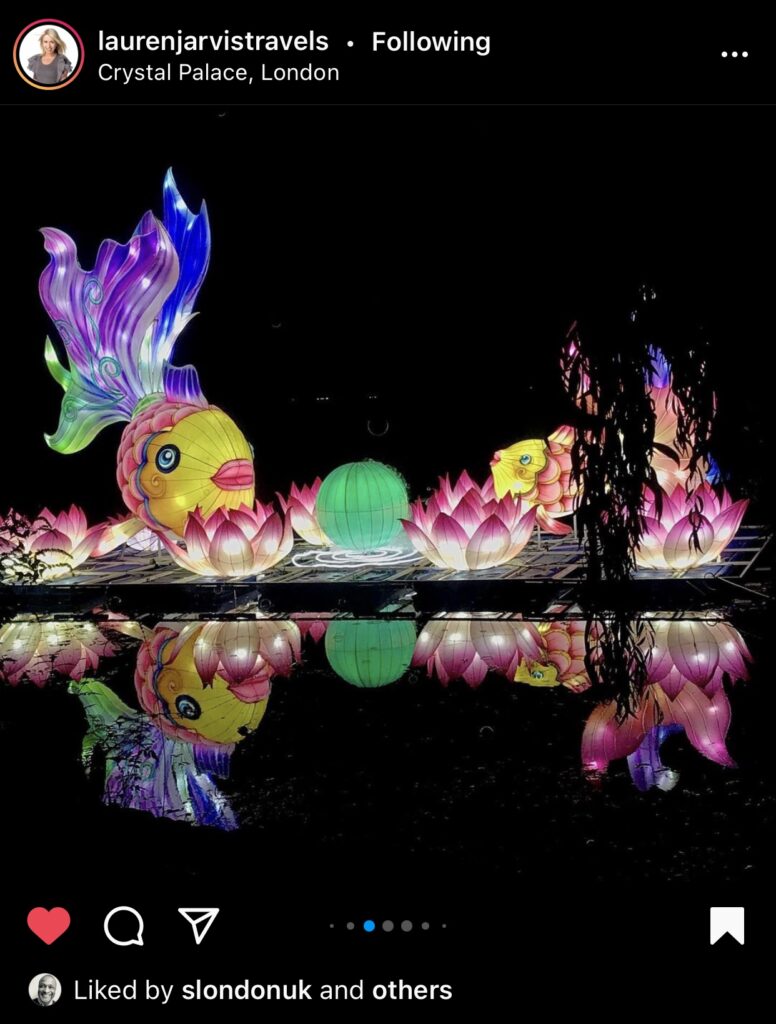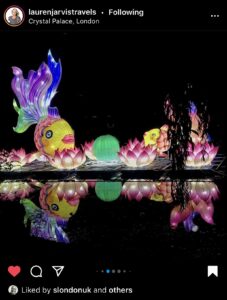 If you are mad about light installations like we are, you must take your kids down to Crystal Palace Park to check out the dazzling illuminations – and dinosaurs! Lightopia is an award-winning and visually spectacular lantern and light festival with venues in London, Manchester and Alton Towers. Explore interactive exhibits, immersive light installations, bumper cars and the magical illuminated trail. One for the whole family!
Admission
Adult – £19.50
Child – £13
Family (2 Adults, 2 Children or 1 Adult, 3 Children) – £58